A landmark report by the International Energy Agency (IEA) this week set the cat among the pigeons by saying it sees no need for investment in new fossil fuel developments if the world wants to tackle global warming effectively.
ENERGY EXPLORED: SUBSCRIBE TO ACCELERATE
Gain valuable insight into the global oil and gas industry's energy transition from ACCELERATE, the free weekly newsletter from Upstream and Recharge. Sign up here today.
The proposal was one element of the Paris-based agency's 'Net Zero by 2050' report outlining what it believes are the steps needed to keep global temperature increases to within 1.5 degrees Celsius above pre-industrial levels by mid-century.
The IEA said a global energy sector with net-zero emissions is achievable within 30 years, but warned that the pathway is "narrow" and will require an "unprecedented transformation of how energy is produced, transported and used globally".
Although it is not a recommendation, the report said: "The trajectory of oil demand … means that no exploration for new resources is required and, other than fields already approved for development, no new oilfields are necessary."
Dave Jones of climate think tank Ember said: "The implications of that sentence are far-reaching: this is truly a knife into the fossil fuel industry."
The IEA added, however, that "continued investment in existing sources of oil production is needed".
In the IEA scenario, oil demand will never return to its 2019 peak of about 100 million barrels per day, instead falling to 72 million bpd in 2030 and 24 million bpd in 2050.
Gas demand will grow to the mid-2020s, when it peaks at 4300 billion cubic metres before declining to 3700 Bcm in 2030 and 1750 Bcm in 2050.
The IEA said Opec's share of a much-reduced global oil supply could grow from around 37% in recent years to 52% in 2050, a level higher than at any point in the history of oil markets.
The report was published on the day that shareholders at Shell's annual general meeting overwhelmingly supported the company's new energy transition strategy in an advisory vote.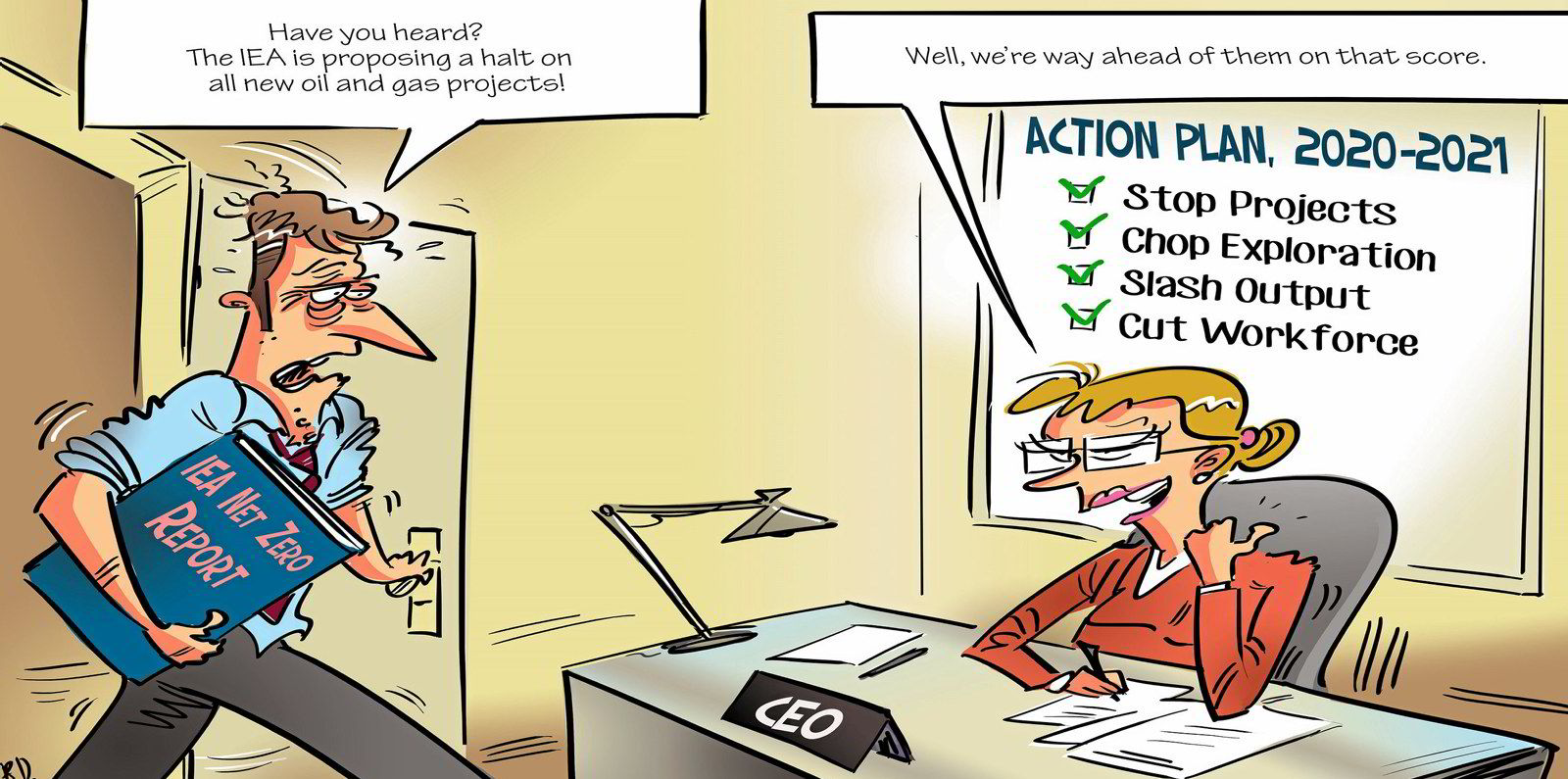 Shell aims to increase its low-carbon energy investments in the coming years, but at least three-quarters of its spending will continue to be on oil and gas.
The IEA scenario envisages annual global investment in fossil fuel supplies falling steadily from about $575 billion on average over the past five years to $110 billion in 2050, with upstream investment restricted to maintaining production at existing fields.
With companies planning billions of dollars of spending on highly profitable oil and gas projects — and some nations, including Norway, eyeing new licensing rounds — a sudden halt to new fossil fuel investment appears improbable.
Norwegian state-controlled energy giant Equinor told Upstream the report underlines the importance of a "robust" oil and gas portfolio even in global scenarios with lower energy demand.
Equinor said the report could be an important contribution to its own energy transition strategy, but declined to say whether it could affect investment plans in oil and gas.
"We are going through the report now, and do not wish to comment on such specifics today," a spokesman said.
Norwegian Minister of Petroleum and Energy Tina Bru said the report shows the world has a "formidable challenge ahead" to reach its climate goals.
However, she said the IEA document is a "road map for the whole world, and ... every country has different circumstances".
Analysts at Redburn said of the report: "On the face of it the outlook for oil and gas companies looks pretty grim."
However, they added: "The [report] is designed to show what it would take to achieve net zero by 2050. It has been back solved to deliver that outcome to stimulate debate and policy action, but it is not a forecast in the traditional sense."
Ed Crooks, vice chair of consultancy Wood Mackenzie, said: "It is true that in a world that is aligned with the Paris climate goals, there will probably be no need for net new oil production. But that doesn't mean there will be no need for new developments or exploration."
New oil projects could outperform existing sources by having lower carbon intensity and lower costs, and gas will be needed to replace coal for power generation and as feedstock for "blue" hydrogen, Crooks said.
The prospect of no new exploration drew a frosty response from US industry groups.
"IEA itself regularly acknowledges that half the technology to reach net zero has not yet been invented," said American Petroleum Institute vice president of corporate policy Stephen Comstock.
"Any pathway to net zero must include continued innovation and use of natural gas and oil, which remains crucial to displacing coal in developing nations and enabling renewable energy."
The National Offshore Industries Association (NOIA), which supports the Paris climate treaty's goals, said the IEA's road map places efforts to reduce global warming ahead of all other concerns.
"Climate and emissions solutions need to balance the environmental, social, economic and energy needs for society. These needs are correlated. Progress in one cannot come at the expense of another need," said NOIA president Erik Milito.
"The IEA is trying to establish a cost-effective and economically productive pathway to net zero. It is an ambitious task, but partnering with the offshore energy sector would be a strong step towards a lower-carbon future."
The IEA acknowledged that "the contraction of oil and natural gas production will have far-reaching implications for all the countries and companies that produce these fuels".
The report, intended as a guide to the next round of United Nations climate talks in November in Glasgow, Scotland, was requested by the president of those talks, former UK business secretary Alok Sharma.