Installed geothermal capacity is forecast to expand in the next five years as energy companies diversify into alternative markets, unlocking investments of around $25 billion, according to a report.
Global geothermal power production capacity will rise from 16 gigawatts at the end of 2020 to 24 GW in 2025, analyst Rystad Energy said.
With the current global installed geothermal capacity, there are currently 3200 active geothermal wells.
"The growth will come as a relief to oil and gas suppliers exposed to well-related services as the number of geothermal wells drilled globally will climb from 223 in 2019 to 380 in 2025," according to analysts.
Geothermal growth
From 2010 to 2020, a total of $40 billion has been invested in new geothermal energy developments.
Currently, installed geothermal capacity is dominated by the US with 4GW, followed by Indonesia, the Philippines, Turkey and Italy.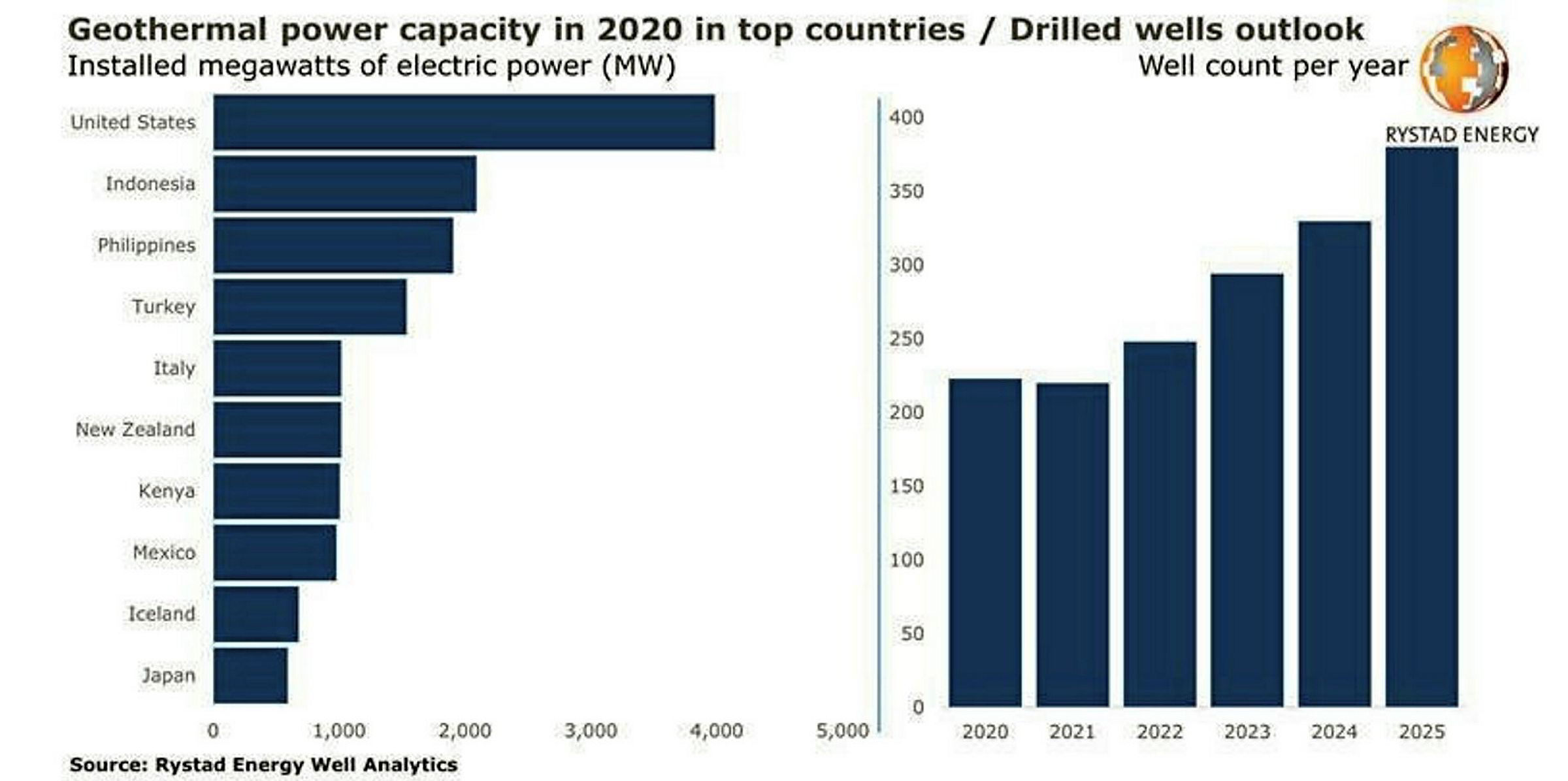 The top 10 geothermal-producing countries contribute to 90% of the total market, with many countries planning to enter the geothermal market soon, especially in Europe.
"Many of these projects are still on the drawing board and will have to compete with other renewable sources such as wind and solar," Rystad's head of energy service research Audun Martinsen said.
"However, contrary to wind and solar, the surface footprint of a geothermal plant has the advantage of being much lower in terms of square kilometers per megawatt of produced electricity," Martinsen said.
SIGN UP FOR OUR NEW ENERGY TRANSITION NEWSLETTER
Energy explored: Gain valuable insight into the global oil and gas industry's energy transition from Accelerate, the new weekly newsletter from Upstream and Recharge. Sign up here.
European players
Hungary, Croatia, Belgium, the UK and Germany have operational capacity, and Germany boasts 37 operational geothermal power plants, mostly in Bavaria.
The country has plans for another 16 power and heating plants to be completed over the next years, necessitating the drilling of 20 additional wells per year, typically with vertical drill depths as deep as 6000 meters.
In addition, only last month, UK-focused IGas Energy said it was moving to diversify its portfolio with a deal to acquire local player GT Energy - a developer of deep-geothermal projects.
IGas — mostly known for working to develop shale gas projects onshore in the UK alongside the likes of Cuadrilla Resources and chemicals giant Ineos — is adding the renewable technology to its focus area as it hopes to "also play an important role in the UK's energy transition".
Meanwhile, GeoFrame Energy, a company formed last month by the New Energies business of oilfield services giant Schlumberger and Texas-based Thermal Energy Partners (TEP), told Upstream at the time it believes deep geothermal resources located in oil and gas basins could be a game changer for the power sector.
TEP chief executive Bruce Cutright told Upstream: "The geothermal industry has always gone out and grabbed low-hanging fruit, drilling near volcanoes and hot springs. But what it didn't understand is that the heat environment of the deep sub-surface exists everywhere."
Potential
A geothermal power plant usually consists of two to six wells, with one well producing and the additional wells receiving re-injected separated water. Between 2015 and 2019, around 30 to 80 geothermal projects were commissioned per year, necessitating the drilling of 150 to 200 geothermal wells, according to Rystad analysis.
"Each well, on average, had an installed capacity of 5.3 MW, but well capacity appears to be trending upwards as wells are drilled deeper and production is optimised," Rystad said.
In terms of geothermal investment, analysts see that historically, overall project cost is comprised of around 35% to 40% well capital expenditure and 60% to 65% surface facilities and infrastructure.
However, the cost depends greatly on how deep the wells are drilled, and the technology deployed.