Italian major Eni is aiming to fully decarbonise all its products and processes by 2050, a significant acceleration of its previous 80% target.
In order to help reach this goal, the Milan-based player also said on Friday that it will merge its renewable and retail businesses.
ENERGY EXPLORED: SUBSCRIBE TO ACCELERATE
Gain valuable insight into the global oil and gas industry's energy transition from ACCELERATE, the free weekly newsletter from Upstream and Recharge. Sign up here today.
"With this new entity, our large customer base will continue to grow in synergy with our renewable business," said chief executive Claudio Descalzi.
Net-zero target
Unveiling Eni's 2021-2024 strategy, he said the company is also combining its bio-refining and marketing businesses which, "will play an important role in delivering sustainable mobility".
En route to its net-zero emissions goal for 2050, Eni aims to have slashed absolute emissions by 25% in 2030 — compared to 2018 figures — and by 65% at 2040.
In addition, the company outlined plans to cut its net carbon intensity by 15% in 2030 — five years faster than previously guided — and by 40% in 2040, hitting its 100% objective ten years later.
Descalzi outlined six "levers" to achieve these 2050 targets.
These include carbon-free products and services; the increased share of gas in its total hydrocarbon production (the long term goal is 90%); bio-methane for domestic use and mobility, as well as bio-refineries and the circular economy.
The remaining levers are blue and green hydrogen, carbon capture and storage plus carbon offsetting through forest-based investments.
Bio-refineries are set to double their capacity to 2 million tonnes in 2024, with blue and green hydrogen schemes being considered for these assets and other hard to abate activities.
Other goals include boosting renewable installed generating capacity to 4 gigawatts by 2024, 15GW by 2030 and 60GW by 2050.
Wind and solar developments are under way in Italy, the UK, US, Algeria, Angola, Norway, Kazakhstan, Pakistan and Australia.
By 2024, wind is expected to account for 60% of installed generating capacity.
Eni will invest in carbon capture and storage schemes, targeting a total capacity of about 7 million tonnes per annum in 2030 and 50 million tpa in 2050.
Vaar Energi considering power from shore for Norway FPSO pair
Planned CCS projects are Liverpool Bay and Teesside in the UK, Ravenna in Italy, Bahr Es Salam in Libya and Ghasha in the United Arab Emirates.
Descalzi said the internal rate of return on unlevered renewable projects will be 6%-9%.
Eni will also invest in forestry-based carbon offset schemes equivalent to more than 40 million tonnes per annum by 2050.
Targeted countries include Angola, Democratic Republic of Congo, Ghana, Mozambique, Malawi, Zambia, Malaysia, Vietnam, Colombia and Mexico.
Eni will spend €7.9 billion ($9.58 billion) on its green business by 2024, an outlay forecast to generate free cash flow of €2.1 billion.
Oil and gas output to grow
Its upstream business will not be neglected, however, with the company aiming to boost production by an annual compound growth rate of 4% through to 2024 when its assets are forecast to be cash neutral at oil prices below $40 per barrel.
For 2021, production guidance is confirmed at around 1.7 million barrels of oil equivalent per day, and could hit almost 2 million boepd in 2024.
In the long term, gas will represent more than 90% of Eni's production and will support the energy transition as a back-up to intermittent sources.
During the four-year plan, 14 major projects will be brought online in Angola, Indonesia, Mexico, Mozambique, Norway and United Arab Emirates.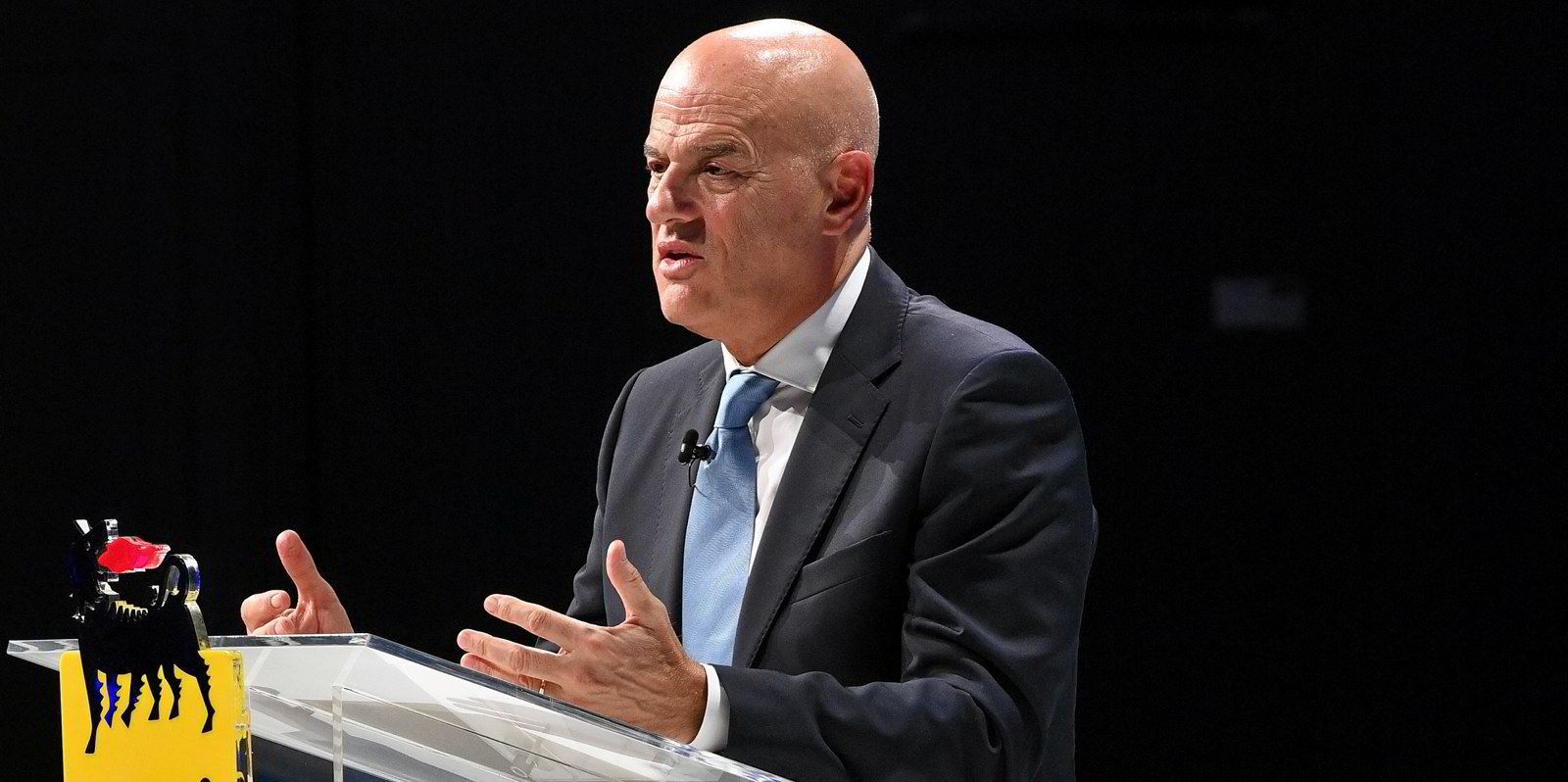 Exploration plans
Focused exploration will target potential resources of 2 billion barrels of oil equivalent in the next four years at an average cost below $2 per barrel.
It will focus on infrastructure-led and nearfield opportunities in proven basins, the large part with a high gas potential.
Spending in the upstream sector will total €18 billion ($21.8 billion) in the same period.
Free cash flow generation is expected at €2 billion this year, reaching a cumulative €19 billion in the plan period.
LNG ambitions
Eni's liquefied natural gas business is expected to hit 14 million tpa by 2024, 50% more than last year.
This growth will be driven by new projects in Indonesia, Nigeria, Angola, Mozambique and Egypt, where the start-up of Damietta LNG plant has been completed and the first cargo is currently being loaded.
Overall, Eni plans to spend €7 billion annual through to 2024, of which over 20% will be allocated to non-upstream projects.
Eni stated that the internal rate of return (IRR) on upstream projects being executed is 18% and would be 16% even if commodity prices fell by 20%.
The company said its unleveraged IRR for renewable projects is 6% to 9%, rising to double digits they are financing.
Eni aims to dispose of more than €2 billion of non-core assets and businesses in the next four years.
In the shorter term, the company aims to double its earnings, before interest, tax, depreciation and amortisation to almost €1 billion in 2024.