Supermajors in the US and Europe are heeding the call to lower the carbon intensity of their businesses. But the pace of change — and the future role of fossil fuels in their portfolios — shows that the ocean between them is not just literal.
Chevron
Senior advisor for communications at Chevron Sean Comey tells Upstream that the company's business plan is deliberately different than other companies.
"It is designed to allow us to continue to lead the industry through the next business cycle. Our focus is higher returns and lower carbon," he says.
Comey says Chevron's disciplined, steady approach is producing the desired results.
"We navigated through 2020 better than most of our peers. We were better prepared with the strongest balance sheet in the industry. Maintaining and increasing the dividend remains our top financial priority."
Even though Chevron plans to increase its investments in oil and gas, the company believes the future of energy is lower carbon.
"Our actions and investment are focused in three areas: lowering carbon intensity cost efficiently; increasing renewables and offsets in support of our business; and investing in lower-carbon technologies to enable commercial solutions," Comey says.
ExxonMobil
ExxonMobil did not respond to numerous requests for comment on the company's strategy.
However, chief executive Darren Woods has said that ExxonMobil is also working to reduce the carbon footprint of its core oil and gas business and that the company has assembled "a world class portfolio of attractive investments with flexibility to adjust spend as market conditions evolve".
The company has said that projects that start up between 2021 and 2025 will provide 40% of its cash flow in 2025 and along with "structural cost reductions" will help double earnings.
Shell
A Shell spokesperson says the Anglo-Dutch company's strategy is to accelerate its transformation into a provider of net-zero emissions energy products and services.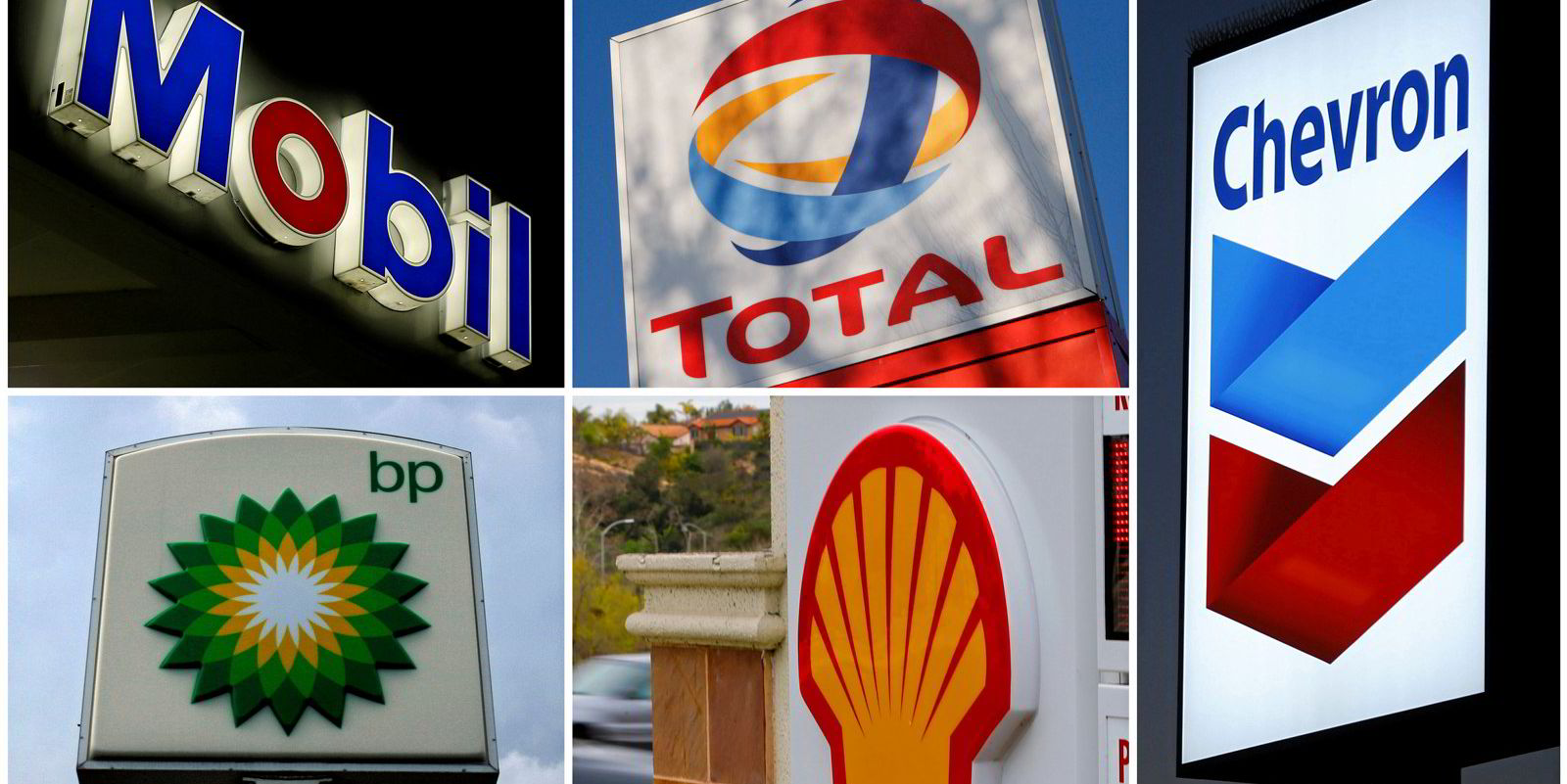 "A disciplined cash allocation framework and rigorous approach to driving down carbon emissions will deliver value for shareholders, customers and wider society," she says.
Shell chief executive Ben van Beurden has said that the company will never again produce as much oil as it did in 2019.
For upstream oil and gas, the company has vowed to focus on value over volume, with an expected gradual reduction in oil production of around 1% to 2% each year, including divestments and natural decline.
In the near term, Shell's strategy will rebalance its portfolio, investing annually $5 billion to $6 billion in growth — around $3 billion in marketing and $2 billion to $3 billion in renewables and "energy solutions".
It also plans to invest $8 billion to $9 billion in its transition "pillar", which includes some $4 billion in its integrated gas division and $4 billion to $5 billion in its chemicals and products division, and around $8 billion in upstream.
BP
Under chief executive Bernard Looney, BP has accelerated its pivot from an international oil company focused on producing resources to what he has described as an "integrated energy company" focused on delivering solutions for customers.
A BP spokesperson cited Looney's earlier statements saying the company will increase its annual low carbon investment 10-fold, to around $5 billion a year, and reduce its oil and gas production over time by 40%, with no exploration in new countries.
Total
A Total spokesperson says the pending corporate name change to TotalEnergies is meant to reflect the company's transformation into a multi-energy group.
The company aims to reach 35 gigawatts of production capacity in 2025 from renewable sources, including solar and wind, and aims to add around 10GW per year thereafter.
Total will not actively reduce its oil production but says it will focus on low-cost oil projects, privileging value over volume and aiming for profitability above 15% at $50 per barrel oil prices.
Both Shell and Total believe gas demand will grow, with the latter expecting its liquefied natural gas sales to reach 50 million tonnes per annum by 2025 and to double between 2020 and 2030.