Fossil fuels are not going to disappear any time soon, and will account for half of the primary energy mix in 2050, according to DNV's Energy Transition Outlook 2021, published on Wednesday.
Natural gas will maintain its current position with around 25% of the total, although oil demand is forecast to halve, while coal will decrease to a third of its current utilisation by mid-century.
Gas use will grow over the coming decade, surpassing oil in 2032 as the largest primary energy source and levelling off for a 15-year period before starting to decline in the 2040s.
DNV's outlook makes for stark reading, however, as the Norway-based international consultancy said the roll-out of carbon capture and storage will be too slow, with only 3.6% of fossil fuels' carbon dioxide emissions being abated in 2050.
"Decarbonised fossil energy is an important aspect of reaching the Paris Agreement, but the uptake of carbon capture and storage is forecast to be woefully slow, mainly for reasons of cost," DNV said.
Introducing Accelerate Hydrogen
We're pleased to announce the launch of Accelerate Hydrogen - the latest newsletter from Recharge and Upstream. Sign up now for an unbiased, clear-sighted view of the latest developments in the fast-growing hydrogen sector every week.
The outlook claimed that the world today is not meeting its Paris ambitions and the window of opportunity to act is narrowing each year.
"Global emissions likely peaked in 2019, followed by an unprecedented 6% drop in 2020 due to Covid-19," the report said.
Emissions rising sharply
Emissions are now rising sharply again and will grow for the next three years before starting to decline.
While renewables are being added at great speed, they often supplement — rather than fully replace — thermal power generation. By 2030, global energy-related CO2 emissions are likely to be only 9% lower than 2019 emissions, and by 2050 only 45% lower, DNV said.
"This is in sharp contrast to ambitions to halve greenhouse emissions by 2030 and to achieve the net zero emissions by 2050 required to limit global warming to 1.5 degrees Celsius" above pre-industrial levels, the report said.
"Our forecast is that we are most likely headed towards global warming of 2.3 degrees Celsius by 2100," DNV said.
"As CO2 emissions continue to accumulate, the window of opportunity to act narrows every year. Relying on large-scale, net-negative emissions technologies and carbon removal in the latter half of the century is a dangerous, high-risk approach. With global warming, every fraction of a degree is important, and all options to reduce emissions need urgent realisation."
To limit global warming to less than 1.5 degrees Celsius, the Intergovernmental Panel on Climate Change (IPCC) has concluded cumulative emissions must be limited to 400 gigatonnes of CO2 from the start of 2020 and into the future, and to 1150 gigatonnes of CO2 to limit global warming to below 2.0 degrees Celsius.
Yet DNV found that, using the IPCC carbon budgets and the aggregated CO2 emissions from its forecast, the 1.5 degrees C budget would be exhausted in 2029. To exhaust the budget associated with the 2.0 degrees Celsius threshold would take a further 24 years until 2053.
DNV stated that governments missed an opportunity to accelerate the energy transition as they committed trillions of dollars to spur economic recovery from the coronavirus-related downturn.
Government interventions to stop the spread of the virus and then to restart activity revealed how effective national and global actions can be, but similar action and funding have yet to be applied to the unfolding global climate crisis, the outlook noted.
With some exceptions, particularly in the European Union, governments have not steered recovery spending towards a decarbonised outcome. Global CO2 and greenhouse gas emissions fell 6% in 2020 but will rise again this year.
"While the emissions trajectory has shifted down slightly, that is due to lost economic activity, not energy-system renewal," the report said. "The overall pace of the transition has not accelerated, and that is a lost opportunity."
Hydrogen a 'major contender'
Hydrogen is viewed as "a major contender" for hard-to-abate sectors where electrification is either not feasible due to the low energy density of batteries, or very costly.
However, hydrogen production is expensive and involves significant energy losses.
"Absent some extraordinary policy shift ... we do not foresee hydrogen supplying more than 5% of global energy demand by 2050," said DNV, which includes synthetic fuels — such as e-methanol, e-ammonia and sustainable aviation fuels — in its total hydrogen-demand forecast.
It believes that by 2050, synthetic fuels will account for 70% of aviation's and virtually all of the maritime sector's "hydrogen" demand.
"We forecast that, by 2050, hydrogen will have replaced fossil fuels in many industrial heat applications … [and] one-fifth of aviation fuel will be hydrogen based by 2050, equating to 11% of total hydrogen demand," the report said.
By 2050, 61% of the world's 281 tonnes per annum hydrogen supply will come from electrolysis, split among solar PV on 16%, onshore wind comprising 16%, offshore wind making up 11% and grid electricity contributing 18%. Total installed electrolysis capacity will reach 3 terawatts by 2050, DNV said.
Growth in wind
Wind power will become increasingly important in the energy transition.
It provided 5% of the world's electricity output in 2019, predominantly from onshore farms. By mid-century, that share will rise to 33% as electricity generation from wind increases from 1420 terawatt hours a year in 2019 to 19,000 TWh a year in 2050, according to DNV.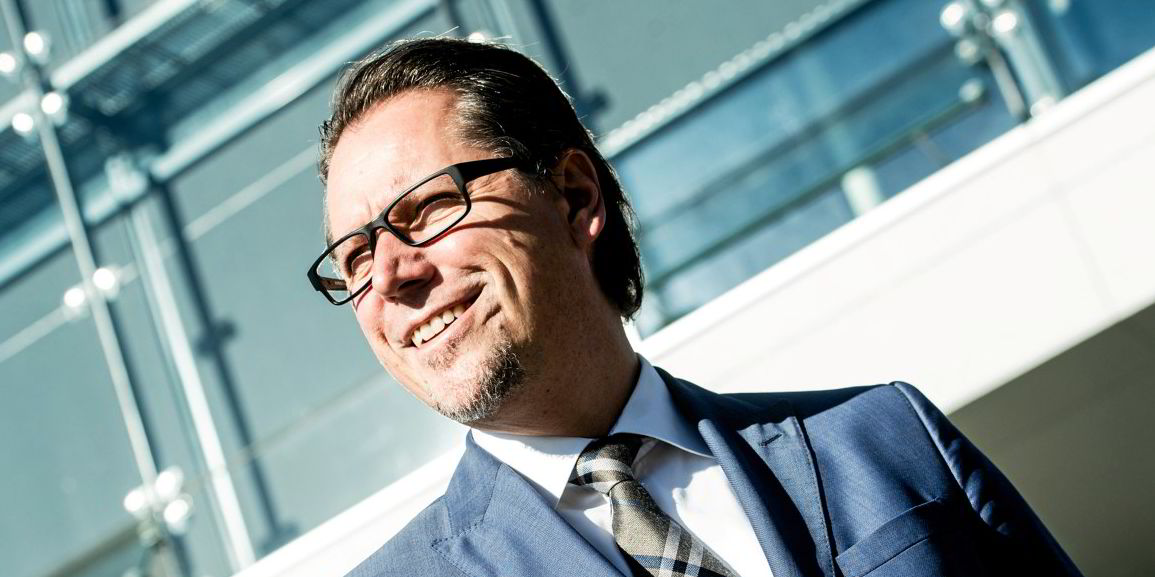 Onshore wind installation is forecast to increase eightfold by 2050 as it outcompetes fossil fuel sources on cost from the current decade onwards.
"The share of offshore wind in total wind electricity generation will increase steadily, rising globally from 6% in 2019 to 40% in 2050."
In October, DNV will publish its first Pathway to Net Zero Emissions report — a detailed look at how best to close the gap between this forecast and one that is aligned with the Paris Agreement.
"It is vital that we mobilise all the forces of the Fourth Industrial Revolution towards a green energy transformation, including innovative ways to finance this shift," DNV chief executive Remi Eriksen said.