Maersk Drilling is carving out a niche among contractors with the conversions of two jack-up rigs aimed to significantly cut greenhouse gas emissions associated with drilling operations.
The conversions are not just keeping the air cleaner — the Danish company says they are also starting to give it a competitive edge in offshore markets where lower emissions are a priority.
Maersk Drilling was an early mover in this field, launching its Green Rig project in 2008.
Interest in decarbonisation resulted in a trial where the jack-up rig Maersk Invincible was operated in Norwegian waters using a shore-based hydroelectric power supply.
Are you missing out on ACCELERATE?
Gain valuable insight into the global oil and gas industry's energy transition from ACCELERATE, the free weekly newsletter from Upstream and Recharge.
"That project got us thinking more ambitiously about opportunities we had to do things differently," Maersk Drilling's head of integrity and projects, Caroline Alting, tells Upstream.
The 2014-built Maersk Intrepid, an ultra-harsh-environment CJ70 jack-up rig, was chosen for an upgrade, soon followed by a similar conversion on the Maersk Integrator.
The upgrades combined hybrid battery power with catalytic conversion units to capture nitrogen oxide (NOx) exhaust using ammonia injections to convert the gas into water and nitrogen.
These features were combined with Maersk's cloud-based software to monitor energy use on board the rig, allowing for continuous optimisation, including power adjustments.
The Maersk Intrepid began working under contract with Equinor earlier this year at the Martin Linge field in the North Sea.
The first month of operations soon showed fuel consumption and carbon dioxide emissions falling by about 25% compared with the baseline established for the rig.
The rig's "scrubbing" systems reduced NOx emissions by about 95%, against an original target of 90%.
A similar performance was recorded on the Maersk Integrator, which resumed operations in the North Sea for Aker BP.
Among operators, Equinor has led the way in providing rate premiums and performance incentives for drillers able to supply the technology that can actually reduce emissions.
The Norwegian major also has a master frame agreement with Maersk Drilling geared toward long-term collaboration for technology advancements, including initiatives to limit greenhouse gas emissions from drilling operations.
The dayrate for the Maersk Intrepid began at $295,000 but will rise to $338,000 with an extension.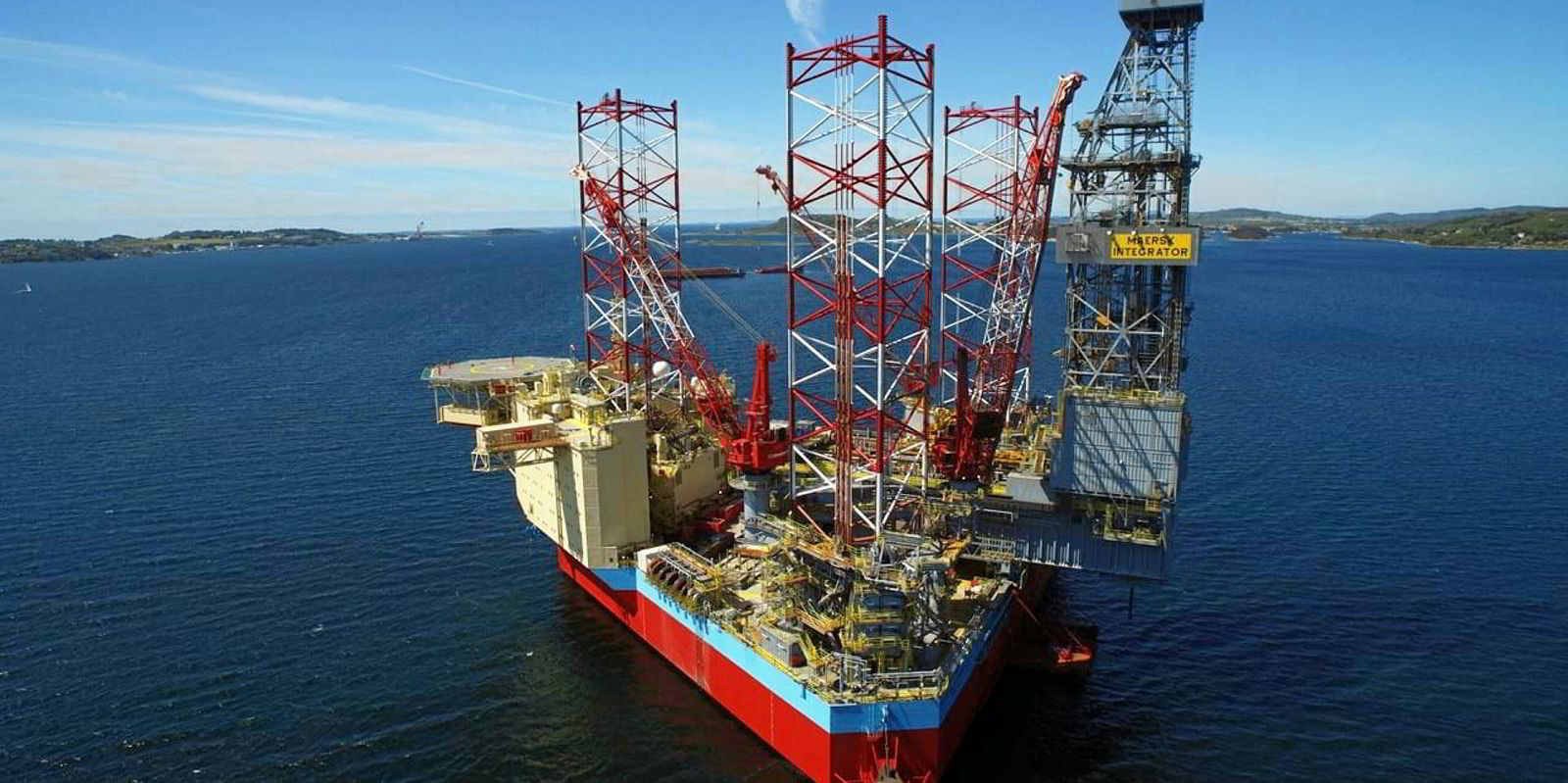 The Maersk Integrator was contracted at $275,000 per day, but this too is likely to rise with an extension early next year.
"These are really good rates. This is partly about demand for these kind of units in the Norwegian North Sea, but there is special demand for units with this capacity to reduce emissions in this sector," notes Teresa Wilkie, offshore rig market leader with Esgian, the analytics and sustainability arm of Bassoe Offshore.
This demand can be operator-specific and made explicit in tender specifications, as with some of the most recent tenders issued by big European oil companies.
Regulatory drivers are also on the rise. Borr Drilling recently fitted its harsh-environment jack-up Prospector 1 with a selective catalytic reduction system in response to tough new emission rules, Wilkie notes.
Maersk Drilling's approach to its own project started with the introduction of a fuel monitoring system for power generation systems.
"Close monitoring provides a baseline and shows us how much fuel we use on which operation," Alting says.
Behavioural changes
"This transparency helps drive behavioural changes on our rigs and informs conversations with customers about how to improve fuel use in different modes and operations."
The battery solution — the fruit of cooperation with German engineering and technology group Siemens — focuses on peak loads during rig operations. Taking out these peaks allows the power generation system to run on a more stable load, reducing the demand for peak engine power and allowing operators to dispense with the standby gensets.
The energy storage system also allows for recovery of braking energy — similar to the regenerative braking system of a hybrid car — which adds to energy savings and further reduces emissions, Atling says.
Enhanced digital intelligence has an important interaction with operational management in this sense.
"The data starts dictating behaviour in terms of what you can do, and what you need to avoid," Alting says.
"For example, it helps make people comfortable about performing an operation with just two gensets, and without the usual backup."
Battery usage also marks a significant departure from traditional rig industry culture and practice, where the need for backup and redundancy is paramount. "We have reached the point where we can start taking some of that away," Alting notes.
The results achieved so far, while highly encouraging, may be a mere taster of what is to come.
"We would definitely like to move further with such trends … it is fair to say that we are still at the baby-steps stage when you consider what is possible," she says.
Maersk Drilling has received support from Norway's NOx Fund and the long-term collaboration project with Equinor was also key.
"Such projects are essentially customer-enabled and can only take off if both sides are willing to engage.
"We can see the opportunities, but it is the client's interest that enables us to do more and offer more," Alting says.
Wilkie sees demand for lower-emission units soaring as other offshore markets follow this trend often led by European operators, as seen with Shell in the Gulf of Mexico and Equinor in Brazil.