Australian independent Santos has taken the final investment decision on the US$165 million Moomba carbon capture and storage (CCS) development in South Australia.
Santos confirmed on Monday its decision to proceed with the project, which is expected to initially capture and store 1.7 million tonnes per annum of carbon dioxide when it starts up in 2024, with the potential to eventually store up to 20 million tpa of CO2 in subsequent development phases.
Are you missing out on ACCELERATE?
Gain valuable insight into the global oil and gas industry's energy transition from ACCELERATE, the free weekly newsletter from Upstream and Recharge.
Santos chief executive Kevin Gallagher claims Moomba CCS will be "one of the biggest and lowest cost" CCS projects in the world.
"We forecast a full lifecycle cost of less than US$24 per tonne of CO2, including cash costs in operation of US$6 to US$8 per tonne of CO2, with first injection targeted for 2024," he said.
"This decision is a critical step in decarbonising natural gas on our path to new low emissions and clean-burning fuels such as hydrogen. It is also an important milestone in our plan for Santos to achieve net-zero Scope 1 and 2 emissions by 2040."
Rapid rise in CCS needed
Santos noted claims by the International Energy Agency that the world needs a hundred-fold increase in CCS capacity between now and 2050 — from 40 million tpa currently to 5.6 billion tpa — in order to limit global temperature rises.
"If we do not decarbonise the hydrocarbon fuels that still make up just over 80% of global primary energy and provide 60% of the world's clothing fibres along with other essential everyday products, then the world will simply not reach net-zero by 2050," Gallagher said Monday.
Chief executive of Moomba CCS joint venture partner Beach Energy, Matt Kay, claimed the sanctioning of the Moomba CCS project would deliver a step change to his company's emissions profile.
"Once operational, this project will deliver a material reduction to Beach's emissions and forms a key pillar of our aspiration to reach net zero emissions by 2050," he said.
"Natural gas will continue to be a critical source of energy, even in a lower carbon future, and we are committed to playing our part in reducing our emissions footprint – our participation in the Moomba CCS Project is a clear indication of that."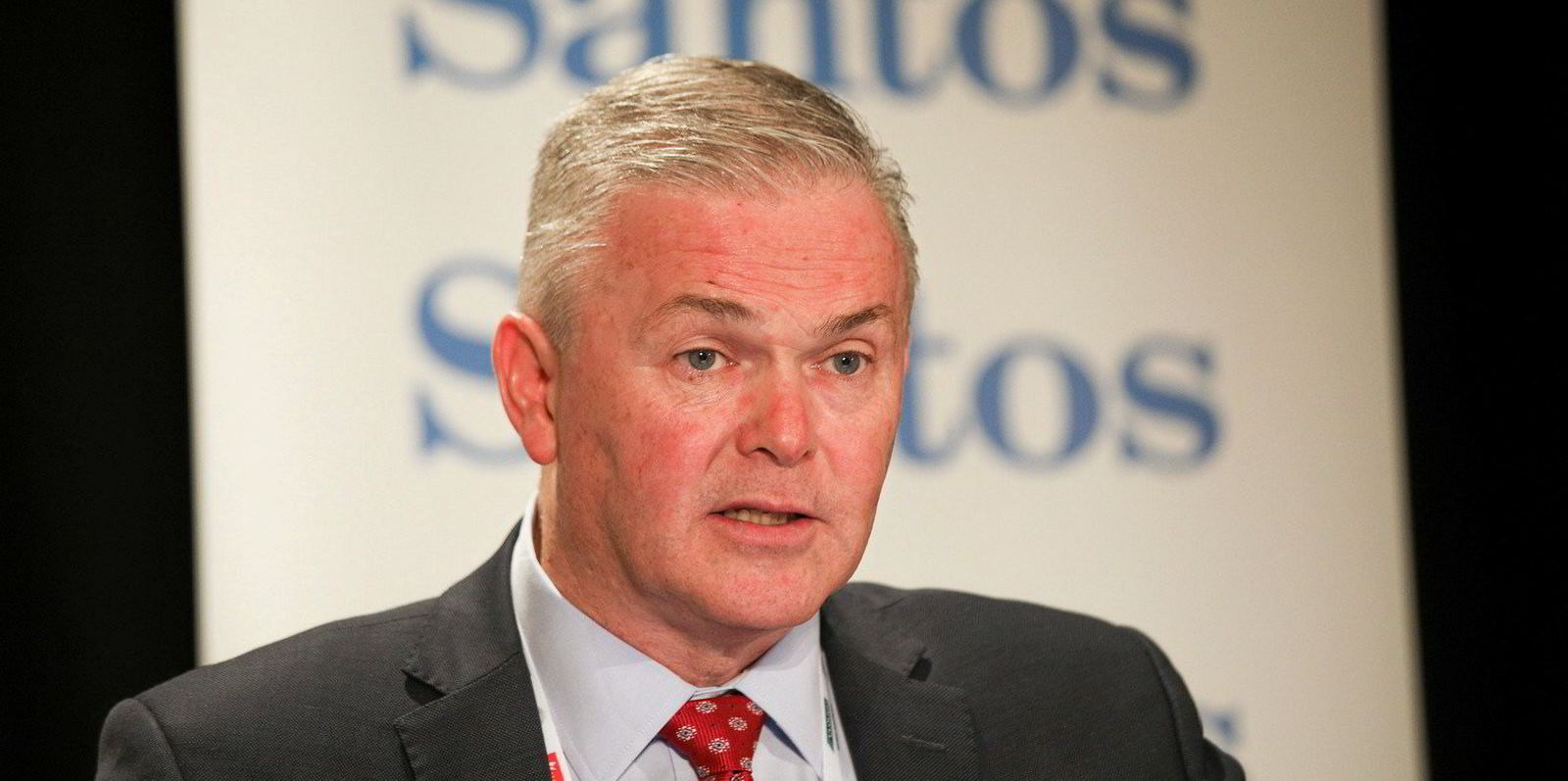 Moomba to qualify for carbon credits
Santos also confirmed on Monday that the project had been successfully registered with Australia's Clean Energy Regulator — the government body responsible for accelerating carbon abatement for Australia.
Under the regulator's new CCS method, the Moomba project will qualify for Australian Carbon Credit Units (ACCUs) for a 25-year period.
Each ACCU earned by the CCS project will represent one tonne of carbon emissions avoided, with Santos then able to sell those credits either to the Australian government at bi-annual auctions or on the private voluntary market.
Santos holds a 66.7% operated interest in the Moomba CCS project, with Beach holding the remaining equity.
Industry body welcomes Moomba sanction
Oil and gas industry body the Australian Petroleum Production & Exploration Association (APPEA) said the sanctioning of the Moomba CCS project was a welcome investment in the local economy and Australia's lower emissions future.
APPEA chief executive Andrew McConville claims Australia's oil and gas industry is "exceptionally well placed" to deliver on emissions reduction technology such as CCS.
"Investment in technology will play a major role in Australia achieving a net zero emissions target by 2050. It can also create jobs and export opportunities as we make our way to a lower emissions future," he said.
"We're ahead of the game with high quality and stable storage basins such as the Cooper, much of the infrastructure planned or already in place, established regulatory frameworks and technical expertise."
However, the decision to sanction Moomba CCS and confirmation that it would be eligible to generate ACCUs was not universally welcomed.
Advisor for public policy think tank The Australia Institute, Polly Hemming, took to social media after Santos made its announcement to criticise the project's qualification registration under Australia's Emissions Reduction Fund.
"Pollution from fossil fuel projects should be regulated, not rewarded with public climate funding," she said.