Sinopec, China's second-largest oil company, is poised to aggressively pursue its green hydrogen programme as part of its grand mission to achieve a carbon emissions peak before 2030 and carbon neutrality in 2050, 10 years ahead of the government's 2060 target.
Sinopec chairman Ma Yongsheng said the company will prioritise the development of renewable-energy projects, particularly those involving hydrogen, in its transition to a low-carbon business structure.
Ma said Sinopec will raise its investment in hydrogen technology research and development, and has planned a number of pilot green hydrogen projects.
Introducing Accelerate Hydrogen
We're pleased to announce the launch of Accelerate Hydrogen - the latest newsletter from Recharge and Upstream. Sign up now for an unbiased, clear-sighted view of the latest developments in the fast-growing hydrogen sector every week.
By 2025, the company is aiming to have supplied a cumulative 1 million tonnes of green hydrogen, with plans of its green hydrogen production capacity to hit 500,000 tonnes per annum the same year, compared with its current output of 3.9 million tonnes of grey hydrogen from fossil fuels.
China's total hydrogen production is forecast to increase from negligible levels today to more than 580 million tpa of coal equivalent by 2060, which will then account for 16% of the nation's final energy consumption, mainly due to hydrogen's use as a fuel for industry and long-distance transportation, Shell said in a recent report.
"Sinopec aims to become China's largest [green] hydrogen company by 2025 with a target to reduce CO2 emissions by 10 million tpa then," Ma said.
He added that by 2025, Sinopec will increase the number of hydrogen refilling stations to 1000, from 74 now, which will be able to supply 200,000 tpa of hydrogen. Other initiatives include building 7000 photovoltaic generation stations for electric vehicle charging.
Sinopec is expected to commission its first green hydrogen project in Ordos city in northern China in mid-2022. The project, the company's first green hydrogen for a chemical manufacturing project, will be able to produce 10,000 tpa of green hydrogen for use at a local coal-based chemical plant.
A month ago, China lit the Winter Olympics torch with green hydrogen produced with the proton-exchange membrane (PEM) electrolyser at Sinopec's Yanshan Petrochemical Beijing, which has a production capacity of 2000 cubic metres per hour.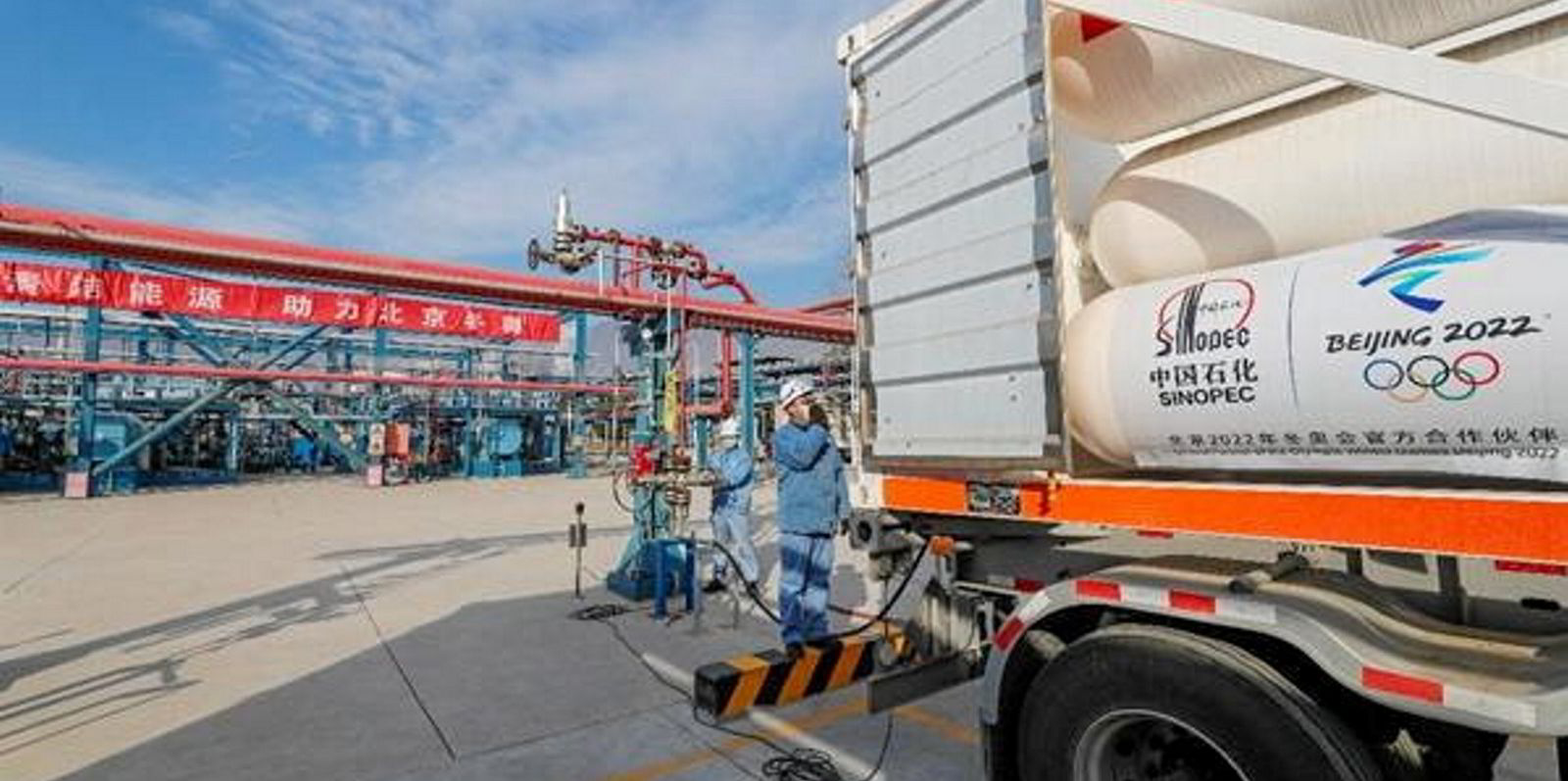 The company will soon commission another PEM electrolyser, which uses solid proton-conducting polymer as the electrolyte and deionised water, and is able to produce 1.12 tonnes per day of green hydrogen with 99.9995% purity.
The project, with capacity of 2.5 megawatts, is being installed at Sinopec's Zhongyuan oilfield, in Henan province.
The project is able to save one kilowatt hour of electricity for each cubic metre of hydrogen produced, due to the PEM water electrolysis technology, compared with an alkaline electrolyser, according to Sinopec.
Early this year, Sinopec launched what Ma called the world's largest solar-to-hydrogen project in Xinjiang with the aim to produce 20,000 tpa of green hydrogen by mid-2023.
The 3 billion-yuan ($476 million) project will involve building a 300 MW PV plant with capacity to generate 618 kilowatt hours of electricity per year, a 20,000 tpa hydrogen electrolysis plant as well a hydrogen storage tank with capacity of 210,000 cubic metres and hydrogen pipelines able to transport 28,000 cubic metres per hour.
Sinopec will supply hydrogen produced from the Xinjiang project to its Tahe Refining & Chemical to replace fossil fuels, which can help reduce carbon dioxide emissions by 485,000 tpa.
Sinopec is also working in collaboration with China's Three Gorges Investment Group and Shanghai Municipal government on a 3 billion yuan hydrogen project in Shanghai's Qingpu district.
The facilities will include 10 hydrogen refilling stations and distributed PV generation stations with capacity of 300 MW. Similar projects are also being rolled out by the Sinopec-Three Gorges consortium in south-western China's Yunnan province.
The company is in a joint venture with Cummins of the US, which will kick-start its operations in China with a $47 million investment to build a green hydrogen plant in Foshan, the country's ecological base for the hydrogen energy industry, according to Sinopec.
The plant is expected to produce 500 MW per annum of green hydrogen once completed in 2023. The Cummins Enze joint venture aims to eventually produce 1 gigawatt per annum of green hydrogen.
China is already the world's top hydrogen producer, with an output of around 20 million tpa, most of which is grey hydrogen produced from reforming and naphtha cracking units or gas refinery byproducts.
A recent white paper from the China Hydrogen Energy Alliance says China's demand for hydrogen will rise to 35 million tonnes in 2030, growing to 60 million tonnes by 2050, when it will account for 10% of the energy demand mix.
However, this is still below the 18% of hydrogen in the global energy mix by 2050 forecast by the Hydrogen Council, which describes itself as "a global chief executive-led initiative of leading companies with a united vision and long-term ambition for hydrogen to foster the clean-energy transition".
Are you missing out on ACCELERATE?
Gain valuable insight into the global oil and gas industry's energy transition from ACCELERATE, the free weekly newsletter from Upstream and Recharge.