The United Arab Emirates is looking to develop a "world-leading'' clean energy portfolio, with state-run giants Abu Dhabi National Oil Company (Adnoc) and Taqa to join Mubadala Investment Company as major shareholders in Abu Dhabi-based renewables player Masdar.
Abu Dhabi Crown Prince Sheikh Mohamed bin Zayed Al Nahyan revealed the plan this week for the companies to combine their renewables and green hydrogen portfolios, subject required agreements being completed and necessary approvals being obtained.
The newly formed strategic partnership will launch under the Masdar brand with more than 23 gigawatts of committed, and exclusive renewable energy capacity, with a goal to more than double that figure to over 50GW by 2030.
Are you missing out on ACCELERATE?
Gain valuable insight into the global oil and gas industry's energy transition from ACCELERATE, the free weekly newsletter from Upstream and Recharge.
Taqa will hold the majority stake in Masdar's renewable energy business with a 43% stake, Mubadala — which established Masdar in 2006 — will retain a 33% share, while Adnoc will hold a 24% interest.
However, Adnoc will take a majority 43% share in Masdar's hydrogen business, with Mubadala and Taqa holding a 33% and 24% stake, respectively.
Adnoc chief executive Sultan Ahmed Al Jaber will remain chairman of the expanded Masdar entity that will cover both renewables and green hydrogen business areas.
"As the UAE celebrates its Jubilee, today's historic collaboration between three Abu Dhabi powerhouses firmly places Adnoc at the forefront of the global energy transition and marks our entry into the international clean energy space," Al Jaber said.
"Through our direct interest in Masdar, and in close collaboration with our partners, Adnoc will further capitalise on the many exciting local and international renewable energy and hydrogen opportunities."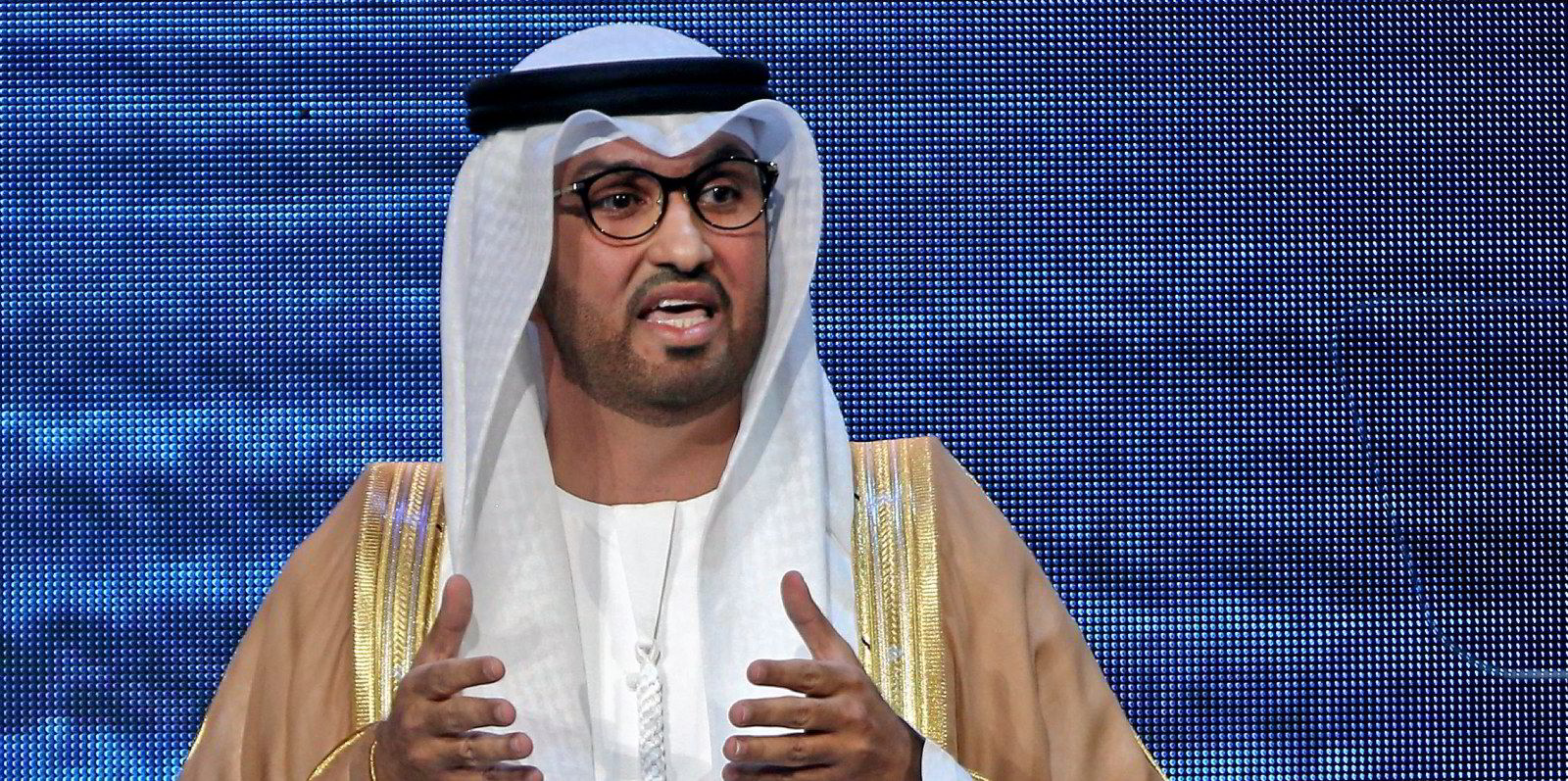 Adnoc claims to have ambitious plans to grow both domestic and international hydrogen value chains, leveraging its trading capabilities, existing infrastructure and logistics to target both blue and green hydrogen developments.
Green vs Blue
Blue hydrogen is produced from natural gas feedstocks, with the carbon dioxide by-product from hydrogen production captured and stored. However, the process is not emissions free.
Green hydrogen is made using electrolysis powered by renewable energy to split water molecules into oxygen and hydrogen, creating an emissions-free fuel.
The company already produces about 300,000 tonnes per annum of hydrogen for its downstream operations and has previously stated it intends to expand it to more than 500,000 tpa, however, how much blue and green hydrogen production will make up that figure is not clear.
The formation of the new strategic partnership also comes after Adnoc and Taqa last month signed an agreement to partner on renewable energy and green hydrogen opportunities, targeting at least 30GW of renewable energy generating capacity by 2030.
Adnoc, Mubadala and Taqa's majority shareholder ADQ also formed a hydrogen alliance earlier this year, aimed at focusing on low-carbon green and blue hydrogen projects.
Following the signing of this week's strategic partnership, Taqa's chairman, Mohamed Alsuwaidi, stated his company's goal was to "be a champion of low carbon power and water".
"By taking a controlling stake in Masdar's renewable energy business and working in partnership with Adnoc and Mubadala we have created a path to grow to over 50GW of renewable capacity by 2030 making us the largest player in the MENA (Middle East North Africa) region and one of the leading global contributors to renewable power generation," he added.
"This clean power capability and the opportunity to tap into the expertise in this partnership will also enable us to become a world leader in green hydrogen. We will be a true national champion for the UAE in developing clean energy solutions at home and around the world."
The partnering of the UAE-based companies to target renewables and green hydrogen follows the announcement the UAE is targeting net-zero carbon emissions by 2050, despite also pushing ahead with plans for higher oil and gas production capacity.
The UAE plans to increase oil output capacity to 5 million barrels per day by end of this decade, up from 4 million bpd currently.