British prime minister Boris Johnson said he wants the UK to become the "Klondike of carbon capture and storage, the Qatar of hydrogen" as his government unveiled long-awaited plans to shape a net-zero economy by the middle of the century.
Johnson made his comments during a speech to the Global Investment Summit 2021 in London's Science Museum, which coincided with publication of the government's Net Zero Strategy.
He presented the 368-page strategy as a document that would put the UK at the vanguard of green economies.
Just weeks before the UK hosts the COP26 UN climate talks in Glasgow, Scotland, which will aim to strengthen global action on global warming, the strategy sets out an ambition it is hoped will force Western economies to end their addiction to fossil fuels.
The strategy is intended to help the UK show that a nation can retain a competitive edge while moving to low-carbon technologies such as carbon capture, hydrogen, heat pumps and electric vehicles.
The strategy also envisages a further expanding offshore wind and reducing operational greenhouse gas emissions from the North Sea oil and gas sector.
Cradle of industry
An effusive Johnson said: "[The UK] was the first nation to industrialise, to send the plumes of smoke from the Midlands.
"We were the first to knit the deadly tea cosy of CO2 that is now driving climate change.
"So we have a responsibility to set an example — and we are."
He added: We want to be the Klondike of CCUS [carbon capture and underground storage], the Qatar of hydrogen."
In 2019, the UK became the first G7 member to set a net-zero emissions target for 2050, which will require drastic changes in the way Britons travel, heat their homes and consume electricity.
The new strategy is essentially a series of long-term promises - some with caveats - and funding commitments to shift the world's fifth-largest economy towards green technologies.
It aims to secure 440,000 jobs and unlock $124 billion of private investment by 2030.
The government aims for the UK to be powered entirely by clean electricity, subject to security of supply, by 2035.
It aims to have 40 gigawatts of offshore wind power by 2030, as well as 1 GW of floating offshore wind.
The UK will also deliver 5 GW of hydrogen production capacity by 2030 while cutting its emissions from oil and gas by half.
The government aims to deploy at least 5 million tonnes per annum of CO2 of engineered greenhouse gas removals by 2030.
Cost criticised
For residential heating, households will be offered grants of up to £5000 to switch from gas-boilers to heat pumps, with £480 million in subsidies made available over three years.
Critics argued that the subsidies fall short of the real cost of heat pumps and noted that the strategy also stopped short of any outright ban on gas boilers, stating only that the government wants no new gas boilers to be sold after 2035.
Reacting to the strategy, Shadow Business Secretary Ed Miliband said the there was a "chasm between the grand promises and the appalling weakness in delivery".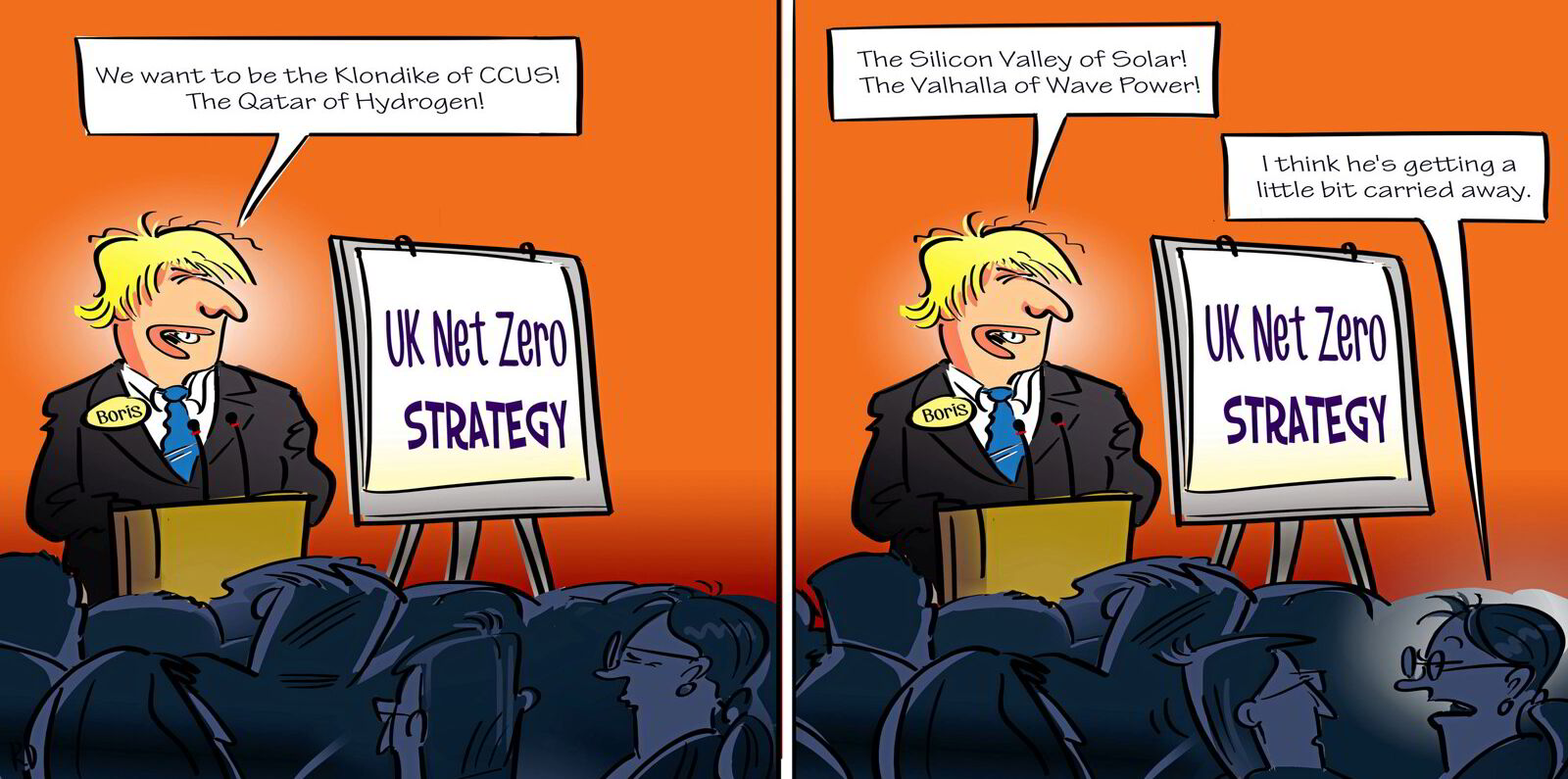 Price spiral
The strategy said: "Current gas prices spikes underline the need to get off hydrocarbons as quickly as possible, but we will manage the transition in a way that protects jobs and investment, uses existing infrastructure, maintains security of supply and minimises environmental impacts."
Gas and power prices in the UK have risen by more than 250% this year, forcing some energy suppliers out of business and boosting consumer energy bills.
The nation will also launch a new £120 million ($165 million) "future nuclear enabling fund" for future nuclear technologies, including small modular reactors, with a number of potential sites such as Wylfa in north Wales.
The government said it would secure a final investment decision on a large-scale nuclear plant by the end of this parliament.
Many of the UK's nuclear plants are ageing. Some are being decommissioned earlier than scheduled and EDF's new Hinkley Point C plant will not be online until 2026.
EDF also plans to build a plant at Sizewell, in Suffolk, subject to the right investment framework.
Chris Stark, chief executive of the Climate Change Committee, the government's independent climate advisers, welcomed the strategy but said more action was needed.
He said: "We didn't have a plan before, now we do.
"This is a substantial step forward that lays out clearly the government's ambitions to cut emissions across the economy over the coming 15 years and beyond. It provides much more clarity about what lies ahead for businesses and individuals and the key actions required in the coming decades to deliver a Net Zero nation.
"It also gives the UK a strong basis to be president of the forthcoming COP26 summit. The critical next step is turning words into deeds. We have begun to assess the strategy in more detail and the extent to which the policies proposed in this strategy deliver their ambition."
As well as setting out new measures, the Net Zero Strategy includes several recent policy documents, including the North Sea Transition Deal, agreed earlier this year between government and the UK oil and gas sector.
Mike Tholen, sustainability director of trade body Oil & Gas UK, said: "We are already working in partnership with the UK government to deliver a transformational North Sea Transition Deal, the first of a G7 nation, which sets out exactly how we will move towards a lower carbon future.
"The UK's oil and gas industry is changing and we are well on our way to an exciting future."
Are you missing out on ACCELERATE?
Gain valuable insight into the global oil and gas industry's energy transition from ACCELERATE, the free weekly newsletter from Upstream and Recharge.