Consultant Westwood Global Energy believes oil and gas operators will continue to ramp up their investments in offshore wind this year, while floating wind appears to also be picking up pace.
In an insight on key themes to watch in offshore wind in 2022, Westwood said it expected the oil and gas sector's increased spending on offshore wind in recent years to continue, either through the purchase of equity in existing projects or winning new development tenders.
Are you missing out on ACCELERATE?
Gain valuable insight into the global oil and gas industry's energy transition from ACCELERATE, the free weekly newsletter from Upstream and Recharge.
Several oil and gas companies have already got off the mark with expanding their offshore wind portfolios in 2022, with consortia being led or supported by BP, Shell and TotalEnergies being offered option agreements last week of over 9.9 gigawatts in the UK's ScotWindoffshore wind lease auction.
Westwood noted the three supermajors, along with Italy's Eni, had been particularly active in auction processes of late, placing bids either as a sole entity or in partnership with other stakeholders that compliment or augment their offshore wind capabilities.
Excluding the auctions, Westwood stated the four companies had equity stakes in projects either in the planning; engineering, procurement, construction and installation; or operational phase, that were equivalent to 8GW of capacity, on an equity basis.
The projects are spread across mature markets, such as in the UK and the Netherlands, as well as in emerging markets, such as the US, France, Norway, South Korea, and Ireland.
Floating wind
Meanwhile, an area where the oil and gas industry's expertise has long been touted as potentially beneficial, floating wind, is expected to gather pace in 2022.
While most of the world's operational offshore wind capacity comes from fixed-bottom developments, last year saw the world's largest floating wind development, the 50-megawatt Kincardine Phase 2, come online.
Norwegian energy giant Equinor is slated to bring its 88MW Hywind Tampen project, offshore Norway, online in the third quarter of the year, with the project to provide electricity for the Snorre and Gullfaks offshore field operations.
Westwood claims it is only the beginning for the nascent sector, with more project proposals anticipated as governments ramp up their support for floating wind.
It highlighted the 14.5GW worth of floating wind projects that won the right to sign lease option agreements in the recent ScotWind round, including Shell's joint bid with ScottishPower for two sites off the east and north-east coast of Scotland, with the pair planning floating wind projects with a combined 5GW of capacity.
Meanwhile, the Norwegian government has also earmarked the 1.5 GW Utsira Nord coastal area for floating wind projects, with oil majors such as TotalEnergies, BP, Shell, Eni and Equinor likely to participate in the offshore auction.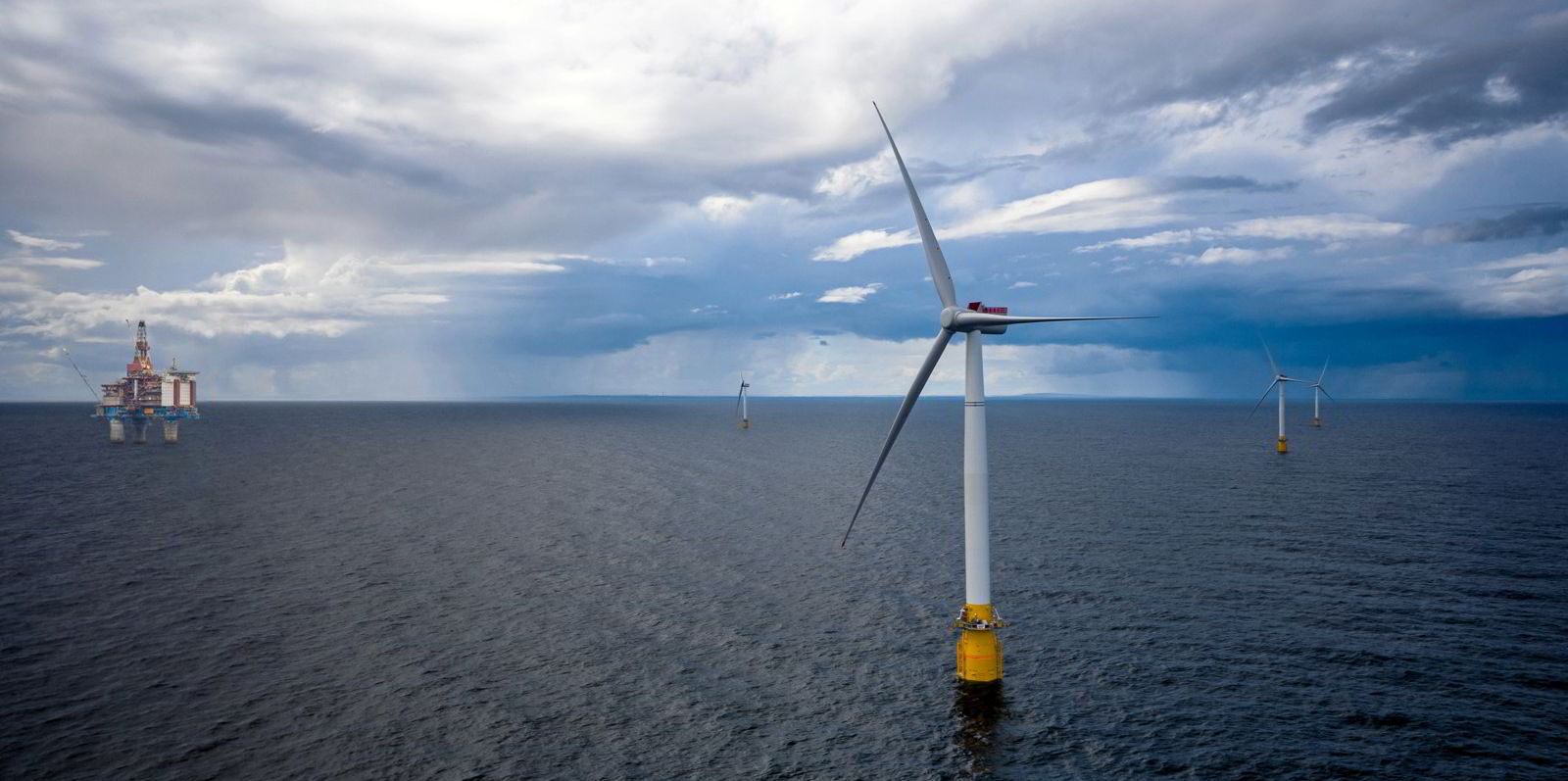 Green hydrogen outlook uncertain
While Westwood warns the outlook for green hydrogen is still uncertain, offshore wind could have a key role to play in ramping up production, with the consultancy anticipating more regions to establish clear hydrogen strategies this year.
As an example, it highlighted the Danish Power-to-X strategy, which will provide billions of dollars in subsidies for clean energy projects, including leveraging the country's offshore wind potential for the production of green hydrogen.
Westwood also highlighted the UK's soon to launch a £240 million ($324.8 million) Net-Zero Hydrogen Fund, which will cover both blue and green hydrogen, as well as California's latest Budget plan for 2022-2023, which earmarked $100 million to promote green hydrogen.
Green vs Blue
Blue hydrogen is produced from natural gas feedstocks, with the carbon dioxide by-product from hydrogen production captured and stored. However, the process is not emissions free.
Green hydrogen is made using electrolysis powered by renewable energy to split water molecules into oxygen and hydrogen, creating an emissions-free fuel.
"These government initiatives will provide further confidence for offshore developers to consider the green hydrogen opportunities in their commercialisation strategies," Westwood added.
US picking up wind
The US is expected to remain a continued emerging market for offshore wind in 2022, with the state of New York announcing its next round of offshore wind procurement to be launched later this year, with at least 2GW of projects to be selected.
New Jersey also intends to open its third offshore wind solicitation in the latter half of 2022, with a target capacity of 1.2GW to be awarded.
A lease auction is also scheduled to take place next month, with a total of six lease areas under offer in the New York Bight federal waters that have the potential to add between 5.6GW to 7GW of additional offshore wind capacity.
Meanwhile, Westwood anticipates several US projects will move forward this year, expecting some 858MW of capacity to reach financial close by the end of 2022.
Chinese slowdown
While offshore wind had a record breaking year in 2021, with some 18.6GW of capacity being put into operation, Westwood warned 2022 was unlikely to match those figures.
One reason for the massive ramp up last year was a rush in China to meet government requirements that offshore wind projects sanctioned in 2019 and 2020 be commissioned before the end of 2021 to qualify for state subsidies.
Westwood warned that mainland China would need to "grapple with a (national) subsidy-free reality this year", with the project tariff to be based on the prevailing coal-fired power tariff.
The consultancy noted this was "significantly" lower than the previous offshore wind feed-in-tariff for projects commissioned by December 2021.
Westwood said this would require China's offshore wind industry to find additional costs, such as through technology innovation, supply chain collaboration or other optimisation measures.
Never miss a must-read story
Get notified when we publish articles from your selected sectors, businesses or journalists.