Scotland has picked 13 projects under its pioneering INTOG seabed leasing scheme that includes deployment of large-scale wind power to decarbonise offshore oil and gas production.Seabed landlord Crown Estate Scotland will offer initial exclusivity agreements for potential lease options that could support up to 5 gigawatts of wind linked to oil and gas decarbonisation, with another 499 megawatts under a separate innovation pot for new technologies.
The biggest winners are Cerulean Winds and Flotation Energy, which between them took almost all the capacity under the targeted oil and gas 'TOG' component (see table).
World first
INTOG is the first auction in the world to award leases to projects dedicated to helping decarbonise oil and gas production through the 'TOG' part of the auction that aims to replace power from diesel or other polluting sources with green electricity from offshore wind.
The 'IN' element was set up to award leases for projects no larger than 100 MW using innovative technologies.
Crown Estate Scotland said that 19 projects in total entered, 10 related to the innovation element and nine for TOG.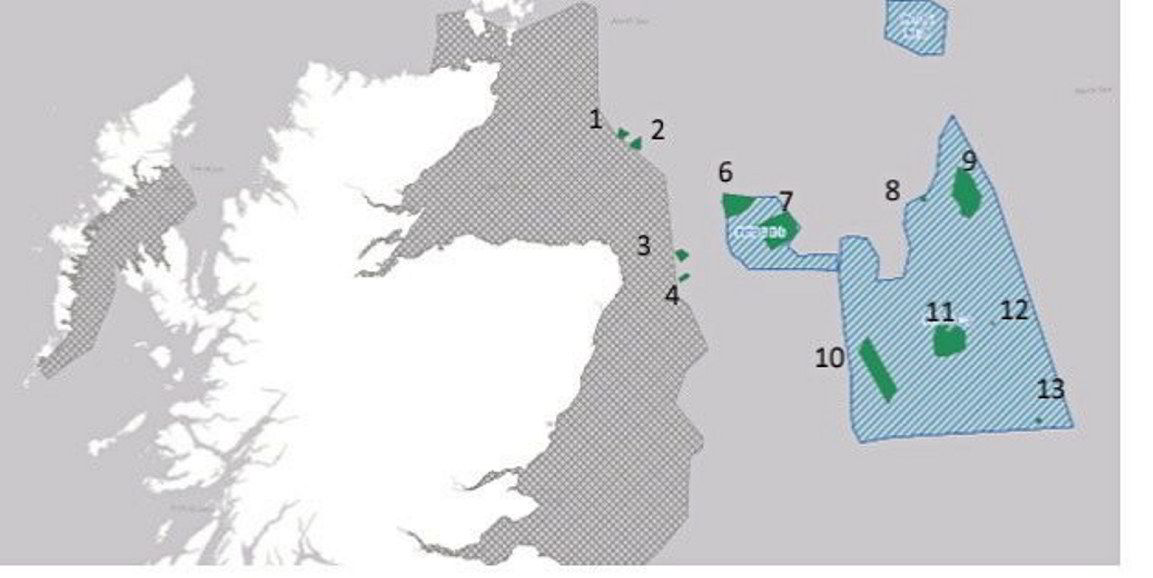 The auction is designed to build on momentum Scotland established in offshore wind thanks to its massive 2022 ScotWind Round, which offered lease options to almost 28GW of projects — the majority of it floating.
The winners of the 50-year leases on offer for the TOG projects needed to show letters of intent (LOIs) from the oil and gas assets they hope to decarbonise over the scale of demand — and will now have the chance to build a business case for meeting it.
Dan Jackson, founding director of Cerulean Winds, which won three sites, said: "Our development represents a multi-billion pound investment to create one of the largest offshore floating wind developments, supporting climate goals by removing tens of millions of tonnes of CO2 emissions from oil and gas production.
"We are now working with our partners so that we can move at pace to help scale the supply chain in Scotland to deliver on this significant opportunity."
Matthias Bausenwein, BP's senior vice-president for wind, said: "As we look to significantly build our offshore wind footprint around the world, we expect this to increasingly include floating options, and this is one exciting first step.
"We look forward to working closely with the Aberdeen region on this project, welcoming local suppliers to register to work with us. The power from this wind farm also has the potential to be integrated with the Aberdeen Hydrogen Hub, which we're developing with Aberdeen City Council."
But analysts warned before the auction that many unanswered questions loom over the process, including technical challenges around connecting the wind farms to the fossil assets and dealing with variability of wind output for power-hungry offshore operations that need reliable supplies.
Employing offshore wind power arrays to decarbonise oil and gas operations is gaining traction with operators around the world, with the first commercial project, Equinor's 88 MW Hwyind Tampen, coming online in Norway and several others taking shape, including the gigascale Trollvind megaproject.
INTOG LEASE OFFERS
| | | | | |
| --- | --- | --- | --- | --- |
| Lease | Lead applicant | Option Fees | IN or TOG | Total capacity (MW) |
| 1 | Simply Blue Energy | £9,972,000 | IN | 100 |
| 2 | Bluefloat Energy/Renantis Partnership | £7,107,900 | IN | 99.45 |
| 3 | Bluefloat Energy/Renantis Partnership | £5,401,360 | IN | 99.45 |
| 4 | BP Alternative Energy Investments | £1,670,917 | IN | 50 |
| 5 | ESB Asset Development UK | £3,137,000 | IN | 100 |
| 6 | Flotation Energy | £54,893,102 | TOG | 560 |
| 7 | Flotation Energy | £40,987,979 | TOG | 1350 |
| 8 | Cerulean Winds | £67,200,066 | TOG | 1008 |
| 9 | Cerulean Winds | £35,200,098 | TOG | 1008 |
| 10 | Cerulean Winds | £35,200,098 | TOG | 1008 |
| 11 | TotalEnergies | £200,000 | TOG | 3 |
| 12 | Harbour Energy | £405,000 | TOG | 15 |
| 13 | Harbour Energy | £405,000 | TOG | 15 |
Crown Estate Scotland
(This article first appeared in Upstream's sister renewables publication Recharge on 2 March, 2023)