US start-up Green Hydrogen International (GHI) has announced a 60-gigawatt green hydrogen project in a sparsely populated area of South Texas.
The project in Duval County, about 145 kilometres west of Corpus Christi, will be powered by wind and solar, and will utilise its own salt cavern for storage, while GHI plans to produce clean rocket fuel at the site, with US entreprenuer Elon Musk's SpaceX a potential customer.
The 60GW hydrogen hub would have the capacity produce more than 2.5 million tonnes per annum of green hydrogen upon completion, equivalent to roughly 3.5% of global grey hydrogen production today.
It will be centred around a hydrogen storage facility in the Piedras Pintas Salt Dome, with pipelines to the port cities of Corpus Christi and Brownsville on the Mexico border, where SpaceX's Starbase is located.
"The company is looking at combining hydrogen with CO2 at the Port of Brownsville to create a green methane rocket fuel for launch operations in South Texas," GHI said.
SpaceX is currently developing a new type of rocket engine called SpaceX Raptor that would use cyrogenic liquid methane and liquid oxygen, rather than the kerosene-based fuel the company has used to date.
The first 2GW phase of Hydrogen City is due to begin operations in 2026 and will utilise two storage caverns in the salt dome.
"Access to salt storage is critical to the scaling-up of green hydrogen production as it allows for maximum utilisation of electrolysers and serves as a buffer between variable wind and solar production and final delivery of green hydrogen to customers," said GHI.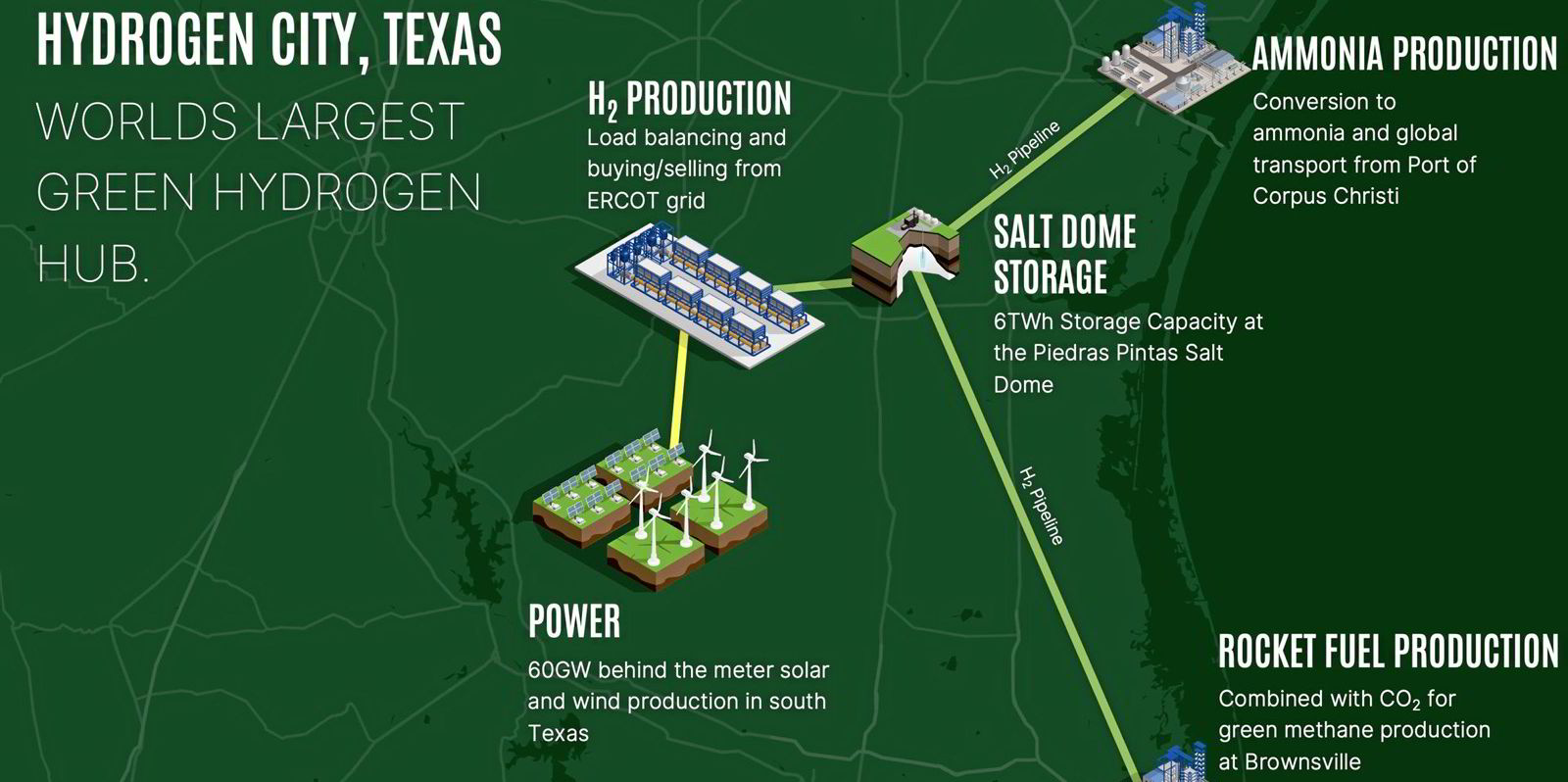 The Henry Hub of hydrogen
The Texas-based company — founded in 2019 by experienced renewables developer Brian Maxwell — said it could create more than 50 hydrogen storage caverns in the salt dome, providing up to 6 terawatt hours of energy storage "and turning the dome into a major green hydrogen storage hub, similar to the role Henry Hub plays in the natural gas market".
GHI says it is exploring several possible end-uses for its hydrogen, including: sustainable rocket fuel; clean aviation fuel; green ammonia for fertiliser production, or export to Asia; or as a substitute for natural gas in power plants.
"We see Hydrogen City becoming one of the largest H2 production centers in the world, supplying many different customers with 100% clean H2 fuel," said Maxwell.
GHI board member Andy Steinhubl added: "Hydrogen City is a project perfectly positioned near low-cost renewable resources, plenty of available land, salt domes, and proximity to the large energy port of Corpus Christi.
"It will be a world cost leader and position GHI to take advantage of the growing demand for green hydrogen."
While Hydrogen City would be mainly powered by local wind and solar farms, GHI adds that it plans to draw "additional renewable energy… from the [local] ERCOT grid during periods of low prices."
The largest single-site green hydrogen project announced until now has been the Western Green Energy Hub in Western Australia, which would be powered by 50GW of wind and solar, although it is not clear what size electrolysers would be used. A planned 30GW facility in Kazakhstan, powered by 45GW of wind and solar has also been unveiled.
There is also a project called HyDeal Ambition that adds up to 67GW at multiple sites across Spain, France and Germany.