A low carbon overhaul unveiled by BP this week means the supermajor will spend less on exploration than before and has already factored a gradual reduction in oil and gas production into its future plans.
"We will be producing less oil and gas in 2050 than today," BP's new chief executive Bernard Looney told an audience of investors and journalists on Wednesday.
"What this means will depend on different scenarios and decisions taken along the way, but whatever it is, it will have to be de-carbonised."
Looney said the company has already reduced exploration spending by 66% during the long cycle of low prices and promised that expenditure under this item will not creep up again when oil prices recover.
"If there is a new cycle, we will not chase this with new wells. We will keep up with the drivers of efficiency and discipline we have in place," he said.
In answer to a follow-up question on BP's website, Looney said: "We will increasingly focus our investments on the highest-quality barrels and drive returns and cash flow, not production volumes. And with that, you can expect oil and gas production to decline gradually over time.
BP's new targets commit the company to net zero emissions across its operations by 2050, and include end-users of its fuels, a version of the so-called Scope 3 concept.
Markets were still digesting the implications of this new strategy on Thursday, with no strong price movements in the wake of the announcement.
Many details pertaining to the reorganisation and the decarbonisation drive were pushed out to BP's strategic update, which is due to be held in September.
"We have learned our lessons, one of which is that we do not have all the answers. We are seen as the source of the problem and the obstacle to solving it... The world does have a carbon budget and it is finite and running out fast," Looney said.
The Irishman promised that renewable and low-carbon energy will account for a higher proportion of the company's investments, but left detailed numbers for later.
The company earmarked a modest $500 million to $700 million for investment in renewables in 2018.
EMISSIONS AMBITIONS. Source: REDBURN
| | |
| --- | --- |
| Company | Targets |
| BP | In February 2020 committed to be a net zero company by 2050 or sooner on an absolute basis. Although it should be noted this only applies to upstream volumes, which are smaller than total marketed volumes. |
| Repsol | In December 2019 committed to net zero emissions by 2050, based on carbon intensity (which is the same as saying net zero in absolute terms). |
| Shell | In December 2019 announced an aim to reduce the net carbon footprint of its energy products by c50% by 2050, and by c20% by 2035. |
| Equinor | In February 2020 committed to reducing the net carbon intensity of energy produced by >50% by 2050. |
| Total | In February 2020 announced an ambition to reduce the carbon intensity of products sold by 40% by 2040. |
| Eni | In March 2019 set out a target to reduce upstream emissions to net zero by 2030 (includes Scope 1 only). |
| ExxonMobil | No long-term emission reduction ambition or target. |
| Chevron | No long-term emission reduction ambition or target. |
"I see huge opportunity for BP to demonstrate we are a force for good in the world, and to grow and to thrive... Currently, around $300 billion a year is invested in new energies. To keep to a 2-degree (Celsius global) temperature rise, that has to become $1 trillion. For 1.5 degrees, it has to be $2.5 trillion," Looney said.
Asked about whether BP will sell oil and gas assets, Looney said: "Portfolio management is always part of our work... but if we want to get to net zero, then taking some expenditure from oil and gas and investing in cleaner energy has to be a good thing."
BP's overhaul does away with some traditional corporate divisions, including its veteran upstream and downstream departments.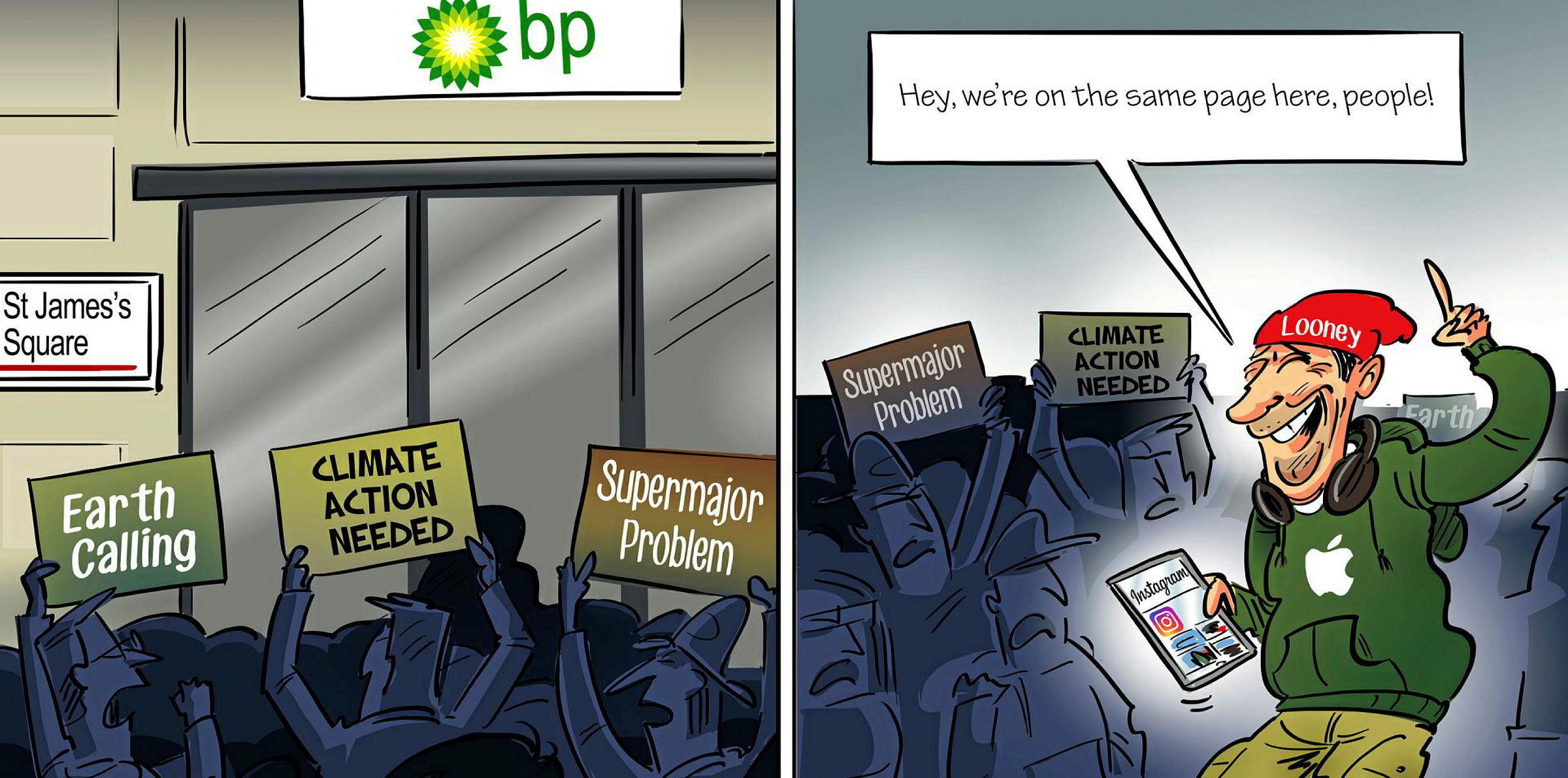 The company will now work with four business groups aligned to work with the new objectives: Production and operations; customers and products; gas and low carbon energy, including new value chains such as hydrogen and carbon capture, utilisation and storage plus innovation and engineering, including BP's venturing and launch pad investments.
Three integration teams will be established, including strategy and sustainability, headed by Giulia Chierchia, an external appointment from consultancy firm McKinsey; regions, cities and solutions; as well as trading and shipping.
For more teams, conceived as enablers of business delivery, embrace finance, legal, people and culture, as well as communications and advocacy, led by Geoff Morrell.
Looney made it clear that the company will try to strike a balancing act between satisfying demands on reducing greenhouse gas emissions without undermining shareholder dividends or efforts to get debt gearing below 30%.
BP said its own investments in low carbon businesses will be subject to the usual criteria of achieving attractive rates of return and rewarding innovation.
"It may take concrete financial targets to convince investors that financial and transitional objectives are not mutually exclusive. In the meantime, we believe BP has made a meaningful contribution to the (environmental, social and governance) dialogue that is necessary to attract generalist investors back to the oil and gas sector," Jefferies investment bank stated in a research note.