Harbour Energy is gearing up for further exploration and appraisal on its ultra-deepwater Andaman II production sharing contract offshore Aceh, Indonesia, with the aim of adding to the 1 trillion cubic feet-plus of gas it discovered last year with its Timpan wildcat.
While Timpan-1 was seen as low risk, by wildcat standards, Harbour believes that its upcoming wells are even more likely to deliver given that Timpan has de-risked the Bampo play, which it reckons has between 13 Tcf and 15 Tcf of recoverable gas across the play.
The operator is already evaluating development options for what it believes will be a giant gas project with production start-up on the cards before 2030.
"Everything is focused on early gas and monetising our success," Harbour's Indonesia exploration manager, Nick Comrie-Smith, told the Seapex conference in Singapore.
Harbour, which is controlled by giant US private equity investor EIG, has again lined up the drillship West Capella, which drilled the Timpan wildcat, to drill the Gayo-1 and Halwa-1 wells later this year.
These reservoir targets are about 500 to 600 metres shallower than Timpan and should have improved reservoir quality, Harbour said.
'Shooting fish'
Comrie-Smith described exploration going forward as being like "shooting fish in a barrel" although below-ground reservoir risks remain, including from the levels of contaminating carbon dioxide, he cautioned.
"We have to have respect for geology — that can come back and bite you pretty hard," the exploration manager stated.
In the fourth quarter of last year, Harbour acquired a 3D seismic survey over the eastern part of the Andaman II PSC and the data is being processed in Jakarta with fast-track results expected in April. Leads with direct hydrocarbon indicators — DHIs — that were identified on earlier 2D seismic are expected to be matured to prospect status, Comrie-Smith added.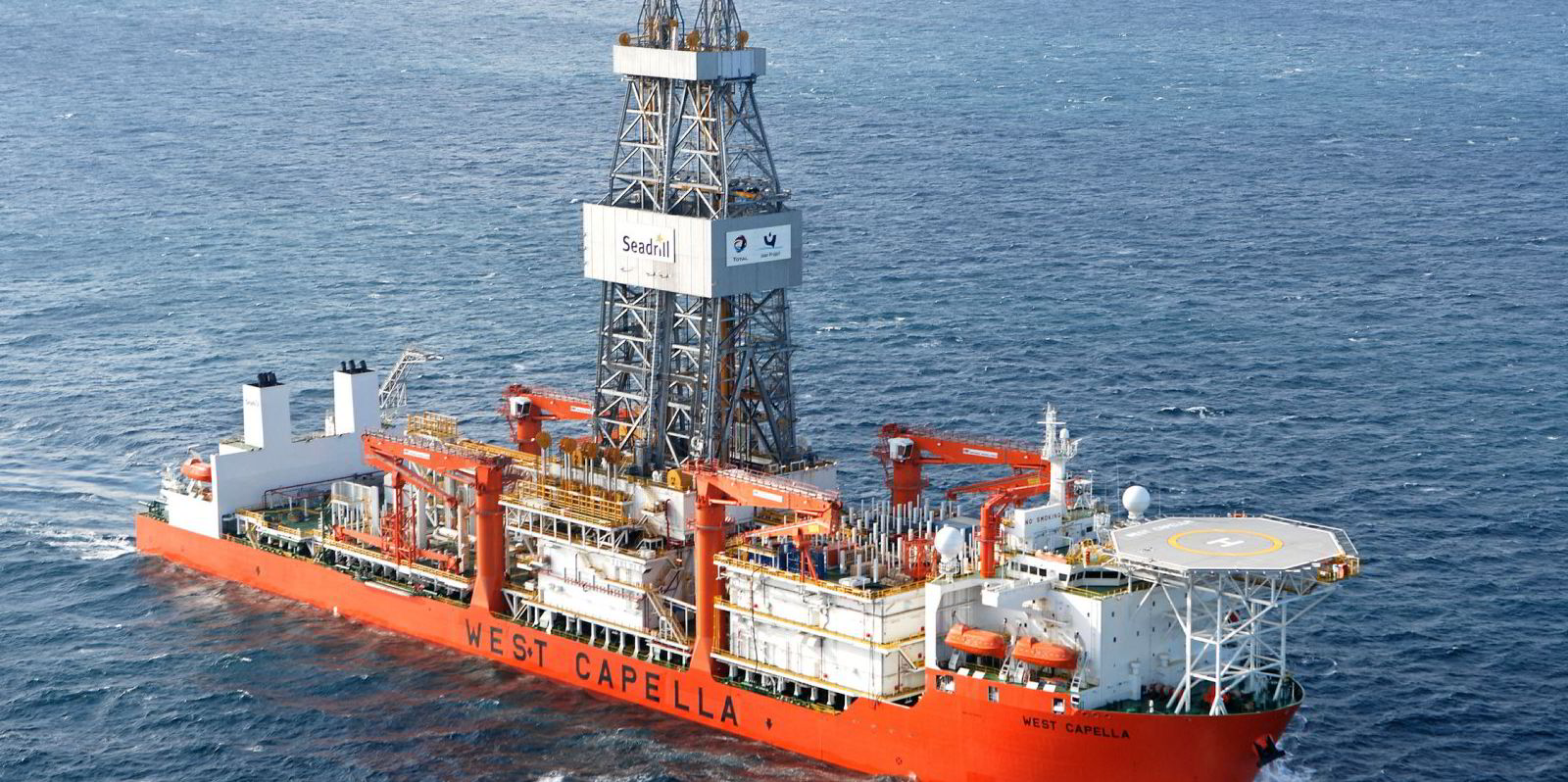 Harbour chief executive Linda Cook also told Upstream that the West Capella had been contracted for a three-well campaign with the third firm well being a wildcat on a prospect on Mubadala Energy's adjacent South Andaman PSC, in which the UK-listed independent has an interest.
"These prospects have been partially de-risked by the Timpan well because they have similar characteristics on the seismic as the Timpan prospect. So, we're excited about that," Cook said.
Comrie-Smith added that plans for a Timpan appraisal well are being firmed up for early 2024 but Cook said this was not set in stone.
"Whether or not we drill a fourth [exploration] well and/or an appraisal well at Timpan, I think, is yet to be determined. But we are encouraged by what we see. And the drilling of these next three wells will help give us an idea of the full potential of the play," she said.
The Timpan-1 well was given a 73% to 74% chance of success prior to drilling, suggesting risk rating is low.
The well had pre-drill estimated reserves of about 1.5 Tcf of gas although the discovery made in a water depth of just over 4000 feet encountered a mid-case resource of about 1 Tcf plus condensate. The well flowed at a maximum rate of 27 million cubic feet per day of gas and about 1800 barrels per day of condensate.
Well costs on Timpan-1 came in at $59 million, about $26 million under its expected budget, which the operator attributed in no small part to using oil-based mud that sped up the process so that drilling and testing was completed in about 33 days.
The focus of Harbour's work on Timpan this year is to look at ways to improve deliverability and minimise the number of development wells while an appraisal well would focus on reservoir characterisation, Comrie-Smith noted.
Porosity at Timpan-1 was a little lower than thought but "we think we can make it work", he said.
Development concepts
Gas markets have been identified in Indonesia and other development options on the table include pipeline gas sales to customers in Malaysia, Thailand or Singapore. Harbour is also evaluating the potential for a liquefied natural gas project.
Comrie-Smith revealed that the company is looking at the PAG plant, ExxonMobil's former Arun LNG facility, in Aceh — particularly the mothballed Train 4 — as potentially being reactivated to receive feed gas from Andaman II.
With a gas condensate ration of 40 barrels per million cubic feet, the development concept will need to have provision to handle these liquids.
"It probably means we'll need a floating production, processing system and a [pipe]line back to the beach," he said.
Harbour is also considering carbon capture and storage or carbon capture, utilisation and storage for Andaman II although the volumes recovered from drill stem testing the Timpan discovery well contained only a negligible amount — less than 0.5% — of CO2.
The operator has looked at the Arun field onshore Aceh as a potential carbon storage site but there are concerns over the reservoir's suitability given the number of holes that were drilled to exploit this giant gas field.
Tasty treats
All of Harbour's prospects on the Andaman II PSC are named after traditional Acehnese food and drink. Timpan is a sweet delicacy typically made of cassava flour and banana, while Gayo is coffee, Sangar is "a sort of piccolo latte [and] quite sweet" and Halwa is "another little sweet cake", Comrie-Smith said.
The block is held on a 30-year PSC, which comes with gross split terms, that was signed in April 2018, comprising a 10-year exploration term and 20 years' production.
The block originally covered about 7000 square kilometres, but this was subsequently reduced to about 5600 square kilometres through the traditional relinquishment that occurs during the exploration phases.
Partners in the Andaman II PSC are operator Harbour with 40% and Mubadala Energy and BP having 30% each.
Never miss a must-read story
Get notified when we publish articles from your selected sectors, businesses or journalists.