South Sudan has launched its first ever licensing round as the landlocked African nation seeks to get its staple oil sector back on track after years of insecurity following its split from Sudan in 2011.
The Juba administration is hoping to lure "a diverse group of foreign investors" and to welcome back "experienced partners and operators" after putting five blocks up for bidding in its maiden acreage exercise.
Are you missing out on ACCELERATE?
Gain valuable insight into the global oil and gas industry's energy transition from ACCELERATE, the free weekly newsletter from Upstream and Recharge.
Blocks A2, A5, B1, B4 and D2 are up for grabs in the First Oil Licensing Round launched on Wednesday by the Ministry of Petroleum, although it has also kept a large amount of open acreage out of the bidding exercise.
The blocks on offer range between 4000 and 25,000 square kilometres, although most are between 15,000 and 20,000 square kilometres, the ministry said on Wednesday.
"The Oil Licensing Round aims to attract interest from a diverse group of foreign investors to a region that is already home to oil and gas majors from China and Malaysia," it said.
China National Petroleum Corporation (CNPC) is a partner in producing blocks 3E, 7E, and Block 1, 2 & 4, while Malaysian state player Petronas is a partner in all of those blocks plus Block 5A.
"The country is hoping to welcome back experienced partners and operators following significant progress in returning to peace and stability," the ministry said.
"With the new data, analysis, and government mechanisms, the ministry seeks to attract high-quality investors and partners," it added.
Total — now called TotalEnergies — was one supermajor that used to be present in South Sudan before independence from Sudan to the north.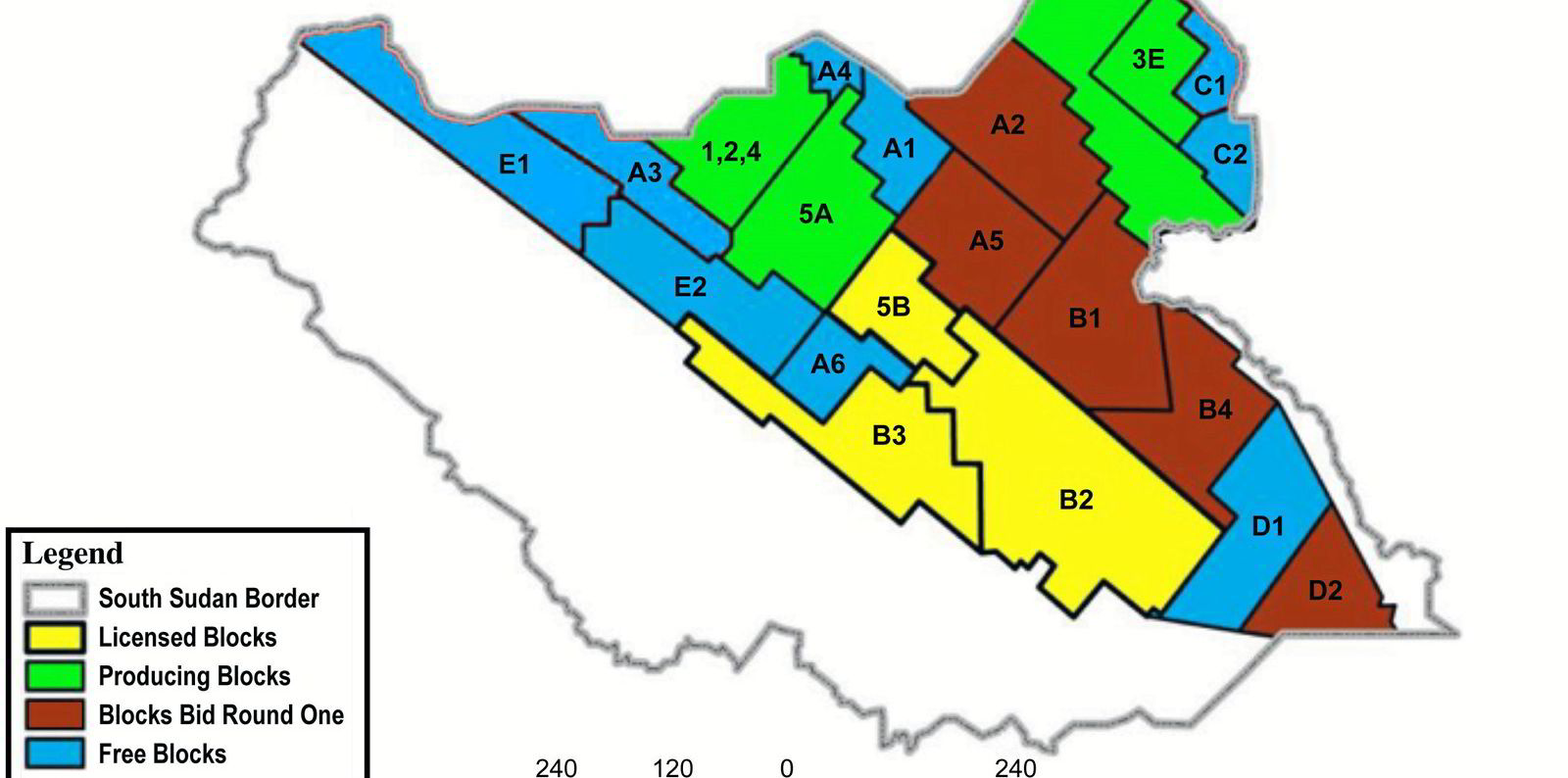 For more than a decade, Total argued it held title to Block B following a deal with Sudan, before South Sudan gained independence in July 2011, but this was never ratified by the government in Juba.
South Sudan then redesignated Block B as blocks B1 and B2 — one of which is being put on offer in this maiden round.
At one stage late in the last decade, Total and Anglo-Irish independent Tullow Oil were in talks with the Juba administration over blocks B1 and B2 but these came to nothing.
Companies interested in acquiring acreage can submit expressions of interest by 23 August, after which the ministry will host a series of virtual data presentations followed by an international roadshow.
Apart from producing blocks 3E, 7E, 5A and 1, 2 & 4, a trio of tracts have also been awarded for exploration: blocks B3, B5 and B2.
Free blocks that are being kept out of this licensing round are: A1, A3, A4, A6, C1, C2, D1, E1 and E2.
"According to the new analysis commissioned by the ministry, approximately 90% of South Sudan's oil and gas reserves remain unexplored, providing unprecedented opportunities to international investors," the ministry claimed.
When South Sudan gained independence, it took with it about three-quarters of the oil reserves in what used to be Sudan.
However, after the split it relied on access to Sudan's pipeline infrastructure for export and a standoff over tariffs led to lengthy and crippling shut-ins in the south.