Uzbekistan's privately held oil player Sanoat Energetika Guruhi (SEG) will step up exploration efforts at its licence blocks on the Ustyurt Plateau in the north-western part of the country.
SEG executive director Tulkin Yusupov told Upstream the company hopes to confirm oil and gas reserves in the area, where energy-starved Uzbekistan has long wanted to establish a major hydrocarbon province.
Uzbekistan is the most populous country among the former Soviet republics in Central Asia and has seen steady economic growth in the past two decades.
Efforts to explore the huge Ustyurt prospective area, which extends into Kazakhstan, began in the 1950s, resulting in a number of discoveries.
However, development has remained mostly on hold due to a complex geology and an ambiguous investment climate under the country's previous president, Islam Karimov.
Ustyurt in focus
SEG is now moving forward with a plan to acquire about 800 kilometres of 2D seismic data and 1100 square kilometres of 3D data at poorly explored areas within its Ustyurt licence blocks to identify new locations for exploration wells, according to Yusupov.
The decision comes after six recent exploration wells flowed "commercial quantities" of hydrocarbons, he said.
Hydrocarbon-bearing layers on Ustyurt have been found at depths ranging from 2500 metres to 6000 metres.
Some development drilling at Ustyurt has already started at tracts that were previously in the hands of other operators, he added.
These assets mostly comprise gas reservoirs with thin layers of oil and condensate that had been encountered by prior exploration wells.
Growth ambitions
SEG aims to at least triple its current oil production to over 32,000 barrels per day by 2030, drawing on legacy and new conventional assets.
Founded as Jizzakh Petroleum in 2017, the company got a boost in December 2019 after a government resolution ordered state-run oil producer Uzbekneftegaz to transfer its licences for more than 100 oilfields with a large share of associated petroleum gas in output, to SEG.
The decision made SEG the largest oil producer in Uzbekistan. According to the Uzbek Energy Ministry, the focus of former monopoly Uzbekneftegaz has switched on developing natural gas tracts and remaining oilfields which produce oil without associated gas.
Assets formerly held by Uzbekneftegaz are ranged in three main legacy production regions in Uzbekistan — Mubarek, Karshi and Andizhan — where SEG is trying to improve production by drilling more wells and employing the latest enhanced recovery technologies.
Yusupov said the second pillar in SEG's exploration drive lies in the Navoiy region, where efforts to delineate previously discovered structures are ongoing. Trial production runs are expected before the end of this year.
Unconventional upside
The operator is also weighing up unconventional prospects on an acreage that is known as Yangi Uzbekistan. The block in question occupies about 750 square kilometres between the cities of Samarkand and Navoiy.
The project started in May 2021 with the drilling of an exploration well.
The asset could contain in-place reserves of some 730 million barrels of extra-heavy crude at shallow depths, Yusupov said, adding that significant additional exploration drilling would be required to move those anticipated reserves into the proven category.
So far, SEG has spud about 50 wells on the unconventional block to gauge the production potential of heavy-oil layers that vary in thickness between four metres and 13 metres.
Yusupov said SEG maintains constant communication with Canada's specialised oil and gas consultancy McDaniel & Associates, which assists the producer in evaluating the wells and the potential of steam-based production technologies suitable for the asset.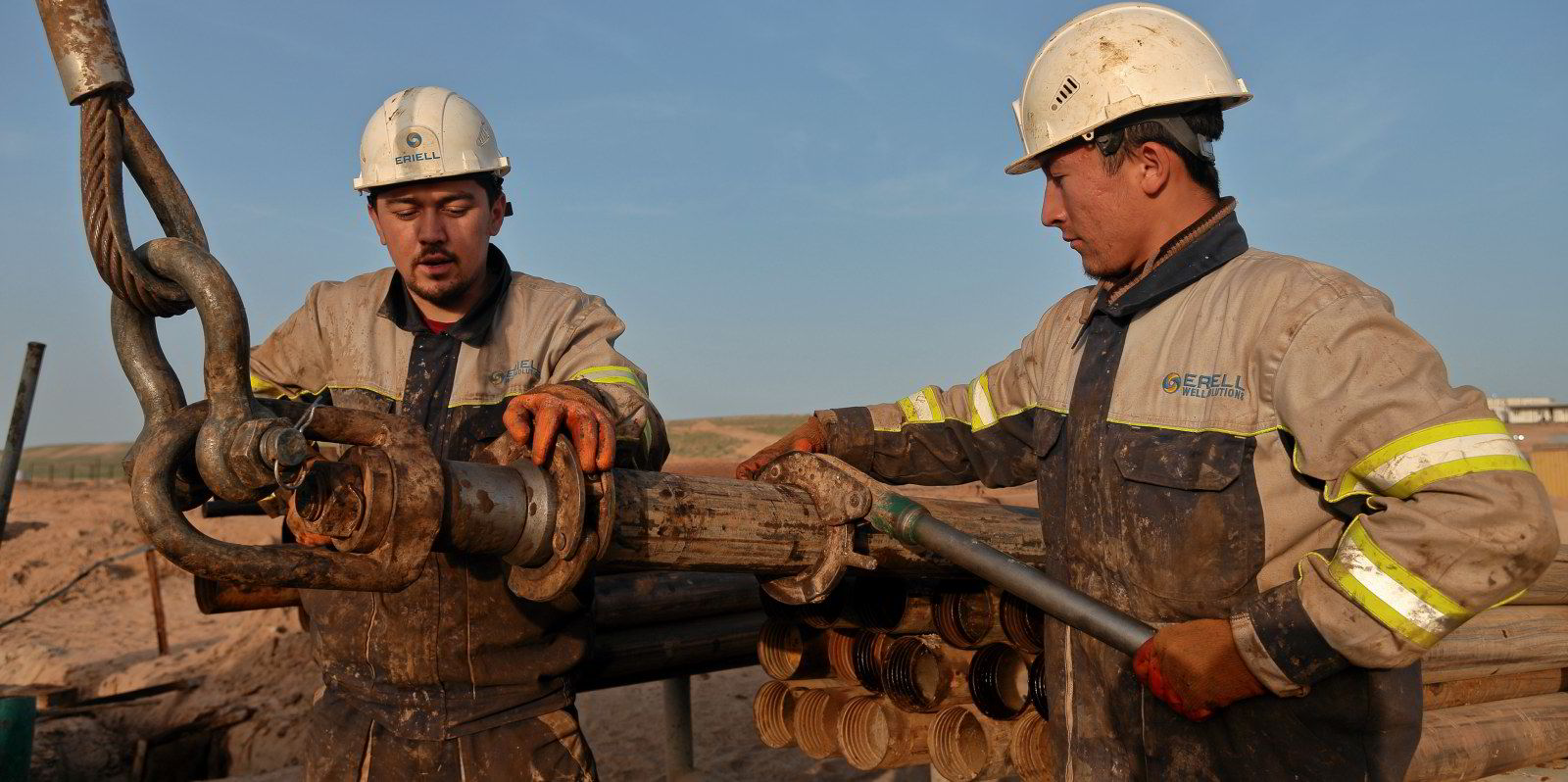 SEG anticipates production at Yangi Uzbekistan to reach some 6000 bpd during the initial development phase entailing the drilling of about 500 wells. Output may potentially increase to 20,000 bpd at a later phase.
Production from Yangi Uzbekistan would be in addition to the company's oil production targets for conventional assets, Yusupov said.
A transportation solution probably will involve moving the oil in rail tank cars about 600 kilometres to the Fergana refinery, which SEG had operated before it bought the government's 100% stake in the plant earlier this year.
Major upgrades will be required to enable the refinery to process the bitumen oil, Yusupov acknowledged.
SEG said its planned production growth is unlikely to translate into increased oil exports but would it rather it be used to meet domestic demand from fast-growing industry and population.