Romania's OMV Petrom sees no risks in investing billions of euros in developing a major natural gas asset in the Romanian sector of the Black Sea despite the raging war across its border in Ukraine, the constant presence of Russian warships firing cruise missiles and attack drones and the heightening aggressive anti-Western rhetoric in Moscow.
Speaking at a conference call from Bucharest on Thursday, OMV Petrom vice president for exploration & production Christian Hubati said that "we do not see any interruption to [our] operations in the Black Sea and any risk to the development of Neptun Deep" because of the conflict.
The company's chief executive Christina Verchere said that the company "remains in dialogue with authorities in Romania" on the matter.
"Obviously, it is a very important fact that Romania is a Nato country," she added.
Earlier this week, OMV Petrom, which is a subsidiary of Austria's OMV, said that the company and its partner in Neptun Deep — Romania's state owned gas operator Romgaz — had taken the final investment decision on the project, promising to become the largest gas producer in the country.
Located some 160 kilometres off the Romanian Black sea coast, the Neptun Deep block covers an area of about 7500 square kilometres in water depths ranging between 100 and 1000 metres.
Concurrently with project sanction, the partners submitted for perusal by the host authorities the field development plan (FDP) to commercialise two gas structures within the licence.
Verchere said the Romanian authorities have a legally binding period of 90 days to respond with approval.
However, the company expects a faster decision given the importance of the development to Bucharest, she said, as it is set to turn Romania into a regional gas exporter once the project reaches its production plateau of 140,000 barrels of oil equivalent per day around 2028, just one year after first gas.
Once approval for the FDP is received, OMV Petrom can move forward with obtaining environmental approvals and construction permits.
OMV Petrom chief financial officer Alina Popa said the operator "will work hard to stay below the capex of €4 billion ($4.4 billion)", which was announced two years ago.
"Right now, we have about 70% to 80% of that capex based either on preliminary proposals or final offers" from building contractors with which the company has been in dialogue on the development, according to Popa.
Exploitation of the two structures, Domino and Pelican South, will entail the drilling of six production wells at a water depth of about 1000 metres and another four wells in a water depth of 120 metres.
The wells will be tied into three subsea templates that will send produced hydrocarbons to an unmanned shallow-water stationary platform.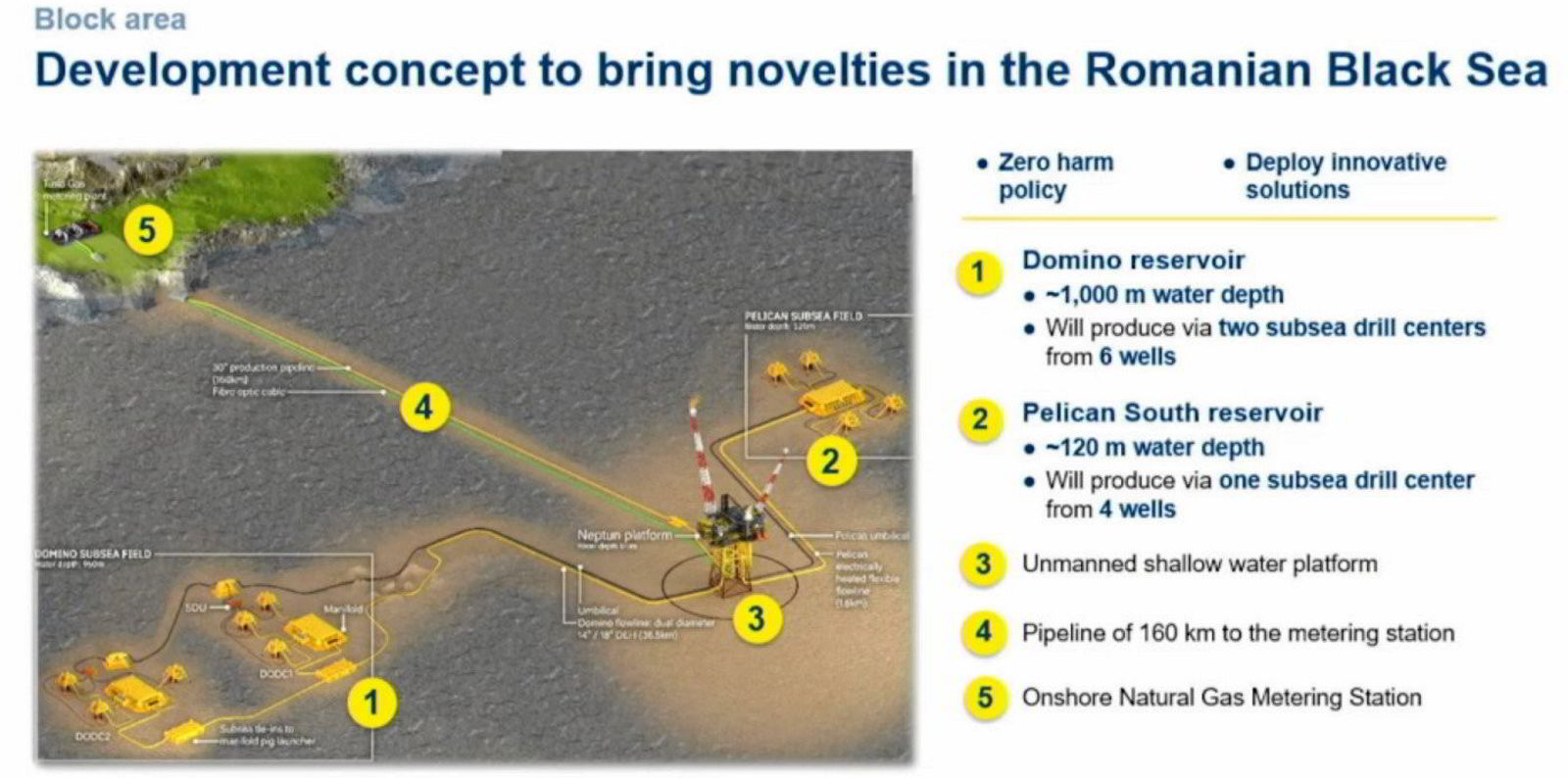 The platform will be managed remotely from the shore. It will transport received gas via a 160-kilometre metering station onshore close to the Romanian town of Tuzla where gas can enter the country's transmission network or the Transbalkan pipeline, which runs from Ukraine across Moldova and Romania to Bulgaria and Turkey.
OMV Petrom expects plateau production at the field to continue for 10 years, with a gradual decline over the following eight years.
The company said that the Romanian domestic market remains a top priority for marketing. However, it already sees potential demand for gas to be transported from or via Romania, of 9 billion cubic metres in Hungary, 3 Bcm in Bulgaria and 1 Bcm in Moldova.
The operator expects production costs at Neptun Deep to stay around €3 per barrel of oil equivalent or about €5.10 per megawatt hour. By the time of first gas in 2027, OMV Petrom anticipates natural gas prices in Romania to be on par with European hubs at a level between €25 and €30 per Mwh, Popa said.