A proposal that would use temporary Covid-19 tax relief for oil and gas investments to boost Norway's offshore wind capacity could be headed for a conflict with lawmakers just as the nation opens a significant slice of its continental shelf to wind development.
ENERGY EXPLORED: SUBSCRIBE TO ACCELERATE
Gain valuable insight into the global oil and gas industry's energy transition from ACCELERATE, the free weekly newsletter from Upstream and Recharge. Sign up here today.
Through the Confederation of Norwegian Enterprise (NHO), some of Norway's largest companies — including Equinor, Aker ASA, power company Statkraft, and the Eni and HitecVision renewables joint venture Vaargronn — have proposed that oil and gas producers be allowed to sign long-term power purchase agreements (PPAs) with companies delivering wind power from the Norwegian shelf.
However, this will only be possible if the investments from wind power companies come under the petroleum tax regime, where the temporary relief measure effectively means the government covers up to 90% of the cost of oil and gas developments sanctioned before the end of next year.
The proposal is facing resistance from political parties sceptical of using a tax relief package for the oil and gas sector — which has a 78% tax rate — to enable investments by companies with a 22% tax rate and, as with floating wind, also require subsidies.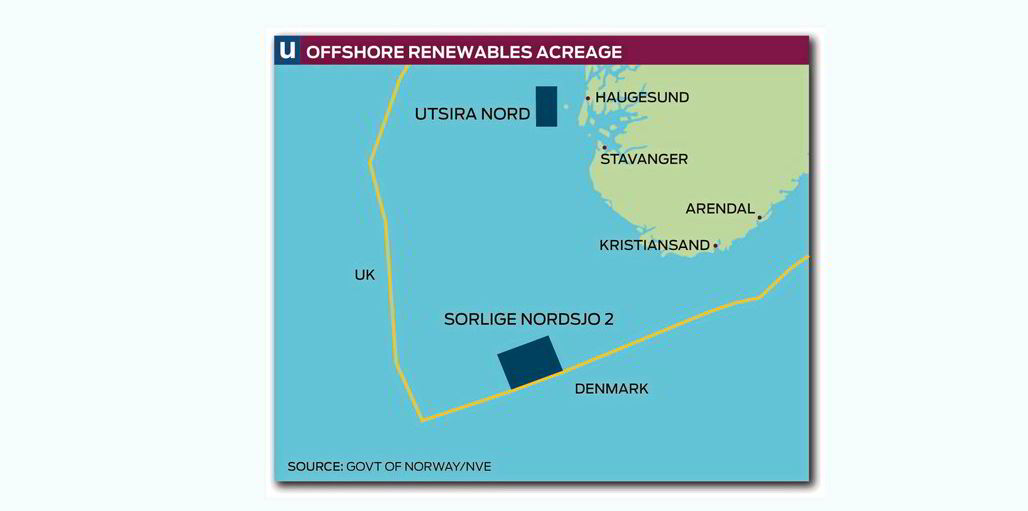 The proposal comes as Norway finalises plans to open up two areas off its southern coast — Utsira Nord and Sorlige Nordsjo 2 — to offshore wind development, for a combined capacity of up to 4.5GW.
The NHO proposal faces at least two obstacles.
Norway's petroleum tax law covers power production dedicated to specific offshore installations, when the offshore asset owner also owns and operates the power generation facility — such as Equinor's Hywind Tampen project, which produces dedicated power for the company's Tampen area assets.
The new proposal suggests that a separate company could own the power generation development — and qualify for generous deductions, making electricity available at very low cost to oil and gas companies through the PPAs.
The other obstacle is a Norwegian Finance Ministry assessment of a similar case in 2013. This concluded that, even if some of the power produced by a specific wind power facility goes to an offshore installation, all production from the wind power facility could only be used for petroleum installations.
However, the large amount of power capacity potential in the Utsira Nord and Sorlige Nordsjo 2 areas would be far more than needed by Norway's offshore oil and gas installations.
A Finance Ministry spokesperson told Upstream that the ministry has not yet received a request to assess the proposal, but stressed that under the law, power production must be sufficiently linked with the petroleum installation to come under the petroleum tax law.
NHO politics director Gjermund Loyning told Upstream that to ensure optimal development solutions, offshore wind power should also be linked to the onshore power grid.
Because of wind power intermittency, "full-scale electrification of the continental shelf will not be possible without power from shore", Loyning said, noting that surplus energy generated could be fed into onshore grid.
He added that a solution will depend on the political will to establish a necessary policy framework.
How much support the proposal can count on remains unclear.
A Petroleum & Energy Ministry spokesperson said it is too early for Petroleum & Energy Minister Tina Bru to comment on a framework for the two offshore wind licences.
However, the spokesperson added that in this year's national budget, the government suggested financial support for offshore wind projects would largely come through Enova, the government enterprise responsible for promoting environmentally friendly production and consumption of energy.
Norway's largest opposition party, Labour, wants most of the power supply to offshore installations to come from offshore wind.
Labour is concerned that plans to provide huge amounts of power from shore for offshore installations will cause significant cost increases for electricity to Norwegian households and industry.
The party is not yet convinced that the industry's petroleum tax proposal is the solution, however.
"We would have to look closer at this because the proposal could hide many unknowns," said Labour's leader of energy and environment, Espen Barth Eide.
"However, we are positive to the idea that the petroleum tax system could be used for offshore wind power."
The Progress Party's Terje Helleland told Upstream that the government has held its cards close to the chest when it comes to the framework for offshore wind development.
"We do not know if they want projects for technology development or, basically, power production, which will have an impact on the framework conditions," he said.
According to Helleland, the industry has said it wants to develop technology to compete for large-scale offshore wind projects abroad.
The Progress Party expects the government to suggest different financial support mechanisms for Utsira Nord and Sorlige Nordsjo 2, he said.
"We do not want the petroleum tax system to be applied to offshore wind," he said.
The Socialist Left Party is also sceptical of the NHO proposal.
Its Parliamentary Energy & Environment Committee member Lars Haltbrekken said the party wants investments in wind to be at least as favourable as investments in petroleum.
"However, it seems as though NHO wants the benefits from the petroleum tax system, but not the 78% tax", he said.
Haltbrekken said he does not want Norway to end up in a situation where powering platforms with offshore wind is far more expensive than using gas turbines.
He also wants to see that oil companies are not the only ones given the opportunity to build wind projects offshore Norway. "We can ensure this through licensing," he said.
Loyning said the NHO would not agree to a proposal that would mean gas turbines on oil platforms can gain deductions within the petroleum tax regime, but offshore wind could not.
"We look forward to discussing the government's proposal. The most important thing now is to get this moving faster," he said.
The industry's sense of urgency is likely to increase as the deadline to sanction projects eligible for the petroleum tax relief gets closer.
Opening tracts for offshore wind
The Ministry of Petroleum and Energy says Utsira Nord and Sorlige Nordso II together are open for development of up to 4500 MW of wind power, with limits "to ensure room for other activities and the environment".
Utsira Nord, located to the west of Haugesund, is suited for floating wind power. The 1010-square kilometre area is "close to shore and provides opportunities for demonstration projects and larger projects," the ministry said.
Sorlige Nordsjo II, which borders the Danish sector in the North Sea, could enable direct export of electricity. The 2591-square kilometre area has water depths that can accommodate fixed wind power platforms as well as potential floating wind installations.
Source: Norwegian Ministry of Petroleum and Energy