The UK's subsea players are keeping close tabs on an innovative demonstrator project under way off the northern coast of Scotland, where a prototype wave-energy device and seabed battery system have been powering subsea equipment since around the beginning of March this year.
The project, called Renewables for Subsea Power (RSP), ties together multiple subsea industry objectives — reducing emissions, cutting costs, enabling remote operations and moving more activities to the seabed — in a system that its backers aim to see fully qualified this summer.
The core technologies in the £2 million ($2.43 million) project are a prototype wave-energy converter, dubbed Blue X and developed by Edinburgh company Mocean Energy, and Aberdeen-based Verlume's Halo underwater battery and energy management system.
The equipment has been deployed about five kilometres offshore Orkney's east coast along with a subsea control module supplied by Baker Hughes and a resident autonomous underwater vehicle (AUV) provided by Transmark Subsea.
Partners in the project include a pair of UK-focused independents — Serica Energy and Harbour Energy — and the Net Zero Technology Centre.
The Blue X prototype underwent initial testing at the European Marine Energy Centre in Orkney in 2021.
Paradigm shift
The new trial, lasting a minimum four months, is a significant next step, testing reliability in more challenging sea conditions and creating a microgrid to power the subsea controls and resident AUV — what Mocean Energy managing director Cameron McNatt says are the type of "end-user applications" that the system is designed for.
"It's kind of a paradigm shift in how electricity and communications are provided in the offshore space," McNatt says. Rather than a traditional transmission network — a central power hub on a platform, cables strung along the seabed — the RSP system provides renewable energy power "locally, where it is needed", he says.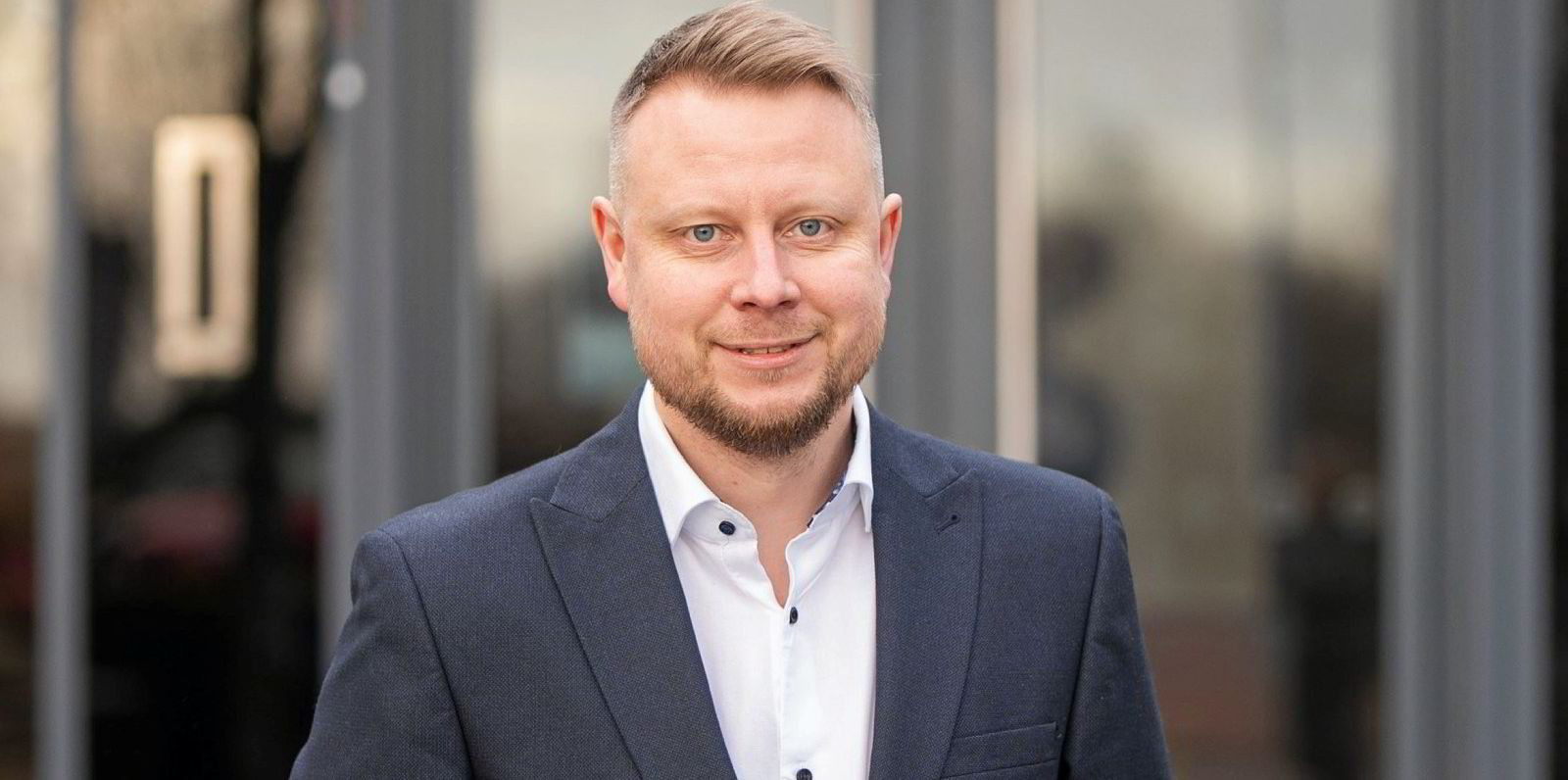 "It's conceptually new and the project is the first of its kind — as far as we're aware, no one has ever demonstrated providing wave energy to a completely isolated, off-grid set of equipment. There's nothing else connected to this equipment."
The current stage of the programme will demonstrate that the combined wave generation and power storage and management system can provide "stable communication" and "demonstrate that it can be done reliably and continuously", says Verlume chief executive Richard Knox.
"We are proving the core functionality of a renewable means of delivering power and communications to the seabed," he says.
Economic case
The control system in the demonstrator project mimics what would be used on injection wells at a remote carbon capture and storage (CCS) site.
It is difficult to make an economic case for CCS far from shore but "this helps tip it over the line" by eliminating the need for long cables and communications from shore, Knox says.
"It's reducing the cost, which is a big tick for customers, and then you have the bonus that it's produced renewably, so you have the CO2 reduction associated with that."
The system potentially could provide power without the need for a new umbilical in greenfield subsea tiebacks, and be a solution in brownfield applications "where you want to put a new piece of equipment in your existing field, but it's not necessarily easy to find a plug down there", McNatt says.
"Here, you have a standalone power and comms source you can just drop where you want it."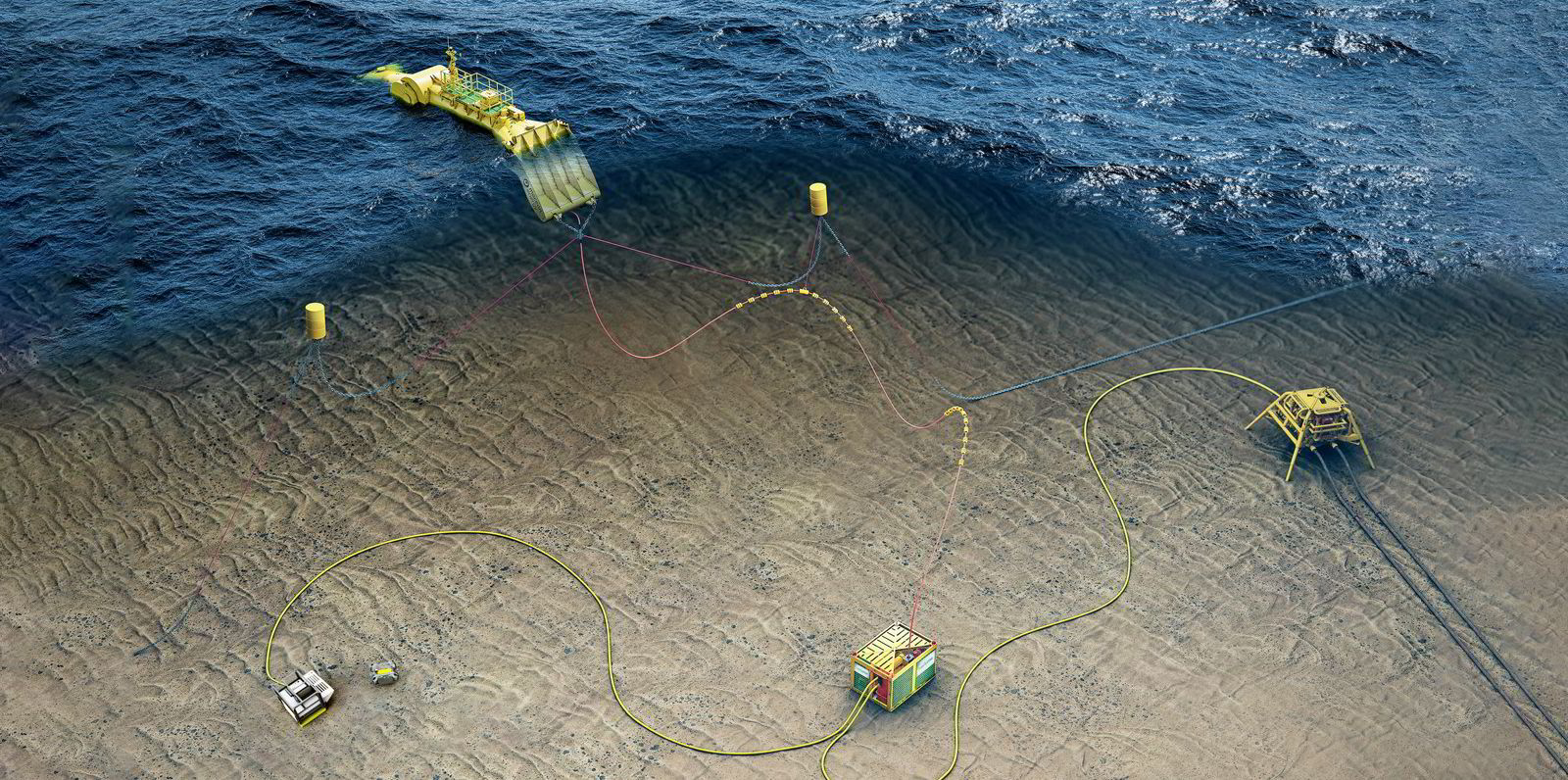 Mocean's wave-energy device is essentially two hulls connected by a single hinge and built to a design that the company says enables a 300% performance boost over traditional hinged-raft systems.
The company is developing two devices: the Blue Star system for powering subsea equipment and the much larger Blue Horizon, designed for grid-scale electricity generation.
Both are designed to "duck" into larger waves, mimicking a movement that experienced surfers use to sink their surfboards and "dive under waves to shed loads, rather than being lifted and slamming", McNatt says.
The ducking feature, he says, increases the device's survivability, an issue that has bedevilled some earlier generations of wave-energy machines.
Simplicity of design is also an advantage: the Blue X prototype has a gearbox at the hinge, but the next version of the device will feature a direct-drive generator.
"We're getting rid of things like gearboxes and hydraulics and going straight to all-electric drive, which drastically reduces the risk of failure," McNatt says.
The Halo system draws on familiar lithium-ion battery technology but uses a sophisticated power-management system developed by Verlume that has been designed to regulate the input rate, improving the battery's longevity, Knox says.
"It is naturally cooled by the seawater around it, so as long as we keep the system dry — and we've done a lot of work to make sure that would be the case — then the seabed is the perfect environment for a battery," he says.
Knox adds: "There's a level of intelligence and autonomy with our system. It doesn't require a lot of intervention."
Halo can be monitored remotely "but it's making its own decisions about which battery pack it's going to charge, which output gets priority".
The system can be deployed at 1000-metre depths but could be fortified to operate in ultra-deep waters, he says.
Consortium
The RSP project is supported by a consortium of prominent industry players, including Serica and Harbour, which have provided financial backing as well as test planning and technical input.
Wave Energy Scotland got the Blue X programme rolling with £3.3 million to support the development, construction and sea testing of the prototype.
The organisation also contributed £160,000 to support the integration of the umbilical into the wave-energy converter in the current test phase.
Instrumentation to measure the speed and direction of currents during deployment was provided by the European Marine Energy Centre.
RSP has been supported throughout by grant funding from the Net Zero Technology Centre and with financial and in-kind support from technology providers Transmark Subsea, supplier of the project's resident autonomous underwater drone and docking station, and services giant Baker Hughes.
McNatt says of the latter: "They're not just a passive partner in this — they are providing equipment. And for a project like this to go forward commercially, you really need tier-one contractors like Baker Hughes supporting them."
The company has furnished the RSP demonstrator with a SemStar 5 electronics module that simulates control requirements for a four-well subsea development, says Baker Hughes Growth Hub leader Lorna Yuill.
"Throughout the 2023 deployment we'll be validating the communication protocols and latency as part of system testing," Yuill says.
"Beyond the deployment, Baker Hughes is providing its integration experience to the project, which will be key to future commercialisation."
Yuill says customers are looking for ways to "produce cleaner and more efficient energy", and this means considering carbon reduction across each component and thinking about alternative methods to achieve required outcomes.
"With renewable, localised subsea power, we can remove the requirement for carbon-intensive umbilicals, delivering energy that can power traditional oil and gas fields or support growing demand in areas like CCUS [carbon capture, usage and storage], energy storage and autonomous offshore field maintenance."
Yuill calls the RSP project "a step forward in energy transition" that could mark an advance in field electrification via renewables.
"The energy transition, environment and decarbonisation of energy and industry is an exciting area of innovation, but key will be identifying and working with technologies that strategically offer the greatest potential to provide demonstrated alternative low-carbon methods to deliver required outputs," she says.
"The RSP project is a proof of concept for new technologies and approaches that can produce a cleaner and more efficient subsea agnostic power and communications network for a wide range of applications."
A successful qualification and demonstration test will allow Mocean and Verlume to take the RSP system to the commercial stage.
McNatt says: "We're speaking with potential customers that are considering deploying the Renewables for Subsea Power system in a real development, taking desk-space project studies into a commitment for an offshore project."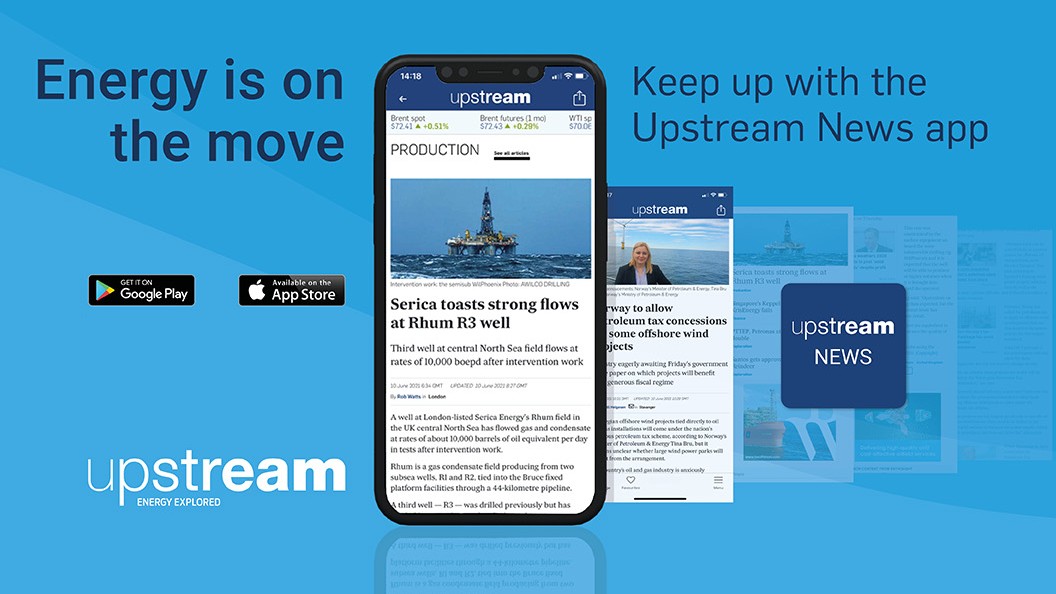 Download the Upstream News app
Read high quality news and insight on the oil and gas business on-the-go