The New South Wales (NSW) government has unveiled a A$3 billion (US$2.2 billion) green hydrogen strategy that it believes will drive more than A$80 billion worth of investment in the Australian state.
NSW Premier Dominic Perrottet, who recently only took over the reins as Premier after Gladys Berejiklian resigned earlier this month, unveiled the state's new hydrogen strategy on Wednesday.
Are you missing out on ACCELERATE?
Gain valuable insight into the global oil and gas industry's energy transition from ACCELERATE, the free weekly newsletter from Upstream and Recharge.
Perrottet said the new strategy would help drive new investment and secure jobs as the state looks to recover from the Covid-19 pandemic, with NSW only this week emerging from a 107-day lockdown that cost it more than A$11 billion and pushed the budget deficit out to A$19 billion.
"It's the investments that we make today that will ensure that generations to come have greater opportunity and prosperity than we do," Perrottet said at Wednesday's media conference.
It is not realistic to insist on green hydrogen alone straight off the bat. No one will buy it and the industry will fail before it begins.

AWU national secretary Daniel Walton
"We know the world is moving to a renewable energy future and we want New South Wales to be at the cutting edge, to be the leaders of the pack, not just here, but around the world."
Big figures, big opportunities
He claimed the A$3 billion investment by the NSW government towards the new strategy was expected to leverage over A$80 billion of private investment and create more than 10,000 jobs, all while increasing the size of the NSW economy by over A$600 million by 2030.
"Now they are big figures, but those big figures lead to big opportunities for the people of New South Wales," Perrottet said.
In addition to delivering on the A$70 million the NSW government has already committed to developing two hydrogen hubs, the new strategy will also see exemptions given for green hydrogen production from government charges.
It will also provide a 90% exemption from electricity network charges for green hydrogen producers who connect to parts of the network with spare capacity, while also providing "additional incentives" for green hydrogen production.
The government hopes it strategy will see the state's renewable energy capacity grow to 12 gigawatts by 2030, which will help power the targeted 700 megawatt installed electrolyser capacity needed to reach the government's target of 110,000 tonnes of green hydrogen production per annum by the end of the decade.
Driving down costs
The government claims that its strategy will help reduce the cost of green hydrogen by an estimated A$5.80 per kilogram, and it has set a target of getting the cost of production under A$2.80 per kilogram by 2030.
Further cost reductions could also be achieved through technology innovations and falling costs in renewable energy, potentially pushing production costs within reach of A$2 per kilogram by the end of the decade, according to the strategy.
The government will also commit funding to rolling out a hydrogen refuelling station network across the state, with a target of 100 refuelling stations by the end of the decade.
The strategy also targets having 10,000 hydrogen powered vehicles on the road by 2030, with 20% of the NSW government heavy fleet to also be powered by hydrogen, while it is also targeting 10% hydrogen blending in the state's gas network.
Billionaire backing
Also speaking at the state government's unveiling of its hydrogen strategy was Fortescue Future Industries (FFI) chairman Andrew Forrest, stating he was committed to working with the NSW government to support its new strategy.
"NSW is taking a state leadership position providing clear pathways for how renewable hydrogen can deliver for Australian businesses, Australian jobs, communities, and our children's future," Forrest said.
"At FFI we are doing everything we can as a business to lead the world effort to lower emissions. We are planning to deliver 15 million tonnes of renewable green hydrogen to the world by 2030 – increasing to 50 million tonnes per year thereafter."
His support of the NSW strategy follows an earlier announcement FFI plans to build Australia's first gigawatt-scale hydrogen electrolyser manufacturing hub in partnership with the Queensland government near the liquefied natural gas export hub of Gladstone.
The Australian billionaire also launched a global green hydrogen organisiation, GH2, last month which is chaired by former Australian prime minister Malcolm Turnbull and has set a goal of ensuring a quarter of the world's energy comes from green hydrogen by 2050.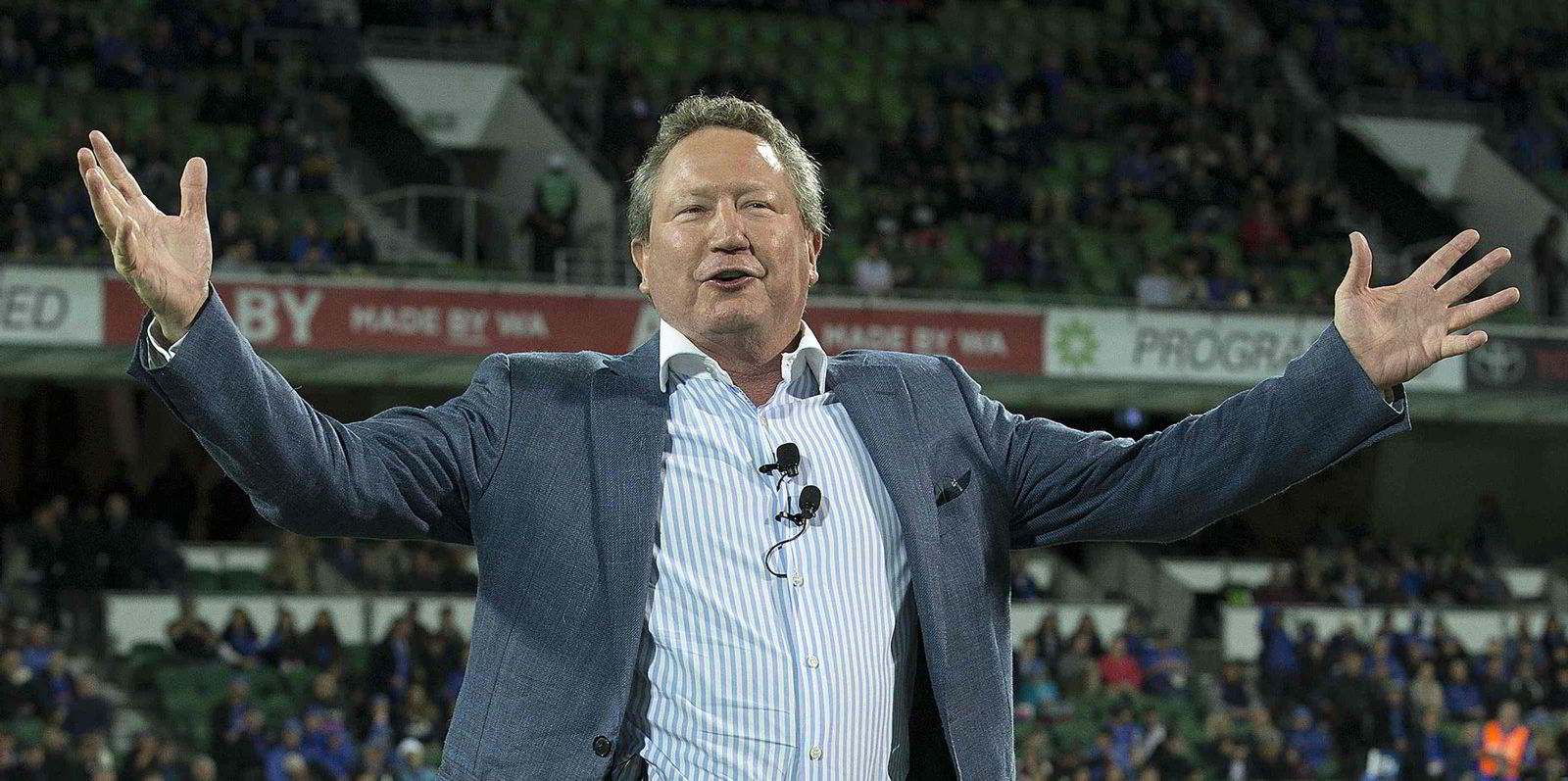 Union wants government to heed gas industry lessons
The NSW government's hydrogen strategy also received backing from the Australian Workers' Union (AWU), but the union warned massive jobs potential could be squandered if the government does not take lessons from the natural gas industry.
"Australia is one of the most gas-rich nations in the world, but instead of using that wealth to provide affordable energy to our manufacturers, we've given multinationals a no-strings-attached license to pump it offshore to power jobs overseas," AWU national secretary Daniel Walton said.
"There is potential for the mistake to be repeated with hydrogen if we don't get our policy settings right."
In addition to calling for the electrolysers to be manufactured in Australia, Walton also highlighted a need for a reservation policy to set aside a portion of the hydrogen produced for domestic use and not sold on the export market.
Green vs Blue
Blue hydrogen is produced from natural gas feedstocks, with the carbon dioxide by-product from hydrogen production captured and stored. However, the process is not emissions free.
Green hydrogen is made using electrolysis powered by renewable energy to split water molecules into oxygen and hydrogen, creating an emissions-free fuel.
"We know Australia can become a world leader in hydrogen export, as it has the natural resources for the production of both blue and green hydrogen," he said.
"But if that's where our hydrogen ambitions begin and end we're leaving hundreds of thousands of quality jobs on the table."
Walton also stated that Australia should focus on both blue and green hydrogen production if it is to develop a competitive industry at speed in order for it to gain a foothold.
He claimed that a "realistic" approach was needed in building the nation's hydrogen industry, stating the technology to produce green hydrogen at a commercially competitive price "simply does not currently exist", but adding that green hydrogen should become a larger part of the mix "as advances in technology permit".
"If we allow purists to insist that governments and industry focus solely on green hydrogen, the sector will remain in stasis for many years. Market demand does not exist for such expensive hydrogen," Walton said.
"It is not realistic to insist on green hydrogen alone straight off the bat. No one will buy it and the industry will fail before it begins."