Repsol is ramping up investment in green hydrogen, increasing its targeted production capacity by 60%.
Chief executive Josu Jon Imaz revealed at an investor day briefing this week that the Spanish energy giant intends to have roughly 550 megawatts of renewable hydrogen generation capacity by 2025 — up 40% on its previous 400MW target.
By 2030, it expects that figure to grow to 1.9 gigawatts, up from a previous target of 1.2GW.
Are you missing out on ACCELERATE?
Gain valuable insight into the global oil and gas industry's energy transition from ACCELERATE, the free weekly newsletter from Upstream and Recharge.
The company will invest more than €1.3 billion ($1.5 billion) in green hydrogen production by 2025 to meet these ambitious goals, putting it at the forefront of Europe's growing green hydrogen sector.
"If hydrogen is going to fly in Europe, Spain is going to be at the head of it and Repsol has the size, teams and capacity to make that happen," Imaz said.
To reach its renewable hydrogen ambitions, Repsol is targeting production from electrolysis and biomethane in the near term.
Over the longer term, it is keen on photoelectrocatalysis, a process that converts solar energy and water directly into renewable hydrogen, without the intermediate step of electrolysis.
Pipeline of projects to 2025
Speaking at the same investor briefing, hydrogen director Tomas Malango outlined the €611 million pipeline of projects Repsol has lined up to hit its 550MW target.
Green vs Blue
Blue hydrogen is produced from natural gas feedstocks, with the carbon dioxide by-product from hydrogen production captured and stored. However, the process is not emissions free.
Green hydrogen is made using electrolysis powered by renewable energy to split water molecules into oxygen and hydrogen, creating an emissions-free fuel.
It is investing €273 million in biomethane steam reforming over the next four years to build out the equivalent of 200MW of renewable hydrogen capacity.
A further €179 million is being directed towards 232MW of electrolyser capacity at its Petronor, Cartagena and Tarragona refineries in Spain to produce green hydrogen.
It will invest €32 million in a 10MW electrolyser at its planned synthetic fuel pilot plant in Bilbao and €102 million in 110MW of capacity that will be owned by joint ventures with third parties.
"We are not going to limit the business to our assets. For sure we are going to leverage our capabilities based on that, but it's not going to be the only possibility," Malango said.
"We are also going to look for alternatives with other industries like steel or fertilisers, or any other industry that needs hydrogen."
The company is also investing €25 million in a photoelectrocatalysis project at an industrial complex in Puertollano, with a planned 0.2MW capacity.
Repsol estimates that it will require nearly 1.8GW of renewables capacity to power its expected 552MW of clean hydrogen capacity by 2025, which will require an investment of €700 million, assuming it requires 3.2MW of renewable energy per megawatt of electrolyser capacity.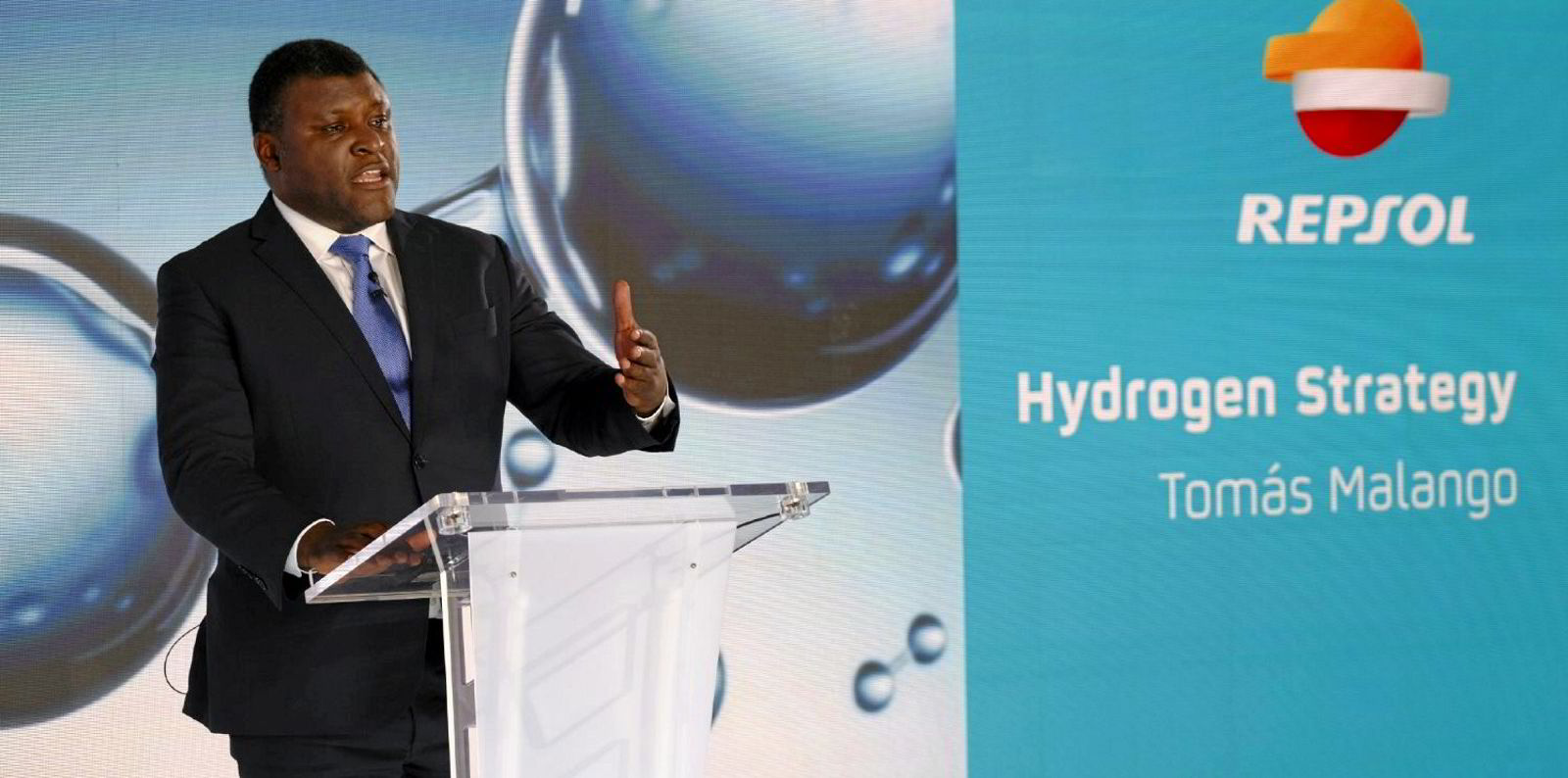 Harnessing the power of the sun to cut costs
Malango said the significant investment required in renewables to produce green hydrogen from electrolysis is the reason behind the photoelectrocatalysis pilot project in Puertollano.
"If we are talking about the production of hydrogen, we still have low efficiencies and we need to improve in order to decrease the amount of energy required to produce this hydrogen," he explained.
"The main challenge of the renewable hydrogen production is the cost of the energy, which is 75% of the total cost of production. Therefore, eliminating this significantly makes a difference."
Malango claimed that converting solar energy directly into hydrogen via photoelectrocatalysis, without the need for electricity, would "significantly" increase the efficiency of green hydrogen production, while also bringing down costs.
The company has already been testing the technology since last November at the Repsol Technology Lab in Mostoles, Spain.
Its Puertollano project, being built in partnership with Engas, is expected to be operational by 2024.
If all goes well with that project, Malango said Repsol will aim to scale up the technology to an "industrial-scale facility" by the end of the decade.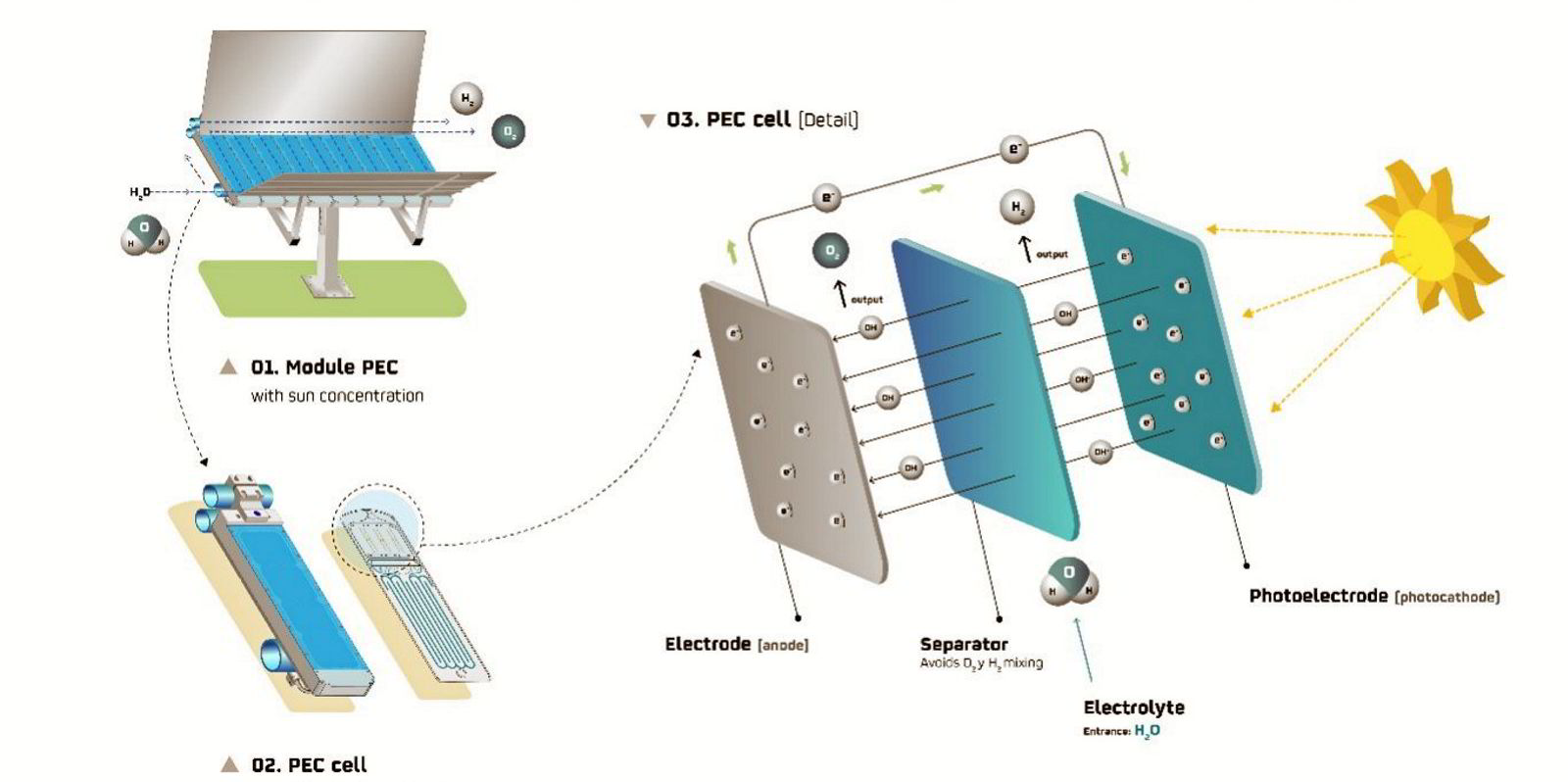 Turning a profit
Repsol envisages its target of 1.9GW of hydrogen capacity by 2030 will involve 1GW from its own directly owned electrolysers and steam biomethane reforming operations.
It sees 500MW of capacity coming from third-party assets and the final 400MW will be associated with its synthetic fuel business.
Melango said the company expects capital expenditure on renewable hydrogen between 2026 and 2030 to total roughly €1.6 billion.
Repsol expects to make a loss on its renewable hydrogen business between now and 2025.
However, between 2026 and 2030, it forecasts earnings before interest, taxes, depreciation and amortisation from the business will total more than €1.24 billion, while Ebitda for 2031-2035 is expected to come to nearly €2.37 billion.
Malango said hydrogen consumption in Europe last year totalled 6.6 million tonnes, with a market value of €8.5 billion.
Repsol is banking on an increase in demand to 44 million tonnes by 2040, with a market value of €60 billion.
Introducing Accelerate Hydrogen
We're pleased to announce the launch of Accelerate Hydrogen - the latest newsletter from Recharge and Upstream. Sign up now for an unbiased, clear-sighted view of the latest developments in the fast-growing hydrogen sector every week.