Resurgent Chinese demand for liquefied natural gas could bring headwinds for European Union LNG buyers before next winter, International Energy Agency executive director Fatih Birol has warned.
He repeated warnings that the bloc could face a rising energy security risk if colder weather than encountered during the 2022-2023 winter combines with more intense demand from Chinese buyers of LNG cargoes.
"Now, all indications are there that the Chinese economy is rebounding… China is a strong [LNG] buyer with strong financial muscles," Birol told a European Parliament Committee on Industry, Research and Energy, on Thursday.
He acknowledged the EU's achievement in avoiding a full-blown energy crisis, which had once sparked fears of energy supply shortages and blackouts, but he warned that there had been an element of luck, given the mild winter and a Chinese economy in prolonged lockdown mode.
"We have to be honest with ourselves, we have to [remain] realistic that one of the factors that helped us through the winter without major problems was a relatively mild winter," Birol said.
"Nobody can guarantee that next winter will be as mild as this winter. Therefore, we should not be too overconfident but get ready for the next winter."
The IEA also highlighted a paucity of new LNG capacity coming online in 2023.
"This year, the amount of new LNG capacity coming to the global market is one of the lowest… slightly higher than 20 billion cubic metres, which is very low," Birol said.
Research by energy consultancy S&P Global has also warned that new liquefaction capacity available online in 2023 is set to be even less than the earlier IEA estimate.
The estimate of additional LNG supply potential for Europe and China was significantly lower than the 23 Bcm previously forecast by the IEA, according to S&P Global Commodity Insights' senior gas analyst Tom Purdie.
"Our base case currently assumes only around 17 Bcm of new liquefaction capacity available online in 2023," Purdie said. "Due to sustained feedstock declines at existing projects, we expect the new supply availability to be even lower."
Demand reduction beckons
European Commissioner for Energy Kadri Simson has proposed further reducing demand for the bloc along with a plan to completely phase out Russian LNG supply to Europe.
Russian LNG still represents a 5% to 6% share of the total European gas supply mix, according to Paula Di Mattia Peraire, European gas market analyst with ICIS, a commodity intelligence firm.
The European Parliament committee, which was convened to discuss the ongoing implications of Russia's invasion of Ukraine, heard that the commissioner was targeting a 15% demand reduction for the bloc this year, and this effort also aims to squeeze Russian LNG out of the energy supply chain to Europe.
"We can get rid of Russian LNG," Simson said.
The continent procured 20 Bcm of Russian LNG last year, she said.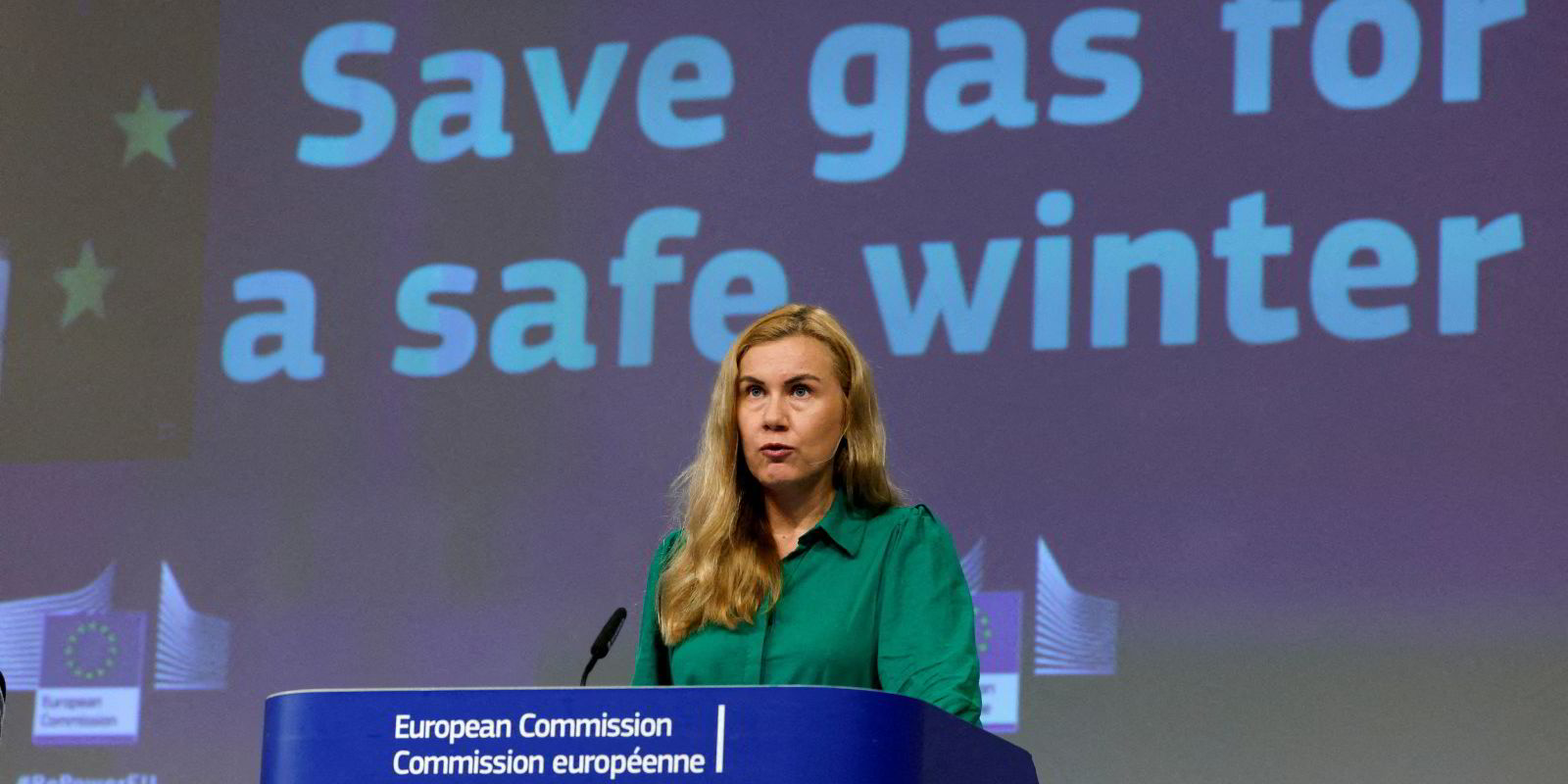 Today, Europe is better prepared than it was last year, Simson noted.
"Currently, underground [gas] storage stocks are standing at 57%," she said. That level is better than the critically low storage levels the EU had in February 2022 when Russia invaded Ukraine.
Purdie said forecasts of lower imports this year are also driven by healthier storage this time around.
"European LNG imports hit 175 Bcm in 2022. However, despite increased regasification capacity, we forecast 2023 imports to decline 13 Bcm year on year to average 162 Bcm," Purdie said. "This assumption is being driven by very healthy storage stocks coming out of this winter, which is helping reduce the level of injection demand that we saw exiting last winter."
"It's important to stress there are a lot of moving variables, which means that could change quickly," he said.