Recently appointed BP chief executive Bernard Looney stamped his mark on the company on Wednesday by setting a target of becoming a net zero emissions player by 2050 or sooner.
The UK supermajor has promised to give cleaner energy businesses — including low-carbon energy and natural gas — a prominent role in a corporate overhaul and said it will cut the carbon intensity of its energy business by half in the same period.
BP has become the latest major to respond to demands from consumers and investors that the very companies to have profited most from fossil fuels lead the move to de-carbonisation.
The London-based company has seen some beneficiaries of its arts funding programmes turn down grants from BP in order to disassociate themselves from fossil fuels.
A sweeping internal reorganisation will include the creation of a gas and low carbon energy division, headed by Dev Sanyal, BP's chief executive, alternative energy and executive vice president, regions.
It will be charged with co-ordinating energy teams across the company to achieve low carbon solutions and also pursue opportunities in decarbonisation and new value chains such as hydrogen and carbon capture, utilisation and storage (CCUS).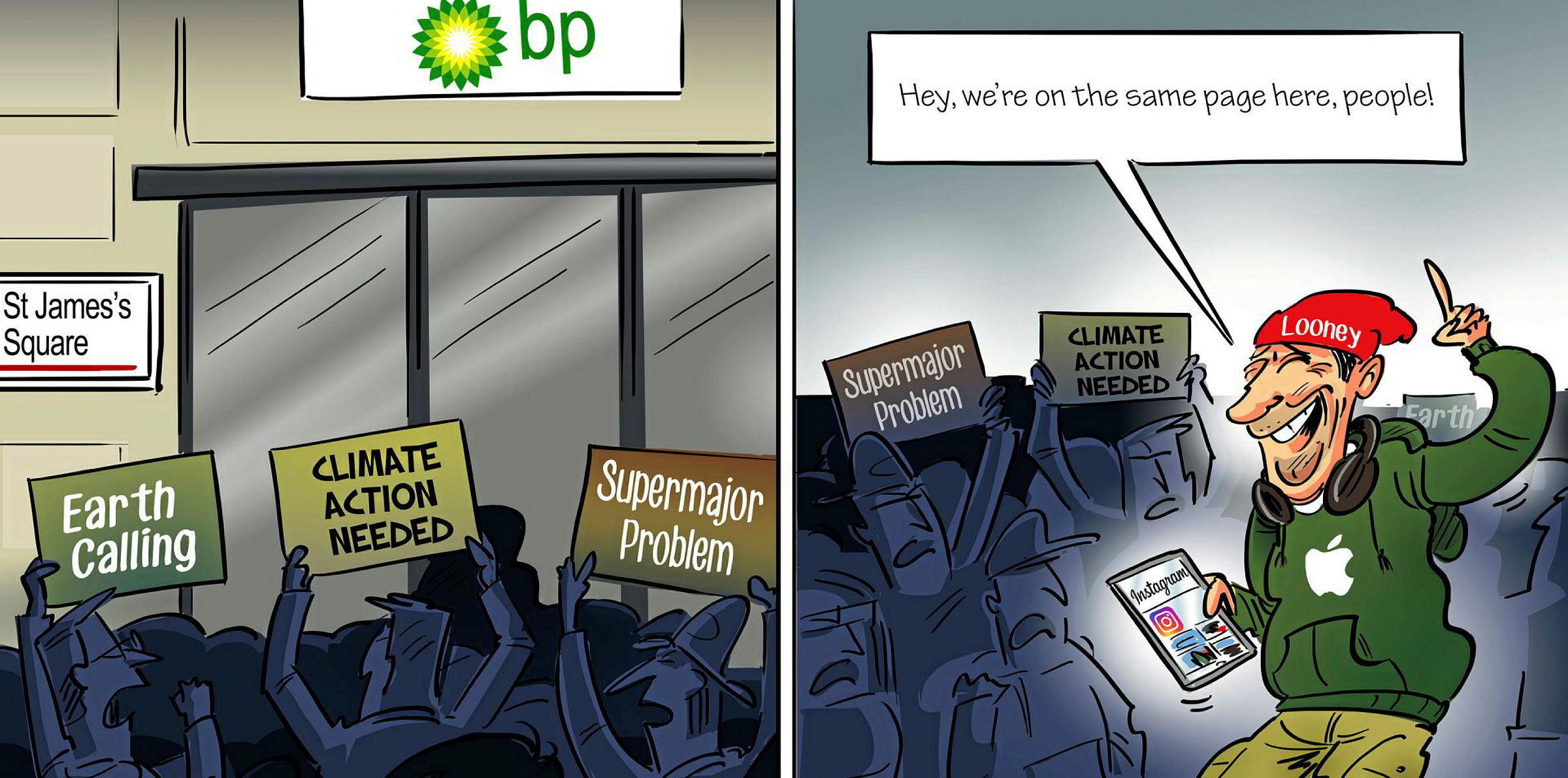 A first internal report to management is due in September.
Speaking of the need to "re-invent" BP, Looney's statement set out ten aims to support the company's ambitions.
These include installation of methane leak measurement at all BP's major oil and gas processing sites by 2023 and a reduction of the methane intensity of operations by 50%.
BP is also promising "more active advocacy for policies that support net zero", including carbon pricing and an aim to be recognised as a leader for transparency of reporting on emissions.
Greenhouse gas emissions from BP's worldwide operations are currently around 55 million tonnes of carbon dioxide equivalent and the carbon in the oil and gas the company produces is equivalent to around 360 million tonnes of CO2 equivalent emissions a year.
BP said delivery of its aims would equate to a reduction in emissions to net zero from what is currently around 415 million tonnes of CO2 equivalent a year.
"The world's carbon budget is finite and running out fast; we need a rapid transition to net zero. We all want energy that is reliable and affordable, but that is no longer enough. It must also be cleaner. To deliver that, trillions of dollars will need to be invested in replumbing and rewiring the world's energy system.
"It will require nothing short of re-imagining energy as we know it," Looney said.
Mike Tholen, sustainability director of lobby group Oil & Gas UK, said of BP's new plans: "BP's ambition to achieve net zero by 2050 ... shows the commitment of the oil and gas industry to lead the energy transition.
"We're now seeing increasing and practical examples of how oil and gas companies are stepping up to provide solutions in the transition to a net zero carbon economy. This strengthens the UK industry's response to government net zero commitments outlined in our Roadmap 2035 report, offering a clear route to the sustainable, fair and inclusive transition we all want to see."
Luke Parker, vice president, corporate analysis at energy research company Wood Mackenzie, said of Looney's plan: "BP joins Shell, Total, Equinor and Repsol in making a major commitment to reduce its net carbon footprint.
"This marks a major turnaround in BP's position. Just 12 months ago, former chief executive Bob Dudley said the company could not be held accountable for how people use its products. Looney is taking the company in a very different direction.
"It's an ambition, rather than a target, but the commitment appears to be unconditional. In terms of scale of commitment, this puts BP towards the top of the pack, along with Repsol and Equinor.
"This will see BP's business completely transformed over the coming decades: renewables and carbon abatement will get very big, legacy oil and gas will eventually get smaller. But the transition to 2050 is a multi-decade transition - not something that will happen in the next year or so."
Royal Bank of Canada analyst Biraj Borkhataria said in a note on Wednesday: "BP has reiterated its commitment to 'growing sustainable free cash flow and distributions to shareholders over the long term'.
"In the context of investors and society asking the integrateds to do more on transition themes and low carbon energy, this is really the key challenge, in our view.
"A rapid ramp-up in renewables spend and shifting capital allocation away from the core business is likely to be difficult, in the context of a around $8.5 billion dividend burden each year that needs to be serviced.
"BP is not alone in this challenge, it's a sector wide issue, but one that investors will need to grapple with over time."
Responding to BP's plan, Greenpeace UK's oil adviser Charlie Kronick said: "BP's 'ambitions' and 'aims' all seem to apply to Looney's successors, and leave the urgent questions unanswered.
"How will they reach net zero? Will it be through offsetting? When will they stop wasting billions on drilling for new oil and gas we can't burn? What is the scale and schedule for the renewables investment they barely mention? And what are they going to do this decade, when the battle to protect our climate will be won or lost."
David Elmes, energy expert at the UK's Warwick Business School, said: "Today BP firmly joins the group of energy companies that are setting themselves goals to be 'Net Zero' by 2050.
"However, when companies set goals, you need to check the details. For energy companies, that means including both the emissions from their activities to find, produce, and sell energy with the emissions produced when that energy is used by their customers.
"So what BP emits in producing and selling petrol, but also the emissions when you use that petrol in your car.
"BP point out that emissions from their operations are 55 million tonnes of CO2 equivalent gases today, but the emissions from their customers using of the oil and gas they sell is over six times more, at 360 million tonnes of CO2 equivalent gases.
"So BP aren't ducking the bigger challenge of emissions from how their fuels are used. That suggests a greater ambition to change what the company does.
"This announcement commits the company to investing more in low carbon businesses and less in oil and gas over time. How fast BP's capital investment shifts to low carbon businesses is yet to be seen.
"They have made a string of investments so far in technology companies around the world but they will be measured and compared by the proportion of the £15 billion [$19.45 billion] or so of capital they invest each year."