OPINION: The historic nature of Deb Haaland's confirmation this week to be secretary of the US Department of the Interior was lost on no one, least of all the second-term New Mexico Representative herself.
ENERGY EXPLORED: SUBSCRIBE TO ACCELERATE
Gain valuable insight into the global oil and gas industry's energy transition from ACCELERATE, the free weekly newsletter from Upstream and Recharge. Sign up here today.
"A voice like mine has never been a Cabinet secretary or at the head of the Department of Interior," Haaland wrote on Twitter when President Joe Biden announced her nomination in December.
Haaland, a member of the Laguna Pueblo indigenous tribe, will be the first Native American in US history to serve as a Cabinet secretary and will be leading a branch of government that has a wide range of responsibilities, including management of mineral resources on hundreds of millions of acres of federal land and offshore.
'A monumental shift'
Her appointment's significance was certainly not lost on the many Native Americans who championed Haaland's bid to lead Interior, which includes the bureaus of Indian Affairs and Indian Education.
The National Congress of American Indians called it "a watershed moment for Indian Country". "A monumental shift," said Partnership with Native Americans chief executive Joshua Arce.
Even Haaland's staunchest Republican Senate opponents recognised the boundary-breaking moment as they raked the nominee over the coals in confirmation hearings, branding her opposition to hydraulic fracturing and drilling on public lands "radical" and "extreme" and warning of "catastrophic" consequences for the American oil and gas industry.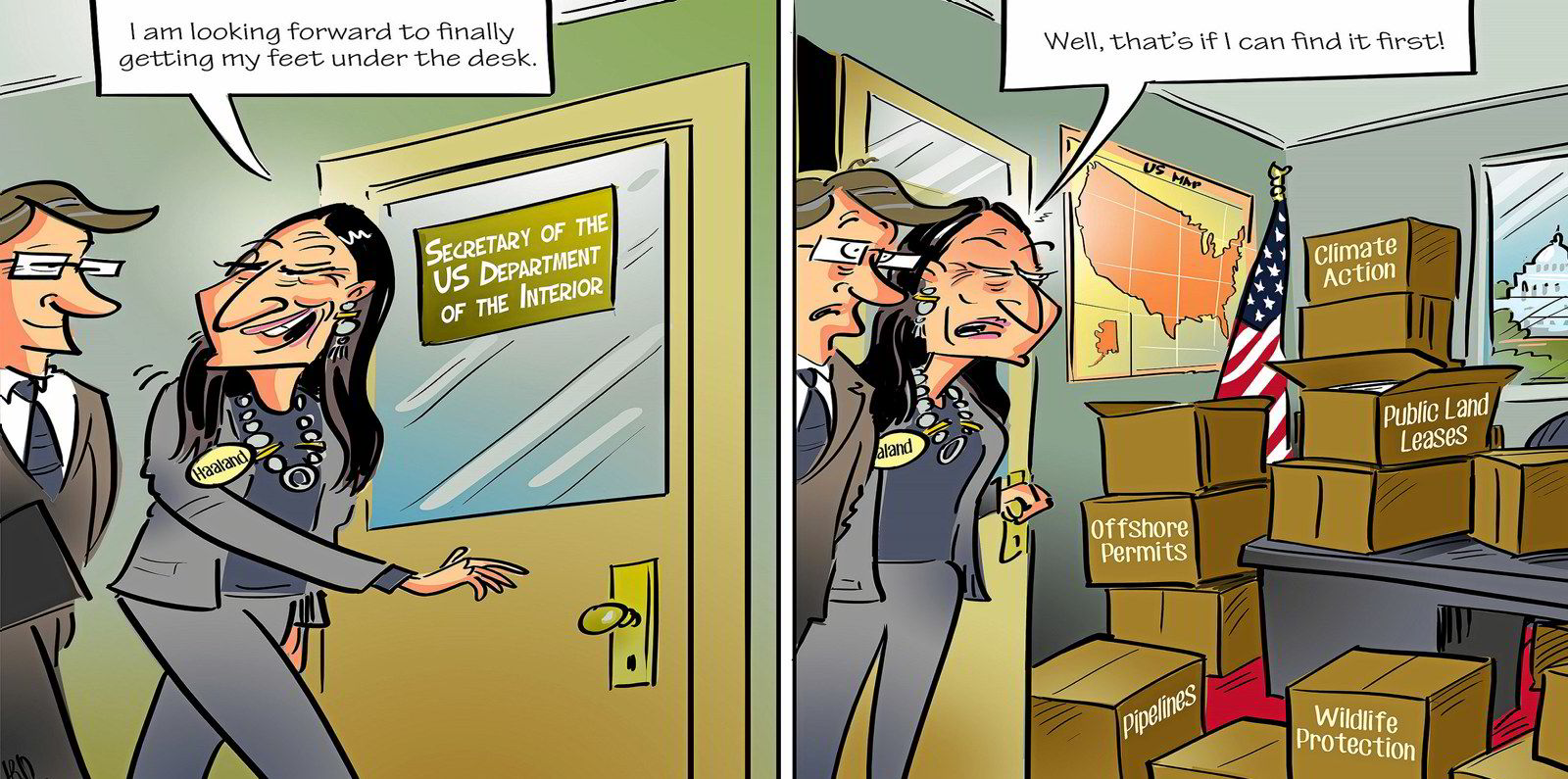 Haaland has promised to be "fierce" in her new job but there was little of that on display during the hearings, when she assured Senators that as secretary, she would be carrying out Biden's agenda, not her own.
Agent for change
That, of course, is the proper role of a political appointee. Biden does not oppose fracking and his ambitious climate goals do not call for an end to oil and gas. And Haaland knows the industry's economic impact in her home state, where much of the production comes from public lands.
But there is no doubt that she heralds significant change at Interior, where the last secretary, David Bernhardt, was a former industry lobbyist who carried on the antiregulatory agenda of his scandal-plagued predecessor, Ryan Zinke.
Two of the most prominent US industry advocacy organisations, American Petroleum Institute and National Ocean Industries Association, offered congratulations laced with clear indications that they are girding for battle.
Difficult tasks ahead
Others were less subtle. "Any senator who casts a vote in support of Haaland is voting against American energy," the American Energy Alliance said ahead of the confirmation.
Job killer, environmental champion, radical, bipartisan pragmatist: Haaland, a single mother who once eked out a living with a small business that produced and sold salsa, now finds herself a prism of sorts for various American political currents.
That probably suits the top job at what has been dubbed "the department of everything else", where Haaland will face the difficult task of managing often-competing interests of powerful — and not so powerful — constituencies.
The truth is that oil and gas has thrived and suffered under Democratic and Republican administrations alike, its fortunes largely inextricable from forces outside US policy.
But policy is important, and the industry would do well to see how it can help shape it during this moment of profound change.
"I look forward to collaborating with all of you," Haaland told senators after the vote on Monday.
A co-operative spirit could serve all factions well as the barrier-shattering public servant steps into her role.
(This is an Upstream opinion article.)