Like many a moderate in today's polarised age, Norway's Petroleum & Energy Minister Terje Lien Aasland can sometimes find himself under fire from both sides of the divide on climate change and fossil fuels.
A former electrician, Aasland came to be seen as a critic of the oil sector's collective foot-dragging over greenhouse gas emissions, but today he can equally find himself a target of criticism for allegedly perpetuating the fossil fuel age.
In 2014, with the then-opposition Labour Party, Aasland forged a cross-party partnership with Kjell-Ingolf Ropstad of the Christian Democratic Party in a parliamentary movement intended to force Equinor and partners to move ahead with a electrification of the emblematic Johan Sverdrup field using power from shore, along with the nearby Edvard Grieg, Gina Krog and Ivar Aasen fields.
These electrification projects had been under long-running feasibility studies, but Aasland's initiative meant standing up to government and oil companies, and was probably decisive.
With his ministry today facing a backlog of applications to connect oil and gas installations to shore power, including multi-billion-dollar projects such as Linnorm and Wisting, Aasland is not shy about taking some of the credit for this shift, permitting himself a nip of irony.
"Two weeks ago, I visited the Edvard Grieg platform in the North Sea, and it was fantastic to learn that the parliamentary decision, which the companies were so eager to see passed, had helped lower emissions from the field to one twentieth of average emissions in such an oil and gas field," he says.
Norway claims it can replace more Russian gas if Europe commits to buying
Cutting emissions
Today Aasland remains focused on Norway's goal of cutting emissions by 50% from 1990 levels by 2030
"The UN's climate panel is clear, the climate changes we have feared, are already here. That is why Norway must and will meet its 50% reduction target. It is a demanding target, but if the oil and gas industry doesn't solve this, who can," he says.
Yet the minister also finds himself at the helm at the very moment that Norway has stepped up as the one European country that can increase its oil and gas exports to the continent significantly in response to decision to end reliance on Russian energy, due to the invasion of Ukraine.
Aaasland came to the energy portfolio in March, just as the oil and gas sector was beginning to hum in response to temporary tax incentives put in place to shield it from the collapse in demand caused by the Covid-10 pandemic.
Norway has also made it clear that it intends to become a major supplier of blue hydrogen, made from natural gas with carbon capture and storage, quietly ignoring the German hope that future hydrogen supplies from its Nordic neighbour as the green variety.
Criticism is by not confined to domestic climate campaigners, with Polish Prime Minister Mateusz Morawiecki last week accusing Norway of benefitting from the war and calling on Oslo to "immediately share the gains".
Aasland's pragmatic side has been on show during this debate, and he demonstrates a firm believe that the benefits that Norway gleans from the oil industry are legitimate.
Norway eyeing floating and fixed offshore wind licensing early next year
He also believes that it is the oil industry, with its technology, know-how and competence, that best knows best how to manage the reduction in emissions.
Oil "blessing"
Born in the town of Skien in 1965, four years before the breakthrough Ekofisk discovery, Aasland makes no qualms about describing the oil riches that have gushed into Norway since then as a "blessing".
He began his working life as a power supply fitter with a local Norwegian energy company and became involved in trade union matters, which later led him into politics with the Norwegian Labour Party.
Norway plans for more gas and blue hydrogen as Europe turns away from Russia
Aasland held positions in Skien municipality council from 1991 to 2003 and chaired the local party chapter from 1995 to 2000, rising to become a regional leader and a member of the Labour Party national board.
He was first elected as a member of parliament more than 16 years and is a long-standing member and previous leader of the parliament's Energy & Environment Committee.
Solberg calls for Norway to increase gas exploration
The pragmatist in Aasland believes the world will need oil and gas for decades to come, and he wants Norway to take a central part in producing with low emissions.
However, he also has huge ambitions for offshore wind and low-carbon technologies like hydrogen and carbon capture and storage (CCS).
Our gas export network operator is currently performing a study of how we can use the infrastructure to export hydrogen.
Recently, the government announced a goal of building 30 gigawatt of offshore wind production capacity off Norway by 2040.
"These investments will start about the time oil and gas projects on the (Norwegian continental shelf) are expected to drop-off," he muses.
In the meantime, he believes, Norway is prepared to deliver oil and gas to provide energy security in the world, while adapting to the post fossil fuels along the way.
Norway appoints new energy minister in reshuffle
"Our gas export network operator is currently performing a study of how we can use the infrastructure to export hydrogen, which is very exciting and forward looking, and represents a significant opportunity for Norway," he says.
Aasland reckons that Europe's attitude towards blue hydrogen has changed. "Now, in Europe, hydrogen is hydrogen, which is good as long at it is without or almost without emissions," he notes.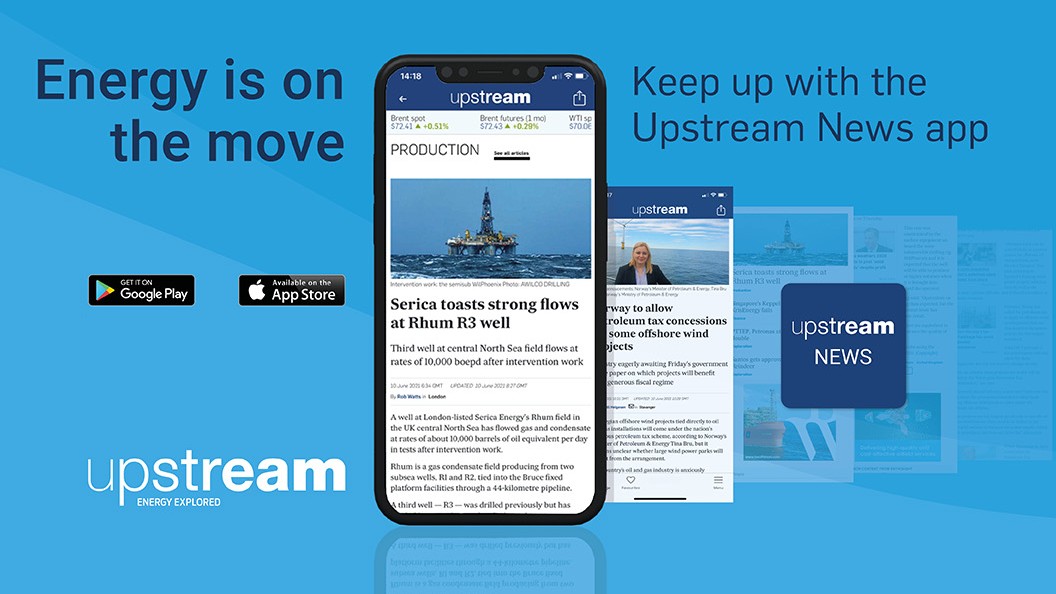 Stay a step ahead with the Upstream News app
Read high quality news and insight on the oil and gas business and its energy transition on-the-go. The News app offers you more control over your Upstream reading experience than any other platform.