On his first day as president at Chinese floater specialist CIMC Raffles, Wang Jianzhong set a new motto for the renowned shipyard: "Set a goal, never say no."
Six years later, Wang is at the forefront of CIMC's efforts to diversify amid the fast-paced energy transition and the push for renewable energy.
"The world is irreversible, and CIMC Raffles has to build more resilience into the system," he tells Upstream.
In April, CIMC Raffles launched a Green Industry Partners initiative as part of its efforts to help China reach a peak in its carbon emissions by 2030 and achieve carbon neutrality by 2060.
The initiative calls for joint efforts to bring down offshore wind farm operation and maintenance costs through innovation and to increase efficiency through what the partners call the "comprehensive" development of offshore projects, such as hydrogen produced from offshore wind, aquaculture, sea water desalination and photovoltaics.
Wang, 48, hails from the grasslands of Inner Mongolia and his Mongol roots are evident in his characteristic imagination, passion and sense of adventure.
He graduated from Beijing Normal University with a master's degree in economics and began work in 2006 at CIMC Raffles' parent, China International Marine Containers, rising through the ranks to become president of CIMC Raffles in 2015.
Wang was key in the implementation of CIMC's Optimisation Never Ending (ONE) programme in 2007, which calls for constant efforts among management and workers to improve quality and value at the yard.
CIMC Raffles is one of the most versatile yards in China, with products stretching from different kinds of rigs to floating production, storage and offloading vessels to accommodation barges and floating production units.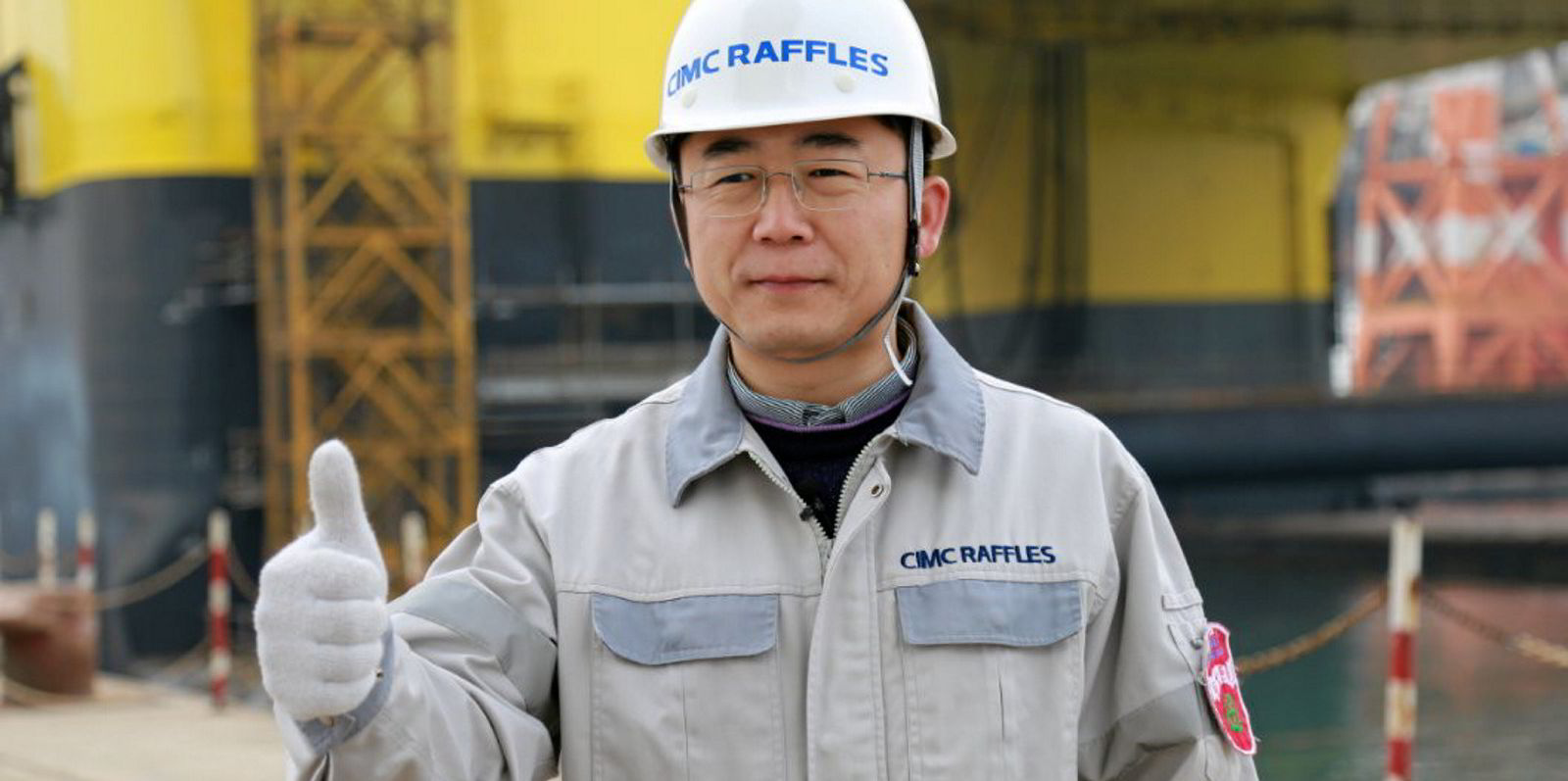 Established in 1994, CIMC Raffles has three facilities in Shandong province that have delivered more than 80 offshore drilling and development units, including semi-submersible rigs.
Wang's efforts to expand into floater engineering, procurement and construction jobs have paid off.
A deal signed early this year with Malaysian contractor MISC to provide a full FPSO for the Mero field development in Brazil is one milestone, making CIMC Raffles the first yard in China to be an EPC contractor for a full FPSO with workscope covering hull conversion, topsides fabrication and integration.
The renewable energy push makes diversification at Chinese yards necessary, but Wang will continue to build CIMC's skills in tackling offshore oil and gas projects, an initiative that includes a task force he established four years ago to pursue research and development of topsides.
In the first quarter this year, CIMC Raffles earned close to 2 billion yuan ($307 million) from FPSO EPC jobs alone.
Over the next three years, oil and gas-related offshore units will continue to be the larger source of its revenues, but that share will shrink to less than 50% after 2025, when non-oil and gas projects contribute significant sums to its coffers.
Wang admits that in pursuing non-oil and gas offshore projects, the yard faces challenges in staffing, risk control and technology, despite the research and development capabilities he has fostered over the years with more than 1000 young and home-grown engineers.
And he warns of the risks that could come if compatriot yards aggressively lower prices while jostling for contracts to build wind facilities, as happened in the rig construction boom a few years ago.
Conversions
Hefty offshore wind development has already overstretched the supply of China's installation vessels, prompting many yards, including CIMC Raffles, to convert stacked jack-up rigs and floatels for wind installation jobs.
The yard is now converting an idled jack-up rig into an offshore wind farm installation vessel and has chartered the CIMC Raffles-built Class 3 dynamically positioned OOS Gretha vessel to Chinese utility Huadian for wind farm installation work offshore southern China's Guangdong province.
Wang has already carved out a new product line for offshore renewable energy covering booster stations, converter stations, wind installation and service vessels, and floating turbines, along with fish farms, wind-related hydrogen generators, carbon dioxide transportation vessels, seawater desalination units and offshore PV systems.
In April, CIMC Raffles won a deal to build multiple offshore wind turbine installation vessels that can operate in rough sea conditions.
One such vessel will be equipped with a giant crane with lifting capacity of 2200 tonnes. It will be capable of installing turbines of up to 20 megawatts, the largest in China.
This follows a similar deal concluded in October last year, when Norway-based OIM Wind also awarded CIMC Raffles a contract for a BT-220IU wind farm installation vessel.
The unit will be equipped with liquefied natural gas-powered engines and an onboard integrated battery pack, and will target European and US markets.
In addition, the company has developed a novel floating wind solution called "T-Floater", which is an optimised semi-submersible foundation suitable for floating wind installations.
The yard has already completed lab tests of the T-Floater, saying it performed well in pool experiments.
In April last year, CIMC Raffles signed a memorandum of understanding with French floating wind technology outfit Dolfines to develop projects off Europe and Asia using the latter's TrussFloat concept.
The yard is the EPC contractor for an innovative design to integrate floating turbines and aquaculture off Fujian province.
Despite his tight schedule, Wang is never misses the opportunity to spend time reading whenever he can lay his hands on a book.
He says he has enormous passion for the ocean and its potential for sustainable development.
"We need various equipment and facilities to tap ocean resources for the benefit of humans," he says, adding that he is proud to be involved in the process.