Newly sworn-in US President Joe Biden wasted no time on his first day in office, rejoining the Paris Climate Agreement and axing the controversial Keystone XL pipeline permit — just two in a raft of executive orders aimed at tackling the climate crisis.
"I will join the Paris Accord because, with us out of it, look what's happening... it's all falling apart," Biden said during the run-up to the latest US elections, citing the destruction of the Amazon rainforests.
ENERGY EXPLORED: SUBSCRIBE TO ACCELERATE
Gain valuable insight into the global oil and gas industry's energy transition from ACCELERATE, the free weekly newsletter from Upstream and Recharge. Sign up here today.
UN Secretary General Antonio Guterres on Wednesday hailed Biden's decision to rejoin the Paris Climate accord.
"I warmly welcome President Biden's steps to re-enter the Paris Agreement on Climate Change and join the growing coalition of governments, cities, states, businesses and people taking ambitious action to confront the climate crisis," said the top UN official.
"We look forward to the leadership of United States in accelerating global efforts towards net zero, including by bringing forward a new nationally determined contribution with ambitious 2030 targets and climate finance in advance of COP26 in Glasgow later this year," added Guterres.
Hours after being sworn in as the 46th President of the United States, Biden announced that US would rejoin the international climate pact intended to limit global warming from which his predecessor Donald Trump had pulled out.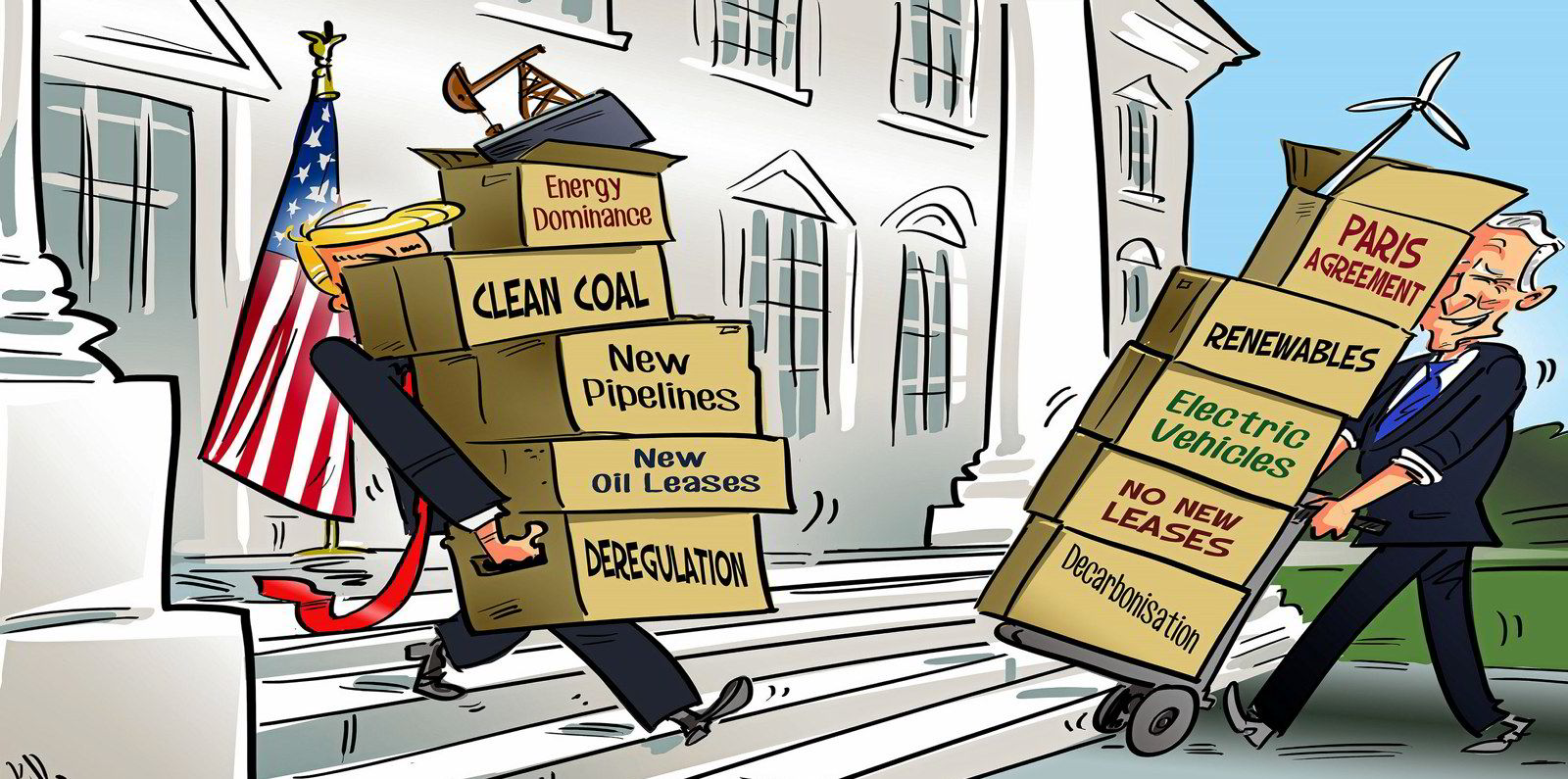 "We are currently facing four converging crises — Covid-19, the resulting economic crisis, climate change and racial inequity. Today, President Biden took actions to combat these challenges," the White House twittered on Wednesday.
However, it was not fulsome praise all round for the 15 executive orders that Biden signed within hours of taking office.
Calgary-based TC Energy in coming weeks will axe more than 1000 construction jobs and stop work on the Keystone XL oil pipeline after Biden revoked the project's presidential approval, the company president informed employees via email, reported Reuters.
"The [Biden's] action would directly lead to the layoff of thousands of union workers and negatively impact ground-breaking industry commitments to use new renewable energy as well as historic equity partnerships with Indigenous communities," said TC Energy in a statement.
"TC Energy will review the decision, assess its implications, and consider its options. However, as a result of the expected revocation of the Presidential Permit, advancement of the project will be suspended," added the company.
Alberta [Canada] Premier Jason Kenny also took a swipe at the newly inaugurated US president, describing as a "gut punch" his decision to revoke the permit for TC Energy's Keystone XL pipeline.
"Sadly, [this is] an insult directed at the United States' most important ally and trading partner," he said in a press conference on Wednesday.
Kenney added he was calling on Canada's Prime Minister Justin Trudeau to sit down with the new US administration, suggesting that the federal government impose trade and economic sanctions should those efforts be rebutted.
As a part of the broader climate agenda, the Biden administration wrote that the Keystone XL pipeline "disserves the US national interest", citing challenges around climate and the pursuit of a clean energy economy.
"Leaving the Keystone XL pipeline permit in place would not be consistent with my Administration's economic and climate imperatives," the relevant executive order reads.
The 1897-kilometre pipeline was intended to carry more than 800,000 barrels per day of crude from Alberta's oilsands to Nebraska to connect with the original Keystone pipeline that runs to US Gulf Coast refineries.
TC Energy earlier said it had already suspended work on the Keystone XL pipeline in anticipation of Biden revoking its permit.
First proposed in 2008, the pipeline project was opposed by the Obama administration rejected before Trump revived it - construction had already started.
Trudeau had raised Keystone XL as a key priority when he spoke Biden via phone last November. The pipeline project is intended to expand oil exports from Canada, which has vast reserves.
In another move, President Joe Biden promoted Democratic commissioner Richard Glick to serve as chairman of the US' Federal Energy Regulatory Commission (Ferc), where he is expected to plot an agenda consistent with the new administration's goals of combatting climate change and encouraging clean energy projects.
Updated to include TC Energy job losses.