Gas-rich Tanzania has a new head of state after Samia Suluhu Hassan was today sworn in as president following John Magufuli death two days ago.
It remains unclear if Magufuli's death will have any effect on oil infrastructure and gas projects in Tanzania and whether Hassan will be more flexible when dealing with foreign investors.
During her swearing in ceremony in Dar es Salaam this morning, East Africa's second female president said: "I, Samia Suluhu Hassan, promise to be honest and obey and protect the constitution of Tanzania."
ENERGY EXPLORED: SUBSCRIBE TO ACCELERATE
Gain valuable insight into the global oil and gas industry's energy transition from ACCELERATE, the free weekly newsletter from Upstream and Recharge. Sign up here today.
Hassan was vice president and, although Tanzania's constitution required her to be sworn in as president after Magufuli died, there had been some concern that this would not happen.
Tanzania's 61-year-old leader announced 21 days of mourning for Magufuli who will be buried on 25 March.
"It's not a good day for me to talk to you because I have a wound in my heart," said Hassan. "Today, I have taken an oath different from the rest that I have taken in my career. Those were taken in happiness. Today I took the highest oath of office in mourning."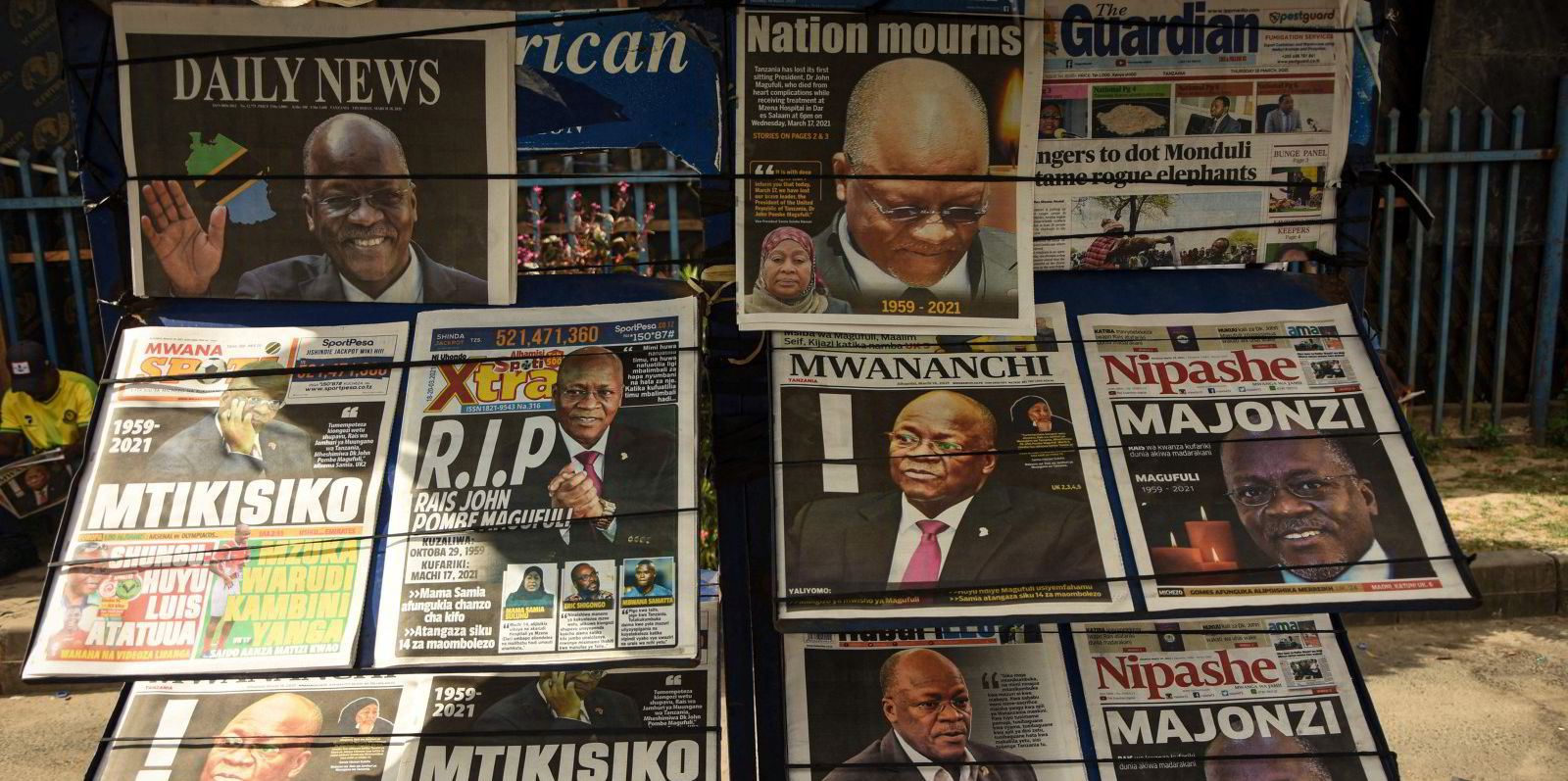 "This is the time to stand together and get connected. It's time to bury our differences, show love to one another and look forward with confidence," she said.
"It is not the time to point fingers at each other but to hold hands and move forward to build the new Tanzania that President Magufuli aspired to."
National dialogue
Thabit Jacob, an academic at Denmark's Roskilde University and commentator on Tanzania, noted that Hassan "thanked opposition parties for their messages of condolence sent after the passing of Magufuli," hinting at the possibility of national dialogue in a country where political opposition has been almost neutralised.
Hassan will see out the remainder of Magufuli's term which ends in 2025, and could also run for presidency in the following five-year electoral period.
She will nominate a vice president after consulting with the governing Chama Cha Mapinduzi (CCM) party.
Announcing Magufuli's death, Hassan said: "It is with deep regret that I inform you that today... we lost our brave leader, the president of the Republic of Tanzania, John Pombe Magufuli."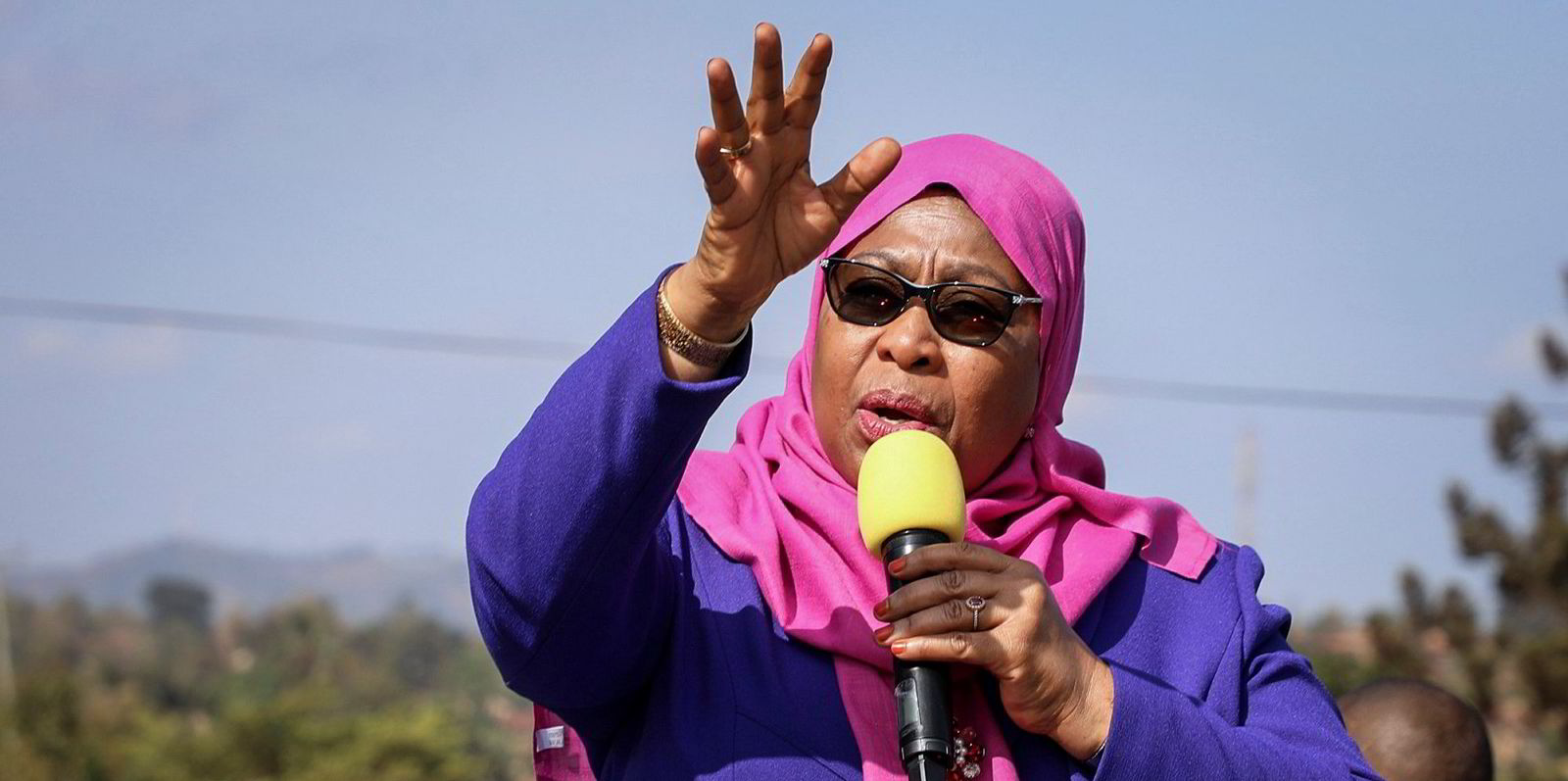 Oil and gas projects
A proposed onshore liquefied natural gas project at Lindi — that could help commercialise some 50 trillion cubic feet of offshore gas controlled by Shell and Equinor — languished for six years under the watch of Magufuli, who was also nicknamed "The Bulldozer" for his abrasive and increasingly authoritarian style of leadership.
In contrast, the late president had helped steer to fruition the East African Crude Oil Pipeline that will transport oil from the Tilenga and Kingfisher fields in Uganda to Tanga port in Tanzania.
French supermajor Total was due to take a final investment decision on the oil project imminently, a schedule that could potentially be impacted by Magufuli's death.
Who will be vice president?
Commenting on Hassan, Reuters cited Fergus Kell, Africa analyst at the Chatham House think-tank in London, as saying she "hasn't given the impression of significant popularity or influence within (CCM)."
He argued that "this could throw up some potential challenges in terms of managing competing interests and generating the required support within the ruling party to govern effectively".
Hassan, 61, has been described as a more consensus-seeking politician than her predecessor.
Born in semi-autonomous Zanzibar, she was described by Jacob during an interview with the Democracy in Action (DiA) website yesterday as "smart, reserved and tough when needed".
However, he poured cold water on those expecting a "breakaway" from the Magufuli way of doing things.
"She will be a president who has very little base in the party (CCM). She will be very much controlled by some of the dominant Magufuli factions... and intelligence (organisations)... for the next two years."
Jacob told DiA that Hassan has been under pressure to appoint Bashiru Ally, CCM's chief secretary and staunch Magufuli supporter, as her vice president.
Rostam Aziz — one of Tanzania's wealthiest businessmen who fell out with Magufuli before being brought back into CCM's fold in 2019 — could be a key player in the new government, according to Jacob, who suggested this could mean "big business will play a bigger role" in the country's future.
Commenting on how Magufuli will be remembered, Jacob said: "He has left us with a very complicated legacy. He will be remembered far more for what he destroyed (civic space, media freedom, democratic institutions, good governance) than for anything he started building (roads, modern railway, bridges, power plants, new planes and more)."