Italian gas grid operator Snam is seeking to strengthen south-to-north pipeline connections as it envisages southern Europe becoming a crucial corridor for imported gas and hydrogen.
The plan includes a €900 million ($981 million) investment over 2022-26 in a new Adriatic Line pipeline infrastructure network.
Presenting Snam's five-year strategy last week, chief executive Stefano Venier spoke of a need for additional gas transport infrastructure to enable higher import flows from northern Africa and the Caspian basin to help position Italy as a strategic passageway to meet European energy needs.
"The hourglass has turned. The centre of gravity of Europe's energy system has shifted down to the south and the Mediterranean area," Venier said, citing a 15% increase in gas flows through Italy's southern entry points last year.
Europe's energy diversification strategy includes sourcing more gas from northern Africa, to which Italy is connected through pipe links with Algeria, Tunisia and Libya, raising Italian expectations for handling a larger share of imported natural gas and, later, hydrogen into the European Union.
The EU is also seeking more supplies through the Trans Adriatic Pipeline (TAP) that takes gas from Caspian producers through Turkey and Bulgaria into southern Italy.
In its own strategic plan, Snam has identified a bottleneck in existing transport capacity to move gas from the three entry points in the south of the country, at Gela (Trans-Mediterranean Pipeline), Mazara del Vallo (Greenstream) and Melendugno (TAP), through to its northbound export conduits to Austria and Switzerland, connecting central and western Europe.
Essential infrastructure
The company has earmarked €900 million in capital expenditure for the planned Adriatic Line system, targeting a 2027 start-up for a project described as "essential" to handle additional supplies from the TAP and from expanding East Mediterranean and North African production.
The infrastructure would be an additional 430 kilometres of onshore pipeline, splitting into three independent interconnectors, including a compressor station at Abruzzo. The first part of the project, connecting Massafra in Puglia to Sulmona, has been completed.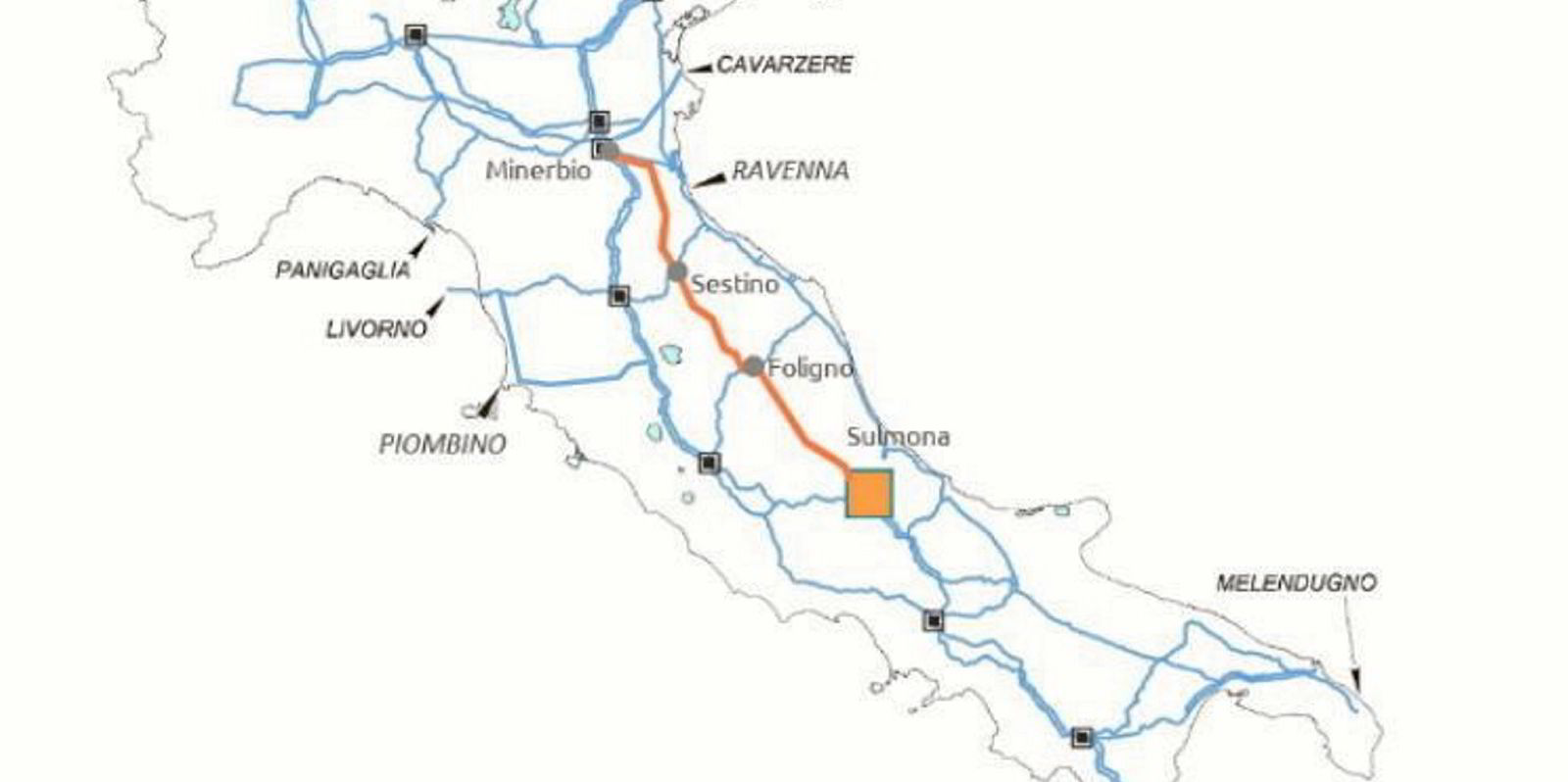 The Adriatic Line links would allow the flow of an additional 10 billion cubic metres of gas through the Italian system.
Environmental permitting for most the interconnectors have already been issued, Snam said, with final clearance from the Italian regulator expected late next month or early March.
A public consultation was open to submissions between early December until 20 January, after which the regulator will release the findings and its own assessment of the project.
Venier described the project as "strategic infrastructure in European interest".
Snam estimates building work could begin in 2024.
Hydrogen-ready
According to Snam, the Adriatic Line would also be able to transport hydrogen.
The company aims to have the infrastructure ready to move hydrogen as a way to "future proof" investments and align the infrastructure with energy transition targets, it said in its presentation on Thursday.
The EU set an ambitious goal of increasing hydrogen consumption in the block to 20 million tonnes per year by 2030. This is to be supplied through 10 million tpa of domestic production, complemented by imports.
Snam certified 750 kilometres of the existing network for hydrogen readiness as of 2022 and is targeting to expand it to 3,000 kilometres by 2026, through repurposing and upgrading the network.
"These investments are consistent with decarbonisation targets by 2030," Venier said.
The company pointed to northern Africa as a potential hydrogen production and export hub that may be in a position to cover part of European hydrogen demand.
A number of projects are under way in Egypt, Mauritania and Morocco, to name a few, with the likes of BP, Chariot, Eni and Sonatrach involved.
With an abundance of unoccupied land and high potential for solar energy, the region is suitable for renewable-power generation, which is needed in large quantities to power the electrolysers to make green hydrogen.
Snam believes the existing corridors taking gas from northern Africa to southern Europe could, in the future, move also hydrogen into Italy and southern Europe.
"Strengthening the south-north capacity will not only ease the short-term gas need, but also the long-term decarbonisation requirement," Venier added. "We expect to see a co-existence of gas, biomethane and hydrogen and are [therefore investing in] multi-molecule, future-proof infrastructure."
Are you missing out on ACCELERATE?
Gain valuable insight into the global oil and gas industry's energy transition from ACCELERATE, the free weekly newsletter from Upstream and Recharge.