More than a hundred workers are missing after a barge capsized at Oil & Natural Gas Corporation's (ONGC) Mumbai High asset offshore western India after Cyclone Tauktae hit in the early hours of Monday — with reports saying the vessel has sunk.
The anchors of contractor Afcons' barge Papaa-305 — which local media reported was being used as an accommodation unit with some 270 people on board — gave way and it started drifting.
ONGC has mounted a rescue mission and confirmed in a message on social media that the barge has capsized.
"This is one of the most challenging search and rescue ops I've seen in the last four decades... main ops pertain to searching and rescuing 261 people from Afcons Barge P-305, which sank about 60 kilometres away from Mumbai yesterday," The Times of India quoted the Deputy Chief of Naval Staff as saying.
ENERGY EXPLORED: SUBSCRIBE TO ACCELERATE
Gain valuable insight into the global oil and gas industry's energy transition from ACCELERATE, the free weekly newsletter from Upstream and Recharge. Sign up here today.
Ferocious winds
Cyclone Tauktae brought wind speeds of between 150 and 180 kilometres per hour and waves six to eight metres high in the offshore area where ONGC's main production installations and drilling rigs are located.
"The search and rescue operations continued throughout the night and a total of 146 persons from barge P-305 have been rescued [as of] 6am on Tuesday, 111 by [Indian Navy vessels] INS Kochi and INS Kolkata, 17 by offshore support vessel [OSV] Greatship Ahilya and 18 by OSV Ocean Energy whilst operating in extremely challenging sea conditions," the New Indian Express quoted navy commander Vivek Madhwal as saying.
Families of those still missing are taking to social media as they desperately seek information after communications were lost.
ONGC has now directed those worried about the unaccounted for workers to contact the Afcons helpdesk support team on +91 9987548113, +91 8802062853 or +91(0)22-71987192.
(Video from third party)
INS Kochi and INS Kolkata, one Afcons tugboat, one ONGC OSV and the coast guard vessel Samarth had reached the location and started the rescue operation, ONGC confirmed at 9.07am local time (3.37am GMT) on Tuesday.
Three more ONCG OSVs and two multi-purpose support vessels have also been mobilised.
'Taking all possible measures'
"Due to the severe cyclonic storm, unfortunate incidences have occurred involving three construction barges of Afcons working on a project of ONGC in Western Offshore fields in the Arabian Sea and one drilling rig of ONGC deployed for exploration purpose," the operator said on Tuesday.
ONGC added that it is "taking all possible measures" in co-ordination with the Offshore Defence Advisory Group and Maritime Rescue Co-ordination Centre to ensure the safety of personnel and vessels.
Upstream has contacted Afcons for comment. A person who answered a telephone call to the contractor's Mumbai headquarters said the office was closed.
ONGC's drillship Sagar Bhushan, which was engaged in exploration at the Bassein field in the Western Offshore, lost all of its eight anchors and began drifting north. The rig is on propulsion but the steering is not working.
Although the drillship missed all the rigs and installations at the Mumbai North field, the jack-up rig Vivekanand 2 at the Tapti field "may be in the line of fire", according to an ONGC internal control room update seen by Upstream.
'Extreme emergency'
The operator classified this as "an extreme emergency" and said the Sagar Bhushan needs to be towed to a safe position.
Four ONGC-chartered vessels are at the location for rescue operations.
Two ONGC offshore vessels are also on their way, while the coast guard vessel Shoor has been diverted for rescue operations.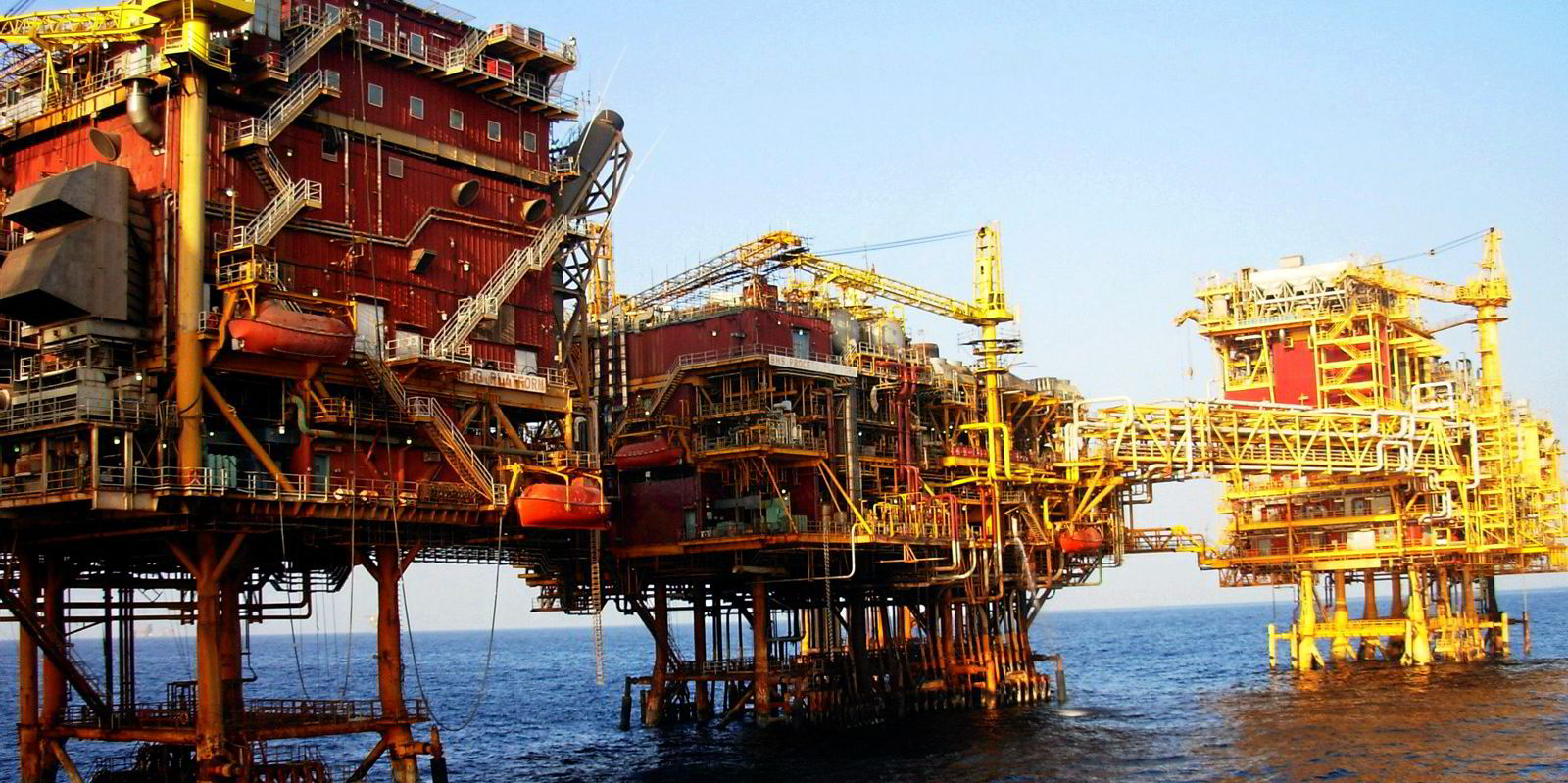 Afcons' barge Gal Constructor is drifting at Colaba Point with water ingress in the engine room. The coast guard vessel Samrat and Mumbai Port Trust vessel Water Lily are on location for rescue and support.
"Amidst challenging weather conditions two Chetaks [helicopters] launched from Daman successfully airlifted 10 crew from grounded barge Gal Constructor. Rescue operation in progress," the coast guard said on Tuesday afternoon.
This vessel had upwards of 130 people on board, according to local media.
The anchors of Afcons' barge Support Station-3 also gave way and it started drifting north-west. Although the barge is clear of all Mumbai High operational installations, ONGC had been concerned on Monday evening that it and oil tanker Desh Bhakti had lost control and were heading towards the Vivekanand-2 rig.
This barge is now under control and there is no water ingress, ONGC said on Tuesday morning, adding that two of its own OSVs are on their way to help.
Other assets hit
Cyclone Tauktae also exacted its toll of other rigs working for ONGC in the area.
The Valiant Driller on the Mumbai North field was in storm survival mode. Its mast and upper substructure fell into the sea on the starboard side due to high winds gusting at up to 140 knots.
The Sagar Kiran on the Mumbai South field had its emergency generator shut off, which caused a complete blackout on the rig, and the raw water pump stopped.
Cyclone Tauktee, the most powerful storm to hit the region in more than two decades, has already claimed the lives of at least 20 people in India's western states, including Gujarat, Maharashtra, Goa and Kerala.
Afcons is part of India's Shapoorji Pallonji group.
Updated to report the Papaa-305 has reportedly sunk and contact numbers for Afcons helpdesk support teams.